Ladbrokes Championship: Dunfermline 0 Falkirk 1: 10/11/18
For the derby game Dunfermline Athletic manager Allan Johnston made two changes from the side successful at Alloa the previous Saturday. Ryan Williamson and Kallum Higginbotham were preferred taking the place of James Craigen and Aidan Connolly.

Ray McKinnon made two changes to his Falkirk starting eleven, Leo Fasan returned in goal and Paul Paton took the place of Joe McKee.

Before kick off both clubs marked Remembrance with Chairman Ross McArthur and Lex Miller on behalf of Falkirk laid wreaths in the centre circle. Andrew Irving kicked off for the Bairns who were to attack the goal at the McCathie Stand end.

First attack should have provided a 39 second opener. Higginbotham gathered the ball in the centre of the park and made ground before releasing a shot that Fasan dived low to his right to parry away. Andy Ryan pounced on the loose ball but from just six yards out failed to bury it, drilling it into the keeper instead.

The flow continued towards the visitors goal and in just the second minute Joe Thomson was through and his shot went behind off a defender but the corner was successfully defended.

Malaury Martin sent over a 12th minute free kick that slipped over the crossbar and two minutes later an Aidan Keena cross from the left just evaded the in running Hippolyte. In between the two Dunfermline chances Paton delivered the visitors' first corner of the game only for the Pars defence to head clear.

There was a promising counterattack from the Fifers in 19 minutes. Higginbotham drove a low ball from his own half that was deflected as it travelled to a defence on the far side. Ryan blocked the attempted clearance allowing Jackson Longridge to sweep the ball up the left for Thomson but he was caught by the offside trap.

Three minutes later the home side were awarded a free kick 25 yards out on the right side but Hippolyte tried to find the net on the near side and after the ball rounded the three man wall it also travelled outside the right post.

Irving sent in a 26th minute corner from the right that managed to slip through the Pars six yard box untouched. Four minutes later however when the ball was allowed to be cut back from deep down right, Irving's on target shot was deflected behind. Two corners followed but again the Pars defence held out.

Falkirk turned up the pressure when Lewis Kidd pushed up. The right back was twice involved before slipping a pass into the path of Zak Rudden but his shot was not to do any damage.

Next in 33 minutes Higginbotham teed up Hippolyte but his low shot from 20 yards out skimmed wide right. Injury then caused Aidan Keena to go off with Faissal El Bakhtaoui becoming the first substitute to be used.

Higginbotham picked up a 39th minute booking in handing Falkirk a free kick on the left that Paton duly pumped into the Pars box. There were plenty of Falkirk heads jumping to try and convert but in a bit of a melee the defence came out on top.

Tommy Robson swept away a pass that El Bakhtaoui threatened to latch on to on the edge of the Falkirk box. Right on half time, Andy Ryan releases a shot that was deflected behind off Brough. The corner from Martin reached Ryan at far post but he could not direct the ball into net.

It has been a first half where the stats claimed 58% possession to the visitors.

Half time: Dunfermline 0 Falkirk 0


Falkirk had failed to make one shot at goal in the first half but within 90 seconds of the restart Paton had rattled the Dunfermline crossbar with a fierce effort from 25 yards out. They had clearly been instructed to shoot on sight because their next attempt from Deimantas Petravicius was blasted from the right but went out for a throw in on the left 15 yards out.

Ten minutes into the second half Longridge smashed a cross in from the left searching El Bakhtaoui at the near post but only a corner was won. That did not do the trick but very soon thereafter Williamson's cut back saw El Bakhtaoui hit a good effort on target only to be blocked by Kidd. Play remained in and around the Bairns box and Martin was unfortunate when he fired a low shot that escaped narrowly wide left.

On 58 minutes a lofted ball from Ashcroft was controlled by Higginbotham and his well struck shot was stopped by the well positioned Fasan. Both sides had upped the tempo in the second half and it was another swift move with Thomson cutting back for El Bakhtaoui that provided the next chance but Faiss turned and drove his shot wide left.

Brough was yellow carded in 64 minutes and Dunfermline awarded a free kick 27 yards out, much to the annoyance of the home support who would rather have seen their side take advantage of the possession they ended up with in the opposition half. Hippolyte powered the setpiece on target but the keeper stopped it.

As the match entered its final quarter El Bakhtaoui was denied by keeper Fasan. Petravicius was appealing for a penalty after Ashcroft man handed his opponent. No decision given but Pars were fortunate to get away without a free kick since contact started outside the box.

The Bairns served warning and then duly scored in 71 minutes when RUDDEN showed how to take and finish chances. Having received the lay off from PATON, the 18 year old player on loan from Rangers released a strike from 25 yards out that flew into bottom right of the Dunfermline goal and Robinson had little hope of halting it. 0-1

With 14 minutes remaining Allan Johnston made a double substitution Aidan Connolly and Robbie Muirhead replacing Myles Hippolyte and Kallum Higginbotham. Muirhead immediately powered a shot on target but hit a defender.

An 85th minute throw in from Williamson to Robinson and back was swept forward allowing Connolly to send an inviting ball into the six yard box but just too far ahead of the diving Ryan.

Longridge has his 88th minute shot pushed away by Fasan who was still the busier of the two keepers. There was a good chance from a 92nd minute free kick but Ashcroft at the far post just could not get high enough to head home.

Fourteen shots from Dunfermline and three from their opponents but it was to be Falkirk's second league win of the season and yet another home match without a win for the Pars. As a result the Pars remained in seventh place.

DUNFERMLINE: Lee Robinson: Ryan Williamson, Lee Ashcroft (c), Danny Devine, Jackson Longridge: Kallum Higginbotham (Aidan Connolly 76), Malaury Martin, Joe Thomson, Myles Hippolyte (Robbie Muirhead 76): Andy Ryan, Aidan Keena (Faissal El Bakhtaoui 35).
SUBS NOT USED: James Craigen, Lewis Martin, James Vincent, Cammy Gill (GK)
YELLOW CARD: Hippolyte (10), Devine (32), Higginbotham (39)

FALKIRK: Leo Fasan: Lewis Kidd, Jordan McGhee (c), Scott Harrison, Patrick Brough (Tom Dallison 83): Tommy Robson, Paul Paton, Prince Buaben, Andrew Irving, Deimantas Petravicius: Zak Rudden.
SUBS NOT USED: Joe McKee, Marcus Haber, Dennon Lewis, Ruben Sammut, Mustapha Dumbuya, Robbie Mutch (GK).
SCORERS: Rudden (71)
YELLOW CARD: Buaben (11), Brough (64), Paton (90+2)

REFEREE: Andrew Dallas
WEATHER: Overcast 10C
ATTENDANCE 5762

NEXT MATCH: Ladbrokes Championship: (away) v Ross County, Saturday 24th November 2018, 3.00pm kick off at the Global Energy Stadium, Dingwall.

Related Stories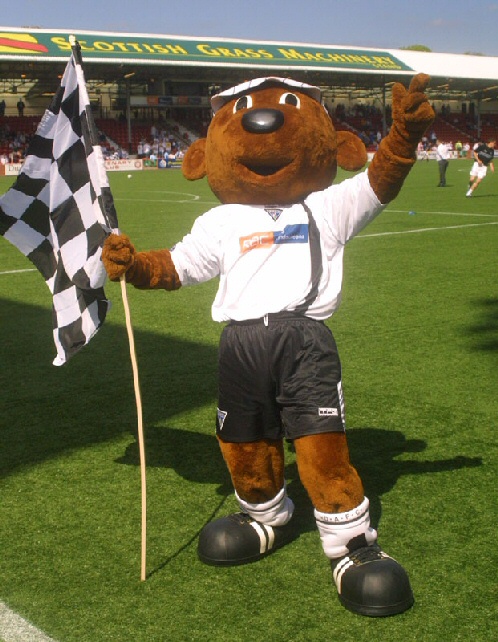 Sammy says thanks very much for visiting our web site where we have lots of news for young Pars fans.