Irn Bru Challenge Cup Third Round: Dunfermline 2 Alloa Athletic 2: 13/10/18
Alan Trouten (8) 0-1: Louis Longridge (28) 1-1: Louis Longridge (47 pen) 2-1: Allan Trouten (70) 2-2:

Alloa Athletic won 5-4 on penalties.

Three weeks ago these sides played out a goalless draw in their first league match for 32 years. They meet again in the league in three weeks time but this Irn Bru Cup tie gave both sides the opportunity to try out other players away from the pressures of the league.

Manager Allan Johnston has won this trophy before while with Queen of the South and he vested his hopes of a possible repeat success in a Dunfermline side that showed just one change from the one that defeated Falkirk 2-0 the previous week, Danny Devine started in place of the absent Mark Durnan.

Alloa Athletic manager Jim Goodwin made three changes from the side that gave Queen of the South a big fright the previous week, Sam Roscoe, Jake Hastie and Liam Burt dropped out to be replaced by Reis Peggie, Dario Zanatta and Alan Trouten.

Having changed ends the home side kicked off attacking the goal at the McCathie Stand end but it was a good run on the right by Scott Taggart created the first chance of the tie in just 90 seconds. Trouten put a delft touch on the right back's low cross but the ball travelled outside the far post.

The visitors were to go ahead in the eighth minute as a result of two unfortunate touches. Firstly a stray pass from Andy Ryan allowed Alloa to break down the left forcing a throw in 18 yards out and when Louis Longridge cleverly stole the ball away from the throw in, Alloa gathered and picked out TROUTEN in front of goal. His shot seemed to deflect off Lee Ashcroft giving Lee Robinson no chance of keeping it out. 0-1

Robinson parried a fierce shot from Kevin Cawley around his left hand post on the quarter hour but the Wasps were penalised for their challenge in the box.

In 17 minutes Dunfermline forced their first corner of the game but Andy Graham headed clear Malaury Martin's delivery from the right. Two minutes later there were two Pars attempts. Firstly James Vincent hit Graham and then Connolly was fed the ball on the left and he made ground before releasing a shot that travelled across goal and out beyond the far post.

Dunfermline continued to press and in 24 minutes an El Bakhtaoui pass to Ryan wide left was returned for Faiss but Graham slid in to deny the Pars striker. L Longridge won a corner on the right but again the Alloa captain's head commanded the penalty box and the ball was cleared.

El Bakhtaoui was deep to collect a pass from Jackson Longridge and embarked on a run inside to thump a shot on target that unluckily hit Liam Dick. The Pars shooting eventually paid off in 28 minutes, Louis LONGRIDGE firing a good attempt in from 25 yards that gave keeper Neil Parry little chance. 1-1

A Martin free kick taken short to Connolly kept up the pressure on Goodwin's team and the home side were controlling things with El Bakhtaoui in particular giving the visitors a tough time. In 35 minutes awareness from Martin to let a pass run through his legs allowed L Longridge and James Craigen to build up play down the right and Ryan's header from the cross was palmed over his crossbar by Parry.

Two minutes later a sweetly played moved from Connolly to El Bakhtaoui and back again then picked out L Longridge and his cross from the left to the far post was just too much for Craigen to control. Next Martin sent a ball on to the right side of the six yard box but Graham did well to block the striker's effort.

More home pressure saw Craigen fed by L Longridge and another dangerous cross in before El Bakhtaoui's shot blocked.

Half time: Dunfermline 1 Alloa Athletic 1

The second half started really well for the Pars with Glad All Over played within two minutes. El Bakhtaoui slipped a great ball through for L Longridge to run on to and then strike a shot that came back off the left upright and in the scramble to net the rebound Alloa conceded a penalty. Louis LONGRIDGE made no mistake from the spot kick to put the Pars 2-1 up.

Tails were definitely up and both Ryan and then Connolly had attempts before a 53rd minute free kick from the left was curled arond the two man wall by Iain Flannigan meaning Robinson had to pull off a diving save. Cawley was given room on the right in 64 minutes but his effort was blocked by J Longridge.

In 67 minutes a great marauding run was made by Devine, evading several challenges before tumbling in the box under Dick's tackle but no penalty.

Both teams made substitutions midway through the second half. Firstly Tom Beadling came on for Malaury Martin followed soon thereafter by Myles Hippolyte on for Andy Ryan. Alloa brought on Adam Brown for Connor Shields and it was the away team that made the difference finding an equaliser on 70 minutes. It was Dario Zanatta who made the goal getting in a deadly cross from the left that TROUTEN swept home from close in. 2-2

A J Longridge cross in 73 minutes was headed on target by El Bakhtaoui but Parry turned it around his right hand post. Play opened up and both sides had their moments in front of goal. Hippolyte produced a tremendous ball across the face of goal but there was no connection.

El Bakhtaoui's 79th minute shot belted off his marker for a corner on the right but Connolly's delivery went straight through the box and out on the far side. A well placed L Longridge cross just failed to reach Connolly and time was running out if penalty kicks were not going to be required to settle the tie.

Connolly and El Bakhtaoui eight yards out both came extremely close being on the end of Craigen's left footed cross in 84 minutes. Hippolyte forced an corner four. I ties later but Connolly's cross was booted away for a throw in. From that Connolly whipped the ball into the box but Alloa cleared.

In the first minute of time added, Devine's challenge on Trouten handed Flannigan an opportunity to pump a free kick into the Pars box. The match ended all square and would be decided on penalties.

Penalty shoot out:

Alloa to take first at the McCathie Stand end
1 Scott Taggart scores bottom right after Lee Robinson is yellow carded
2 James Craigen scores to right 1-1
3 Flannigan nets bottom left
4 Louis Longridge scores down the middle 2-2
5 Dario Zanatta nets low right
6 Myles Hippolyte left footed stroke low right 3-3
7 Alan Trouten delicately in right
8 Tom Beadling nets bottom right 4-4
9 Andy Graham nets bottom left
10 Aidan Connolly left footed shot to right is saved 4-5
DUNFERMLINE: Lee Robinson: James Craigen, Lee Ashcroft (c), Danny Devine, Jackson Longridge: Louis Longridge, James Vincent, Malaury Martin (Tom Beadling 66), Aidan Connolly: Andy Ryan (Myles Hippolyte 68), Faissal El Bakhtaoui.
SUBS NOT USED: Joe Thomson, Stuart Morrison, Lewis McCann, Robbie Muirhead, Cammy Gill (GK)
SCORERS: L Longridge (28, 47 pen.)
YELLOW CARD: Martin (55), Hippolyte (87)

ALLOA ATHLETIC: Neil Parry: Scott Taggart, Andy Graham (c), Reis Peggie, Liam Dick: Kevin Cawley, Jon Robertson, Alan Trouten, Iain Flannigan: Connor Shields (Adam Brown 66), Dario Zanatta.
SUBS NOT USED: Greig Spence, Ahmed Aloulou, Zdrako Karadachki, Chris Henry (GK)
SCORERS: Trouten (8, 70)
YELLOW CARD: Shields (49)

REFEREE: Nick Walsh
WEATHER: Rain 12C
ATTENDANCE 1469

NEXT MATCH: Ladbrokes Championship: (home) v Queen of the South, Saturday 20th October 2018, 3.00pm kick off at East End Park.

Related Stories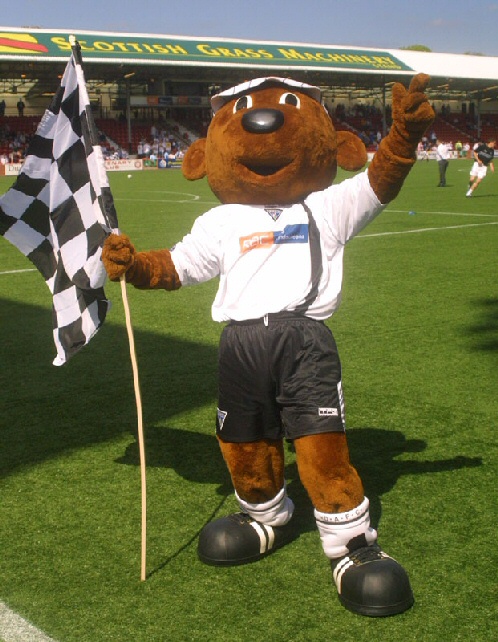 Sammy says thanks very much for visiting our web site where we have lots of news for young Pars fans.