SPL: ABERDEEN 1 DUNFERMLINE 0: 16/03/02
Dunfermline travelled north on Friday evening to be ready for this important SPL match against Aberdeen. Victory would put them right up there in contention for a top six place, defeat would lead to a week of uncertainty. Gary Mason and Seyni N`Diaye were brought into the team in place of Panopolous and Kilgannon.

Lee Bullen started further forward than against Kilmarnock, Gary Mason fitted in behind him and Steven Hampshire was wide on the left.

Aberdeen kicked off towards the beach end and although Steven Hampshire got a shot in from a Bullen cross within the first minute it was to be a first half that the home side dominated. In fact Dunfermline at times looked as though they were severely jet lagged from their trip north.

Scott Thomson underestimated a pass back to Marco and Andrius Skerla was forced into conceding the first corner of the match. One became two and although Aberdeen deployed their follow-the-leader tactic the defence was resolute.

Next it was Darren Mackie who tested Ruitenbeek have played a 1-2 off Mike. The big Dutchman blocked it with his right foot before beating Mike to grab the ball out of the air but his next action was not so successful. In the seventh minute Robbie Winters worked hard to beat off Gary Mason on the left wing and sent over a low ball across the six yard line that should have been cleared.

Steven Hampshire appeared to swish at it and missed. McGroarty was at the far post but he was far from effective as MIKE popped up and scored with a tap in that Marco saw in at the post. Unbelievably slack defending so the Pars found themselves one down.

The Dons goalscorer should have doubled the lead right away. From the right Derek Young picked out Mike and the effort from only 8 yards out should have hit the net instead of the billboard way to the left of target.

In contrast the Pars reply was less than dangerous; a N`Diaye shot from outside the box and an Ian Ferguson free kick which found Stevie Crawford on the far side of the six yard box. Seemingly surprised by the precision of the ball, Stevie never really got the shot in and the Aberdeen defence scrambled the ball away.

Another near thing then thundered past Marco`s left hand post as Mike hit a curling shot from 25 yards out. Darren Young embarked on a quick break that sent Mike through on Ruitenbeek but fortunately Marco`s left foot blocked the shot.

Dunfermline managed a rare visit to the Aberdeen penalty box when in 24th minute Chris McGroarty picked out Lee Bullen with a cross from deep down the left wing. Lee`s header back across goal fell behind Seyni N`Diaye and the chance was gone.

Winters then hit the crossbar from a Darren Mackie cross from the right and as Andrius Skerla headed clear, the Pars defence was certainly riding a storm. Respite came when a 27th minute corner dropped to Ferguson and his shot was headed away by Derek Young. The Pars then might have done better had N`Diaye been able to control more of the balls in the Aberdeen penalty box.

In 34 minutes Crawford twisted and turned to eventually cross from the left. Bullen knocked the ball down into N`Diaye`s path but again the striker failed to test Kjaer. Lee Bullen then produced Dunfermline`s best attempt of the half with a good shot from 25 yards which the keeper held.

Jimmy Calderwood then made an early substitution in an effort to change the pattern. Captain Ian Ferguson was substituted with Gus MacPherson coming on. Mason moved into midfield and the team started to look more dangerous.

Fergie was not amused at his early substitution, ripping of his Pars shirt and showing great displeasure in the experience although it would seem from his post match comments that he was probably equally displeased with his own performance.

The half time whistle was a great relief for Dunfermline. Aberdeen had produced a fine first half performance and should have been more than one goal ahead. Jason Dair came on for Steven Hampshire at half time and for the second week running it was a different Dunfermline that appeared for the second half.

The half was only three minutes old when N`Diaye burst through the middle of the opposition defence to lay off a good ball for Crawford. After he turned McAllister he got in a good shot that the keeper saved at the second attempt.

The first of a number of second half free kicks was won by N`Diaye. Jason Dair and Barry Nicholson stood over the free kick before they released it to Scott Thomson who did not connect properly and ended up well wide to the right of the goals.

Just two more minutes passed until Kjaer was out to take a Bullen cross off the top of N`Diaye`s head. At this stage it was all one way towards the Aberdeen goal and Bullen played the ball wide right to Crawford whose cross was too big and Dair on the far side seemed to connect better with McNaughton than with the ball.

Aberdeen tried hard to get back into the match. Winters got the better of Gus MacPherson to send over a ball from the left that Scott Thomson had to send behind for another of the corner routines. Fortunately the Pars were dealing well with the Dons corner kick routines.

Two minutes later in the 61st Mike sent Mackie into the box and as he went to ground seven yards out there were appeals for a penalty but there was no contact from Skerla that would have warranted such an award. As Winters had a crack at goal but was woefully high Ruitenbeek was having a much quieter second half.

Another Thomson free kick cannoned off the rear of sub Chris Clark in 68th minute and luck just wouldn`t go Dunfermline`s way. Five minutes on and Mason was the next victim of misfortune when looking as he was in for a goal he seemed to fall over the ground and the chance was gone.

Lee Bullen was substituted with quarter of an hour to go immediately missing out on another good cross. His substitute Sean Kilgannon should have been an immediate hero - his first touch was a header at the far post from a Nicholson cross and Crawford flick on. The sub should have earned the title "super" but his header unbelievably failed to make the net.

The late afternoon even provided some sunshine into what was a decidedly grey day. The Pars pushed for an equaliser but the sun never shone on them. Thomson`s long free kick was headed wide by Crawford. McGroarty and MacPherson deserted the defence.

Dair swung in a ball that Crawford flicked at goal and Andrius Skerla chased the ball about as another corner was played into the Dons box. With three added minutes running out Marco Ruitenbeek went up for a corner.

The bold move almost went badly wrong after Aberdeen quickly won possession and attempted an 80 yard shot which was on target until Chris McGroarty played Linford Christie to deny Chris Clark an extraordinary goal.

The final whistle came as a great disappointment to the Pars players and sizeable travelling support. Aberdeen go into third place as a consequence. Dunfermline lose sixth spot with Hearts victory over Hibs but with Kilmarnock at Ibrox on Wednesday night it would seem that by the time Dundee arrive at East End Park next Saturday.

There were no outstanding performances although the second half play was as good as any that they have put in away from home this season.

By the time the team bus pulled up outside East End Park at ten to eight the thoughts were already on next Saturday. With a little favour from Rangers on Wednesday it could be all in their own hands for the visit of Dundee.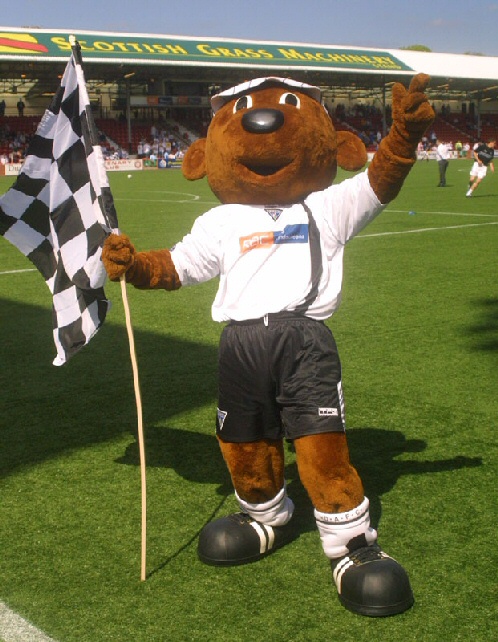 Sammy says thanks very much for visiting our web site where we have lots of news for young Pars fans.