Ladbrokes Championship: Dumbarton 0 Dunfermline 1: 06/01/18
It was a beautiful day that welcomed Dunfermline Athletic to the YOUR Radio 103FM Stadium on the east bank of the river Leven. Sun kissed the Dumbarton townscape and there was a picturesque covering of snow on the distant hills.

Manager Allan Johnston named the same starting eleven that had successfully disposed of Falkirk on 2nd January. That meant skipper Callum Morris was on the bench as he returned from suspension. Only other change was replacement on the bench of Cammy Gill by seventeen year old youth keeper Craig Burt.

Dumbarton manager Stevie Aitken made two changes to his side, out went Dimitris Froxylias and Ally Roy, in came Greg Morrison and David Wilson.

It was eight placed Sons versus fourth placed Pars as the visitors kicked off attacking the goal at east end of the ground. Right from the start Dunfermline had all the possession and there was a lot of confident passing early on.

In the fourth minute Michael Paton switched the ball to Joe Cardle on the left side of the Sons box but his well connected shot was saved by Scott Gallagher. Within a minute the keeper had to hold a shot struck by Declan McManus from 30 yards out.

Dumbarton did force a corner when Lee Ashcroft headed behind but Dean Hiels hooked away the danger and they did threaten when Wilson embarked on a run that took him in on the right side of the Pars box but he lost control and the ball went out for a goalkick.

The Fifers too had a corner but Ashcroft could not get direction on his header and then Paton crashed a speculative shot from 30 yards out but cleared the crossbar by some margin. Cardle and McManus combined on the right for the latter to cross for Clark on the top of the box but between him and Paton they failed to get a shot away.

As the midpoint of the first half past the stats were showing 67% possession to the visitors but they really hadn`t tested the Dumbarton keeper. Cardle and Paton had been involved in promising breaks but the Dumbarton defence thus far.

All that changed in 24 minutes when a CARDLE shot from the left corner of the box sailed past Gallacher for a gem of an opener. The opportunity was created courtesy of a long raking pass from Shiels. 0-1


The Pars went for a second straight away, Clark was picked out on the top of the box but was closed out and Paton pumped an inviting ball across the six yard box from the left side but got no takers.

Play halted in 29 minutes as Talbot and Caswell clashed in a tackle. The Pars man recovered but Carswell required the physio`s attentions before limping off. On the restart a Shiels pass was brought down 15 yards out by McManus to tee up Clark but his effort was deflected right for a corner. When that came over the defending was dogged and eventually McManus managed a shot but that hit the right sidenetting.

In 34 Shiels directed a free kick from the left side for Ashcroft to head on target but there was not enough on it to reach the net. Two minutes later a long throw from Liam Dick was flicked on by Morrison and there was unease as the ball broke back on goal off M`Voto for Robinson to smother at his right post.

Five minutes from the break Dumbarton failed to take a great opportunity to get level. A Tom Walsh run made the opening to pick out Gallagher and then Dick on the left. The full back`s delivery was perfect for Wilson at the far post but he headed wide.

There was to be another two Pars chances before half time. Shiels picked out Cardle on half way and he in turn sprayed the ball right for Williamson. The full back`s cross was half intercepted but Paton got a shot in on the turn but that was blocked. In the one minute added at the end Cardle popped a shot from 20 yards out and forced Gallacher to hold.

Only one goal in at the break though despite Dumbarton only having two shots to Dunfermline`s nine and seven of those Pars efforts had been on target.

Half time: Dumbarton 0 Dunfermline 1

Dumbarton replaced their sole striker Morrison with Christian Nade before they kicked the second half off and more or less immediately rectified their lack of on target shots when Gallagher`s header had to be plucked out of the air by Robinson.

The home side looked much brighter this half and a 53rd minute corner required Robinson to punch clear. A free kick ten yards into the Sons half allowed the Pars to pressurise their opponents but M`Voto`s knock down on Ashcroft`s delivery was mopped up by the defence. Back to the other end and Nade got his head on a cross from the left but headed over the bar from 12 yards out.

Possession and territorial advantage was with the home side at this point and they looked a completely different side from that in the first half. Unfortunately on the hour they lost their captain Andy Dowie injured as he slid in on a tackle on Clark. He limped off and was replaced by Danny Handling.

In 66 minutes Wedderburn sent a fine pass to Cardle who twisted turned on the left side of the box before crossing to the far post but Shiels effort was deflected wide right for a corner that Paton burned by hitting it behind. Three minutes later McManus got away from his marker but his shot from 25 yards out went straight into Gallacher`s arms.

Another corner from the right this time taken by Shiels was headed wide left by M`Voto but it did appear to have taken the early second half sting out of the hosts. That was only momentarily though since it was McManus who was back to concede a 74th minute corner. The Sons were blown up for pushing but they were soon back in possession and Talbot was forced into conceding a 76th minute corner.

Scrappily defended Shiels went off with it but a throw in on the left allowed another launching of the ball into the Pars box that again was not cleanly defended. A double substitution in 78th minute saw Callum Smith and Andy Ryan replace Nicky Clark and Declan McManus. There was another goalmouth scramble in front of the Pars goal before a break in 82 minute and Ryan was unlucky that his cross goal shot hit the outside of the far post.

Kallum Higginbotham was the final Pars sub of the game, Shiels relinquishing his newly acquired armband to Wedderburn.

Three minutes from time Smith beat his man on the right but Dick made a timely tackle to deny the striker a shot and a corner followed. When that came in from the right M`Voto sent a looping header on target but Gallagher held that on his line.

Nade had a go but Robinson diving to his right held the low attempt. Dumbarton`s Smith tried a long range shot in 89 but was high. Into added time and two more shots from Dumbarton, Wilson coming closest forcing Robinson to deflect away for a corner.

In the end Joe Cardle`s excellent strike separated the teams and both sets of supporters stood to applaude their teams off the park. The Pars made hard work of it but retained their 36 year unbeaten away record against Dumbarton and more importantly lifted the three points.
DUMBARTON: Scott Gallacher: David Smith, Andy Dowie (Danny Handling 60), Dougie Hill, Liam Dick: Callum Gallagher (Chris Johnston 80), David Wilson, Craig Barr, Stuart Carswell, Tom Walsh: Greg Morrison (Christian Nade HT).
SUBS NOT USED: Ally Roy, Jamie Ewings (GK).

DUNFERMLINE: Lee Robinson: Ryan Williamson, Lee Ashcroft, Jean Yves M`Voto, Jason Talbot: Michael Paton, Nat Wedderburn, Dean Shiels (Kallum Higginbotham 82), Joe Cardle: Nicky Clark (c) (Callum Smith 78), Declan McManus (Andy Ryan 78).
SUBS NOT USED: Fraser Aird, Lewis Martin, Callum Morris, Craig Burt (GK)
SCORERS: Cardle (24)

REFEREE: John Beaton
WEATHER: Sunny 3C
ATTENDANCE 1086

NEXT MATCH: Ladbrokes Championship (home) v Dundee United, Saturday 13th January 2018, 3.00pm kick off at East End Park.

Related Stories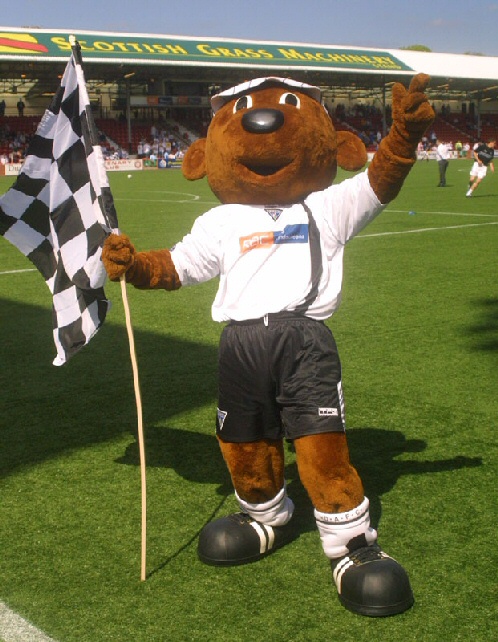 Sammy says thanks very much for visiting our web site where we have lots of news for young Pars fans.