William Hill Scottish Cup: BUCKIE THISTLE 3 DUNFERMLINE 5: 26/11/16

Four changes. Hamish Munro (12 og) 0-1: John McLeod (13) 1-1: Michael Paton (16 pen) 1-2: Chris Angus (33) 2-2: Kallum Higginbotham (58) 2-3: Paul McMullan (60) 2-4: Chris Angus (68) 3-4: Paul McMullan (90+2) 3-5

Marquees, tents and food stalls gave Victoria Park a Festival atmosphere for this Third Round Scottish Cup tie against the Highland League leaders, Buckie Thistle. Manager Allan Johnston made four changes to the side that won at the Paisley 2021 Stadium the previous Saturday. In came Conner Duthie, Nat Wedderburn, Paul McMullan and Michael Moffat, meaning Jason Talbot, John Herron, Farid El Alagui and Kallum Higgnibotham were on the bench.

Buckie Thistle manager Graeme Stewart had no surprises to pull with his team selection giving a vote of confidence to the starting eleven that turned out 5-1 winners at Clachnacuddin.

The teams entered the park peeling off either side of the Scottish Cup trophy sitting on a plinth in front of the dugouts.

The home side kicked off playing east to west and Sean Murdoch got a touch as soon as the eighth second when gathering an overhit pass. The Pars keeper also had to hold a shot from outside the box before his counterpart Ross Salmon got his first touch on four minutes. Prior to that a Lewis Martin cross in from the right was cleared out by a defender before it reached Moffat.

Nicky Clark`s sudden release of pace put him in position to centre from the right corner flag but again the defence cleared. Duthie`s long ball for Clark earned the Pars the first corner of the game and that was taken short on the left with McMullan sending in the ball for Lee Ashcroft at the far post. The ball dropped left towards Hamish MUNRO who made a good job of finding the net just inside the right post. 0-1


Within a minute the Jags were back on level terms. Cieran McLean made the run through the middle, releasing the ball to his right where John McLEOD took the chance, clinically hitting his 33rd goal of the season past Murdoch. 1-1

The cup tie atmosphere was continued with the Fifers hitting back four minutes later. Moffat was played into the left side of the Buckie box and keeper Salmon took the striker down as he was about to pass him. Referee Craig Charleston pointed to the spot and the Pars had a 16th minute penalty. There never seemed any doubt that Michael PATON was going to take it and he netted to the keeper`s left. 1-2

Moffat conceded a free kick 28 yards out after being deemed to have taken down Kevin Fraser, something he strongly disputed. Anyhow the defence survived the free kick with a Chris Angus picking up a yellow for his rather unorthidox presence in front of Murdoch. Murdoch was involved again soon after gathering a ball to the left of his goal as McLeod threatened again.

Rhys McCabe dispossessed McLean and sent a snapshot from 45 yards that bounced wide left. Murdoch then had to hold an Angus effort but in 33 minutes he could not do anything about a ball drilled in from the left side. McLeod crossed for ANGUS to make it 2-2.

Pars chances were limited. Clark had his effort blocked and in 41 minutes McMullan curled a shot outside the right post. A minute later Salmon pulled off a fine save at short range from Clark after he had controlled a strong McCabe ball into the box.

As the half closed Dunfermline pressed, Clark had no joy and then Duthie fired an effort over the bar from 25 yards out. It had been a classic cup tie for the first 45 minutes, Buckie stats showed greater possession, they had only three shots to the Pars nine but they turn around all square.

Half time: Buckie Thistle 2 Dunfermline 2

Kallum Higginbotham replaced Michael Paton before the Fifers kicked he second half off. The sub slipped the ball to Clark on the edge of the box but the offside flag went up long before the no.37 slotted the ball past Salmon at his near post.

Moffat sped down the left in 51st minute and Salmon could only get a touch to his well placed cross and Higginbotham`s follow up was deflected behind for a corner. Ashcroft met the corner but headed over the bar.

McMullan took on three defenders and emerged from the left corner flag to cross but Buckie cleared. Then in 58 minutes McMullan played an exquisite ball deep right for Clark to run on to and his cut back to HIGGINBOTHAM was crashed past Salmon by the Pars sub. 2-3

McMULLAN was proving to be a real handful and his solo run two minutes later provided the fourth Pars goal and so with half an hour to play it seemed that the tie was maybe beyond the Highland League leaders. 2-4

Not so, eight minutes passed and there was only a one goal deficit. McLeod powered in a shot from an angle on the right and the ball spun up off the keeper and ANGUS was at the far post to nod in number three. 3-4

Dunfermline pushed again and there was a slick exchange of passes from Martin to Higginbotham and back for Martin who crossed from the right but Buckie intercepted. Then Clark latched on to a pass and despatched an effort that rattled out off the crossbar.

In 77 minutes Salmon was out of his box to beat Moffat to a long ball, before Farid El Alagui was introduced in place of Nicky Clark.

McMullan was eased off the ball on the edge of the box as he looked very likely to get in for another. With five minutes remaining it looked like Angus had been blown up for offside but Buckie were awarded a free kick in the centre circle. The ball was pumped into the Dunfermline box and Lewis MacKinnon might have snatched an equaliser as the ball broke across the six yard box but failed to take the chance.

Angus launched a 87th minute shot on target but hit his own man. The home side forced their first corner of the match in the second minute of added time and the home crowd roared their team up. The ball was headed clear and Moffat broke from his own half with only the keeper to beat. Having drawn the keeper he released the ball left for McMULLAN to finish. 3-5
BUCKIE THISTLE: Ross Salmon, Jay Cheyne, Lewis MacKinnon, Hamish Munro: Craig Dorrat, Drew Copeland (Declan Milne 80), Kevin Fraser (c), Cieran McLean (Shaun Wood 44), John McLeod, Chris Angus, Sam Urquhart
SUBS NOT USED: Iain Macrae, Andrew Low, Shaun Carroll, Robert Strong, Drew Strong (GK)
SCORERS: McLeod (13), Angus (33, 68)
YELLOW CARD: Salmon (16), Angus (26)

DUNFERMLINE: Sean Murdoch: Lewis Martin, Callum Fordyce (c), Lee Ashcroft, Conner Duthie: Michael Paton (Kallum Higginbotham HT), Nat Wedderburn, Rhys McCabe (John Herron 82), Paul McMullan: Nicky Clark (Farid El Alagui 78), Michael Moffat.
SUBS NOT USED: Jason Talbot, Joe Cardle, Lewis Spence, David Hutton (GK)
SCORERS: Munro (12og), Paton (16 pen.), Higginbotham (58), McMullan (60, 90+2)
YELLOW CARD: Murdoch (19), Higginbotham (58), McCabe (72)

REFEREE: Craig Charleston
WEATHER: Overcast, Drizzle 10C
ATTENDANCE 1440

NEXT MATCH: Ladbrokes Championship: (home) v Ayr United, Saturday 3rd December 2016, kick off 3.00pm at East End Park.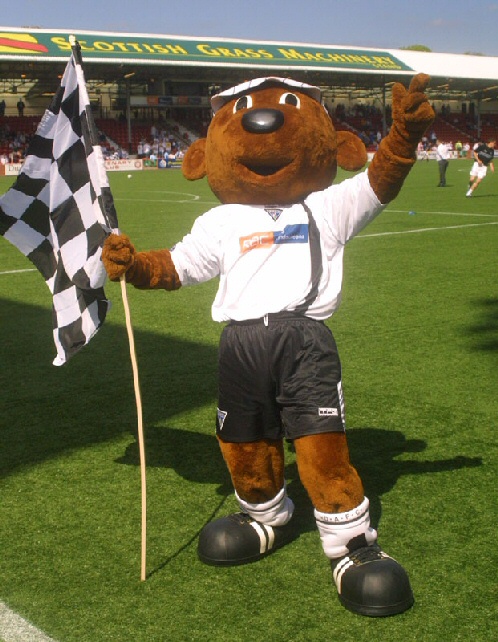 Sammy says thanks very much for visiting our web site where we have lots of news for young Pars fans.