SPFL Championship: FALKIRK 2 DUNFERMLINE 1: 15/10/16
Farid El Alagui and Kallum Higginbotham start in place of Gavin Reilly and Joe Cardle. Craig Sibbald (27) 1-0: Myles Hippolyte (53) 2-0: Farid El Alagui (76) 2-1

The clubs are just 19 miles apart but for the last three seasons Dunfermline have competed in the league below Falkirk. This the first league match between the teams in three and a half years has been eagerly awaited for all that period. The rivalry that exists between both sets of fans always creates a special atmosphere and a must win attitude both on and off the park.

Pars manager Allan Johnston was without the services of Joe Cardle out with a knee injury, former Bairn, Kallum Higginbotham came in for him while upfront, previous
Falkirk hero, Farid El Alagui was preferred to Gavin Reilly who was on the bench.

Peter Houston had rested several players in Falkirk`s last match at Somerset Park in the Irn-Bru Cup so there were many changes involving the return of keeper Danny Rogers, David McCracken, John Baird, Craig Sibbald and Tom Taiwo. 34 year old former Par, Mark Kerr lined up against his old club.

The match officials led on the team`s to a deafening noise from all three sides. Support for Show Racism the Red Card was displayed by the players before a mark of respect for Falkirk players Jimmy McIntosh and Eddie O`Hara.

The sides changed ends prior to kick off meaning the Bairns kicked off attacking the goal in front of heir own supporters in the home stand.

It was the travelling fans who were making the most noise in the opening two minutes after Andy Geggan`s early delivery into the Falkirk box gave Higginbotham something to chase and then when Jason Talbot charged down a clearance that bulleted back into the Falkirk box.

The home side had a great opportunity in four minutes, Bob McHugh getting a second bite at crossing from the left but Tom Taiwo sent his diving header wide left. Both sides then had offside decisions against them, after Sean Murdoch had pulled off a fine save to keep out John Baird.

In tenth minute Lewis Martin was yellow carded for tugging back Myles Hippolyte as he threaten to get in on goal. It all came about from a Lee Ashcroft header square to his partner that put him in trouble and was dispossessed. Craig Sibbald lofted in the free kick from 26 yards out and the defence scrambled the ball away. Next Luke Leahy sent a hard low cross in from the left but Murdoch dived and held.

In 13 minutes El Alagui got in a header on a Higginbotham cross but that was held by keeper Rogers. A Pars corner then kept up the pressure but the defence headed away Higginbotham`s delivery.

At the other end the Pars defence made equally easy work of defending a Falkirk corner before Leahy sent a wild shot from 25 yards well wide. Rogers did well to keep out Geggan in 20 minutes after a Higginbotham free kick picked out Nicky Clark who headed down for Ashcroft 12 yards out. The former Killie man got in a shot that was deflected left and the Pars skipper slid in but the on loan Dons keeper turned the ball away for a corner. Dunfermline packed the six yard box causing referee Andrew Dallas to try and cool things down but inevitably when the corner was executed the ref blew up against Dunfermline`s attackers.

Then on 26 minutes Michael Paton`s ball in from the right travelled to Higginbotham and it took a pretty desperate clearance off the line to keep the Fifers out. Next minute it was so different, Sibbald started the move, his pass then let John Baird send a long ball over the top and from a strong run SIBBALD was through on Murdoch and he found the net over the keeper`s head. 1-0

Baird won a 32nd minute corner off Ashcroft but Murdoch rose to hold when the delivery waaird s sent over from the right. Another from the same side two minutes later was headed wide right. Falkirk were doing much of the attacking but were frustrated by the defensive blocks. When the Pars went forward again Clark was caught offside midway into the Falkirk half.

There were two further attempts on the Pars goal in 39th minute. First Kerr played a neat one two off Baird but, on the angle, shot wide right from 12 yards out. Very quickly Bob McHugh got the opportunity to shoot from 20 yards out but his effort when straight at Murdoch.

Ninety seconds from the break a clearance cannoned off Kidd allowing Sibbald a shot from the edge of the box. His left footed shot went through a sea of defenders and past the right upright.

Half time: Falkirk 1 Dunfermline 0

The half time stats revealed Pars on top 52/48 in terms of possession, the visitors ahead on corners but Falkirk`s pace upfront was a constant threat and they deserved their lead at the interval.

Dunfermline got the second half underway and within 30 seconds El Alagui was on the end of a Talbot cross from the far touchline but his attempt went wide right. Ryan Williamson too crossed into the box from the right but with just too much elevation for a Higginbotham to connect.

Geggan`s late challenge on Sibbald earned Kerr the chance to pump the ball into the Pars box from a free kick 35 yards out. Murdoch got drawn out of his goal to the left and there was some desperate defending to keep the Bairms out.

Having survived that Myles HIPPOLYTE then created a fine chance for himself, beating off approaches to dispossess him and drilling his 53rd minute shot into the net from 30 yards out. 2-0

Clark was a little unlucky just minutes later, El Alagui`s pass spinning up off his ankle but he was prevented from pulling the trigger and Rogers gathered. David Hopkirk replaced Rhys McCabe on 59 minutes and he went wide left with Higginbotham moving inside.

Sibbald and Hyppolyte then set up McHugh for a drive on target from 25 yards out but Murdoch dived to his right to hold. At the other end Rogers slid out to prevent Clark getting in on goal and in 69 minutes Hopkirk was presented with a great chance from a Williamson cross but he did not execute the shot well enough.

McHugh then headed a chance wide right and next Baird thrashed his chance over the bar. Dunfermline tried hard to retrieve the situation, Higginbotham pressed, Hopkirk was wide right to centre but just too high for El Alagui.

Murdoch kept out Falkirk with a good stop after Taiwo`s run had set up McHugh in front of goal. Then in 76 minutes an EL ALAGUI goal handed the Pars a lifeline. Latching on to a bit of slackness by McCracken, the striker waltzed around the Irish keeper to net. 2-1

The 1437 Pars fans urged their team on and Falkirk were not to enjoy the pressure they were put under for the final 15 minutes.. A Higginbotham corner from the left was headed goalwards by Clark but in a scramble the Falkirk defence cleared. Williamson picked out Higginbotham but his cross eluded El Alagui and Reilly could not get enough control of it to shoot.

In 90th minute a loose clearance dropped to Geggan but he blasted his chance to be the hero well off target, much to his frustration.

That turned out to be the last opportunity and the Bairns were to end up 2-1 winners. Defeats elsewhere for Dumbarton and St Mirren means that the Pars remain in eighth place.
FALKIRK: Danny Rogers: Luca Gasparotto, David McCracken, Lewis Kidd (Paul Watson 80) Luke Leahy, Tom Taiwo (John Rankin 80), Mark Kerr, Myles Hippolyte (Scott Shepherd 80), Craig Sibbald, John Baird, Bob McHugh,
SUBS NOT USED: Cameron Blues, Lee Miller, Tony Gallacher, Lewis Deniz Dogan Mehmet (GK)
SCORERS: Sibbald (27), Hippolyte (53)
YELLOW CARD: Kidd (19), McHugh (85)

DUNFERMLINE: Sean Murdoch: Ryan Williamson, Lewis Martin, Lee Ashcroft, Jason Talbot, Michael Paton (Gavin Reilly 74), Andy Geggan (c), Rhys McCabe (David Hopkirk 59), Kallum Higginbotham: Farid El Alagui, Nicky Clark.
SUBS NOT USED: Michael Moffat, Ben Richards-Everton, Paul McMullan, Euan Spark, David Hutton (GK)
SCORERS: El Alagui (76)
YELLOW CARD: Martin (10), Higginbotham (77), Clark (84), Geggan 87)

REFEREE: Andrew Dallas
WEATHER: Damp, miserable 11C
ATTENDANCE 6377

NEXT MATCH: Ladbrokes Championship: (home) v Hibs, Saturday 22nd October 2016, kick off 3.00pm at East End Park.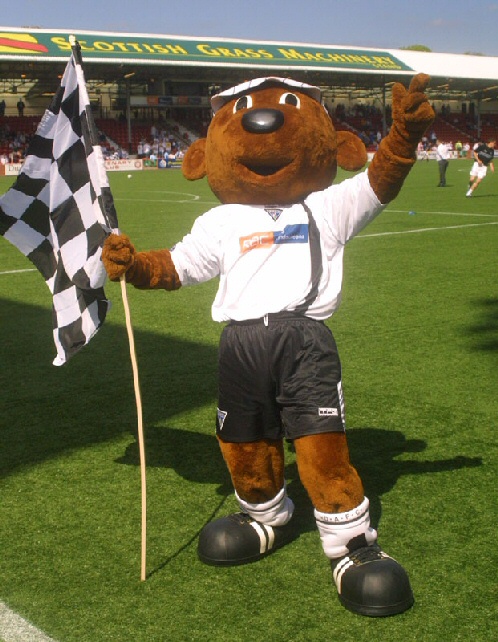 Sammy says thanks very much for visiting our web site where we have lots of news for young Pars fans.