SPFL League One: BRECHIN CITY 1 DUNFERMLINE 6; 08/08/15
Ladbrokes League One: same starting eleven; El Bakhtaoui (8), Moffat (23) 0-2; Cardle (31) 0-3; El Bakhtaoui (44) 0-4; Wallace (80) 0-5; Weatherston (89) 1-5; Falkingham (90) 1-6.

The opening day of the League One campaign proved to be an enjoyable one for Allan Johnston, his players and Pars fans,. Six goals against a side that they failed to beat in four tries last season made to road to Dundee and then down the A90 a very strange, but pleasing experience

After impressive back to back wins using the same starting eleven, manager Allan Johnston went with the same again. Jason Talbot returning from suspension found himself on the bench.

Darren Dods was seeking his first competitive win as Brechin City manager following 3-0 and 2-0 reversals against Peterhead and Ayr United. He made two changes from the side defeated at Somerset Park the previous Saturday in the Scottish League Cup - Craig Molloy and Craig Johnston came in to replace Gary Fusco and Jamie Montgomery. Dods was missing from the bench through suspension.

There was a sizeable travelling support in front of the Brechin hedge and in the away stand. The bright sunshine that kissed the warm up period disappeared by kick off but by summer of 2015 standards was a lovely afternoon. The Pars kicked off with their supporters in the stand behind them and Michael Moffat was picked out inside the opposition box within 15 seconds but he was closed out by the home defence.

Brechin then won a free kick on the edge of the Pars box within two minutes but former Pars player Robert Thomson drove into the five man wall and although City got in a follow up the defence blocked that too.

In sixth minute an Andy Geggan shot from 35 yards was deflected behind for the first corner of the afternoon but Joe Cardle's delivery went long. Then Faissal El Bakhtaoui tested Graeme Smith with an effort from 25 yards which he dropped to his knees to gather. In eight minutes the Pars striker had better luck. EL BAKHTAOUI's shot was parried by the keeper but he followed up to net his fifth goal of the season. 0-1

The goalscorer next put in a really good cross, looking up and picking out Moffat who was immediately surrounded by red shirts but he laid the ball back for Michael Paton whose effort went wide right. Ben Richards-Everton sent in a great ball from the right that Cardle met at the far post but he could only turn it back and a defender stepped in first to clear.

Geggan tried another shot from distance but the keeper held while at the other end Sean Murdoch was kept deployed holding two separate efforts from City. In 18 minutes a Craig Johnston free kick travelled through the Pars box and out beyond the right goalpost.

Dunfermline looked comfortably in control, their passing was quick and Cardle in particular fought away to try and get in crosses. Midway through the first half his perseverance paid off. In front of goal Ross Parry tried to head clear Cardle's cross but merely teed up MOFFAT who then headed past Smith from close range. 0-2

The Fifers continued to press, Cardle had a shot blocked and Lewis Martin drove his attempt into a defender. Then in 31 minutes CARDLE was allowed space in his favourite shooting position just outside the box and he zipped a right footed shot into the top corner. 0-3

Under more pressure Brechin right back Paul McLean stopped a cross with his hand and Cardle rifled a shot on target from 25 yards that Smith held impressively. At the other end Callum Fordyce brought down the tricky Johnston but the free kick was powered through the Pars box to no effect.

In 39 minutes Geggan sprayed a pass out right for Williamson and he made a run cutting in from the right but forced on to his left foot his shot was easily dealt with by Smith. The fourth Dunfermline goal came from a simple cross from the boot of Paton that picked out EL BAKHTAOUI and he rose unchallenged to head past Smith 0-4.

Quite a first half from the visitors!

Half time: Brechin City 0 Dunfermline 4

Jason Talbot replaced the injured Callum Fordyce for the restart and the sub was immediately deployed puttiing off McLean sufficiently for the full back's shot from 15 yards soaring over the bar and out of the ground. Two minutes in Paton released a low stinging shot that Smith saved and got the break that let his defence clear before Moffat could snap up the chance.

On the hour Ryan Wallace came on to replace Shaun Byrne and the sub had a shot with virtually his involvement. El Bakhtaoui's shot came back to the sub and then Faiss got a bite at the rebound but blasted well over the top.

At the other end Murdoch did well to stretch for an Andy Jackson cross and Williamson mopped up. Dunfermline continued to pass the ball around accurately and confidently. Perry narrowly avoided scoring an own goal in 65 minutes and when Cardle's corner was delivered from the right Geggan's header cleared the crossbar.

Pars were getting time on the ball in the Brechin box, worrying the home dugout but Moffat's shot was squeezed out on the left. Josh Falkingham came on for Faissal El Bakhtaoui with 69 minutes gone. Within the same minute Cardle lobbed over a ball from the right that Moffat met at the near post but sent it outside the upright.

Murdoch dived to his right to save from sub David Weatherston and then in 72 minutes pulled off a fine save to deny Jackson. Next minute City captain Craig Molloy sent a wonderful strike destined for the top left corner of the Fifers net but Murdoch played Superman to turn the ball around his post.

Brechin continued to enjoy more possession and the home fans had hopes of a consolation goal but in 80 minutes it was Dunfermline who were to score again. Cardle fed WALLACE and he took the chance superbly with a fine low finish into the far corner of the net. 0-5

In 85 minutes first Cardle and then Wallace had net bound shots headed off the line by Kevin Buchan! Two minutes later Talbot sustained a knock as he ran in to McLean and then Molloy piled into the back of him. The English defender was tough enough to take it and play resumed.

Brechin did get that consolation when WEATHERSTON headed in a Thomson cross in 89 minutes but their joy was short lived as FALKINGHAM received the ball from the right with Wallace stepping over the pass. Josh rolled the ball into the bottom right to complete the rout at 6-1

It was the Pars first league success at Glebe Park since January 1994 but it will be a memorable one. The best opening league result since Dickson twice, Rowan, Melrose twice and Sweeney scored in the 6-0 win over Motherwell on 19th August 1959.
BRECHIN CITY: Graeme Smith; Paul McLean, Darren McCormack, Ross Perry, Kevin Buchan; Craig Johnston, Euan Smith, James Dale (David Weatherston 56), Craig Molloy (c), Andy Jackson, Robert Thomson.
SUBS NOT USED: Gary Fusco, Jonathan Tiffoney, Jamie Montgomery, Paddy O'Neil (GK).
SCORERS: Weatherston (89)
YELLOW CARD: Thomson (4)

DUNFERMLINE: Sean Murdoch; Ryan Williamson, Callum Fordyce (c)(Jason Talbot HT), Ben Richards-Everton, Lewis Martin; Michael Paton, Shaun Byrne (Ryan Wallace 60), Andy Geggan, Joe Cardle; Michael Moffat, Faissal El Bakhtaoui (Josh Falkingham 69).
SUBS NOT USED: David Hopkirk, Lewis Spence, John Potter, David Hutton (GK).
SCORERS: El Bakhtaoui (8, 44), Moffat (23), Cardle (31), Wallace (80), Falkingham (90)

REFEREE: John McKendrick
WEATHER: Sunny 19ºC
ATTENDANCE 1214

NEXT MATCH: Ladbrokes League One: (home) v Cowdenbeath
Saturday 15th August 2015, kick off 3.00pm at East End Park.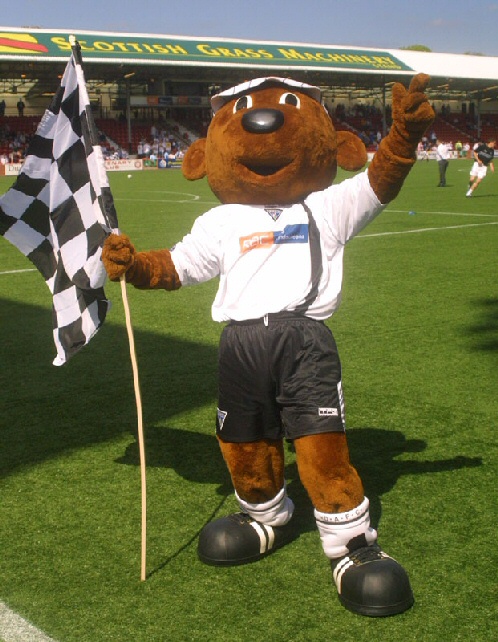 Sammy says thanks very much for visiting our web site where we have lots of news for young Pars fans.