Pre Season Friendly: BERWICK 1 DUNFERMLINE 2: 19/07/14 :
MATCH PICTURES
Berwick Rangers in blue shirts kicked off against a Dunfermline team which included a number of players who had not previously started pre season games.¬ A familiar face in the home side was former Par, Paul Willis who has recently returned from Canada.
The hosts won a corner within two minutes but that was successfully defended.¬ Two minutes later a Ryan Williamson run won the Pars their first corner of the afternoon but they played it deep and when a shot was forthcoming from the left side, keeper Billy Bald held easily.
In ten minutes Wiliamson was cut down as he embarked on a cross field run and Ryan Wallace delivered the free kick to Gregor Buchanan on the left. His header dropped just behind Jonathan Page and Berwick were able to clear. Willis then made a run that saw him get in a good position on the left to send the ball diagonally through the Pars box.
Another Williamson cross after the youngster had rounded left back Dean Hoskins was headed away by Jonny Fairbairn from right in front of goal. It was from the left, however, that Dunfermline were to create the opening for the first goal of the day. Maybe it was his knowledge of his opponents given that Ross Drummond had spent the latter half of last season on loan to Berwick¬ but the 20 year old impressed as he cut in, twisted and turned past four opponents before laying the ball off for Shaun BYRNE to net from six yards. 0-1
Berwick responded with Willis placing a good drive from 25 yards wide left of target and then Russell having a shot from inside the box blocked by Buchanan.¬ Scott Maxwell also whacked a shot at goal but this time Ryan Thomson was in the way. Next Scully dived at the feet of Maxwell as he threatened in front of goal.
Given all the pressure, it really was no surprise when the home side scored the equaliser in 26 minutes. Willis¬ crossed from the left and MAXWELL despatched the ball into the net from the edge of the box low to the keeper's right.¬ 1-1`
Then a chance dropped to player manager Colin Cameron and his shot pole axed Page and rebounded back up the pitch. Andy Stirling sent in a corner from the¬ right but the Pars failed to create any real threat. Scully held a high cross from Tulloch before on the break Stirling shot high over Bald's bar.
Berwick finished the half strongly and had another good opportunity when Russell headed down a Dalziel cross but thankfully Scully held.
After a good start and going ahead, Dunfermline had let Berwick back into the game and really the Borderers deserved to be level at the interval.
Half time: Berwick Rangers 1 Dunfermline 1
Andy Geggan, Kerr Young, Josh Falkingham and Alex Whittle replaced Ryan Thomson, Jonathan Page, Gregor Buchanan and Ross Drummond for the second half and within 80 seconds the League One side were ahead again.¬ Geggan set up the pass for Stirling¬ that allowed him to cross from the left¬ and¬ Michael MOFFAT was well placed to open his Pars account. 1-2
Stirling took a knock and was feeling his hamstring slightly so he¬ was replaced by Ross Forbes but Berwick had their half time sub Ross Gray stretchered off just nine minutes into the second half after a clash with Forbes. This was the first of three stoppages in quick succession and the match lost a bit of its momentum until in 62 minutes Byrne got in a shot that Bald beat away and when Wallace returned the ball from the right Bald held.
Forbes struck a free kick wide right and then there was a scare at the Pars end when Scully cleared to Dalziel but fortunately Young stepped in to kill the threat. Allan Smith came on for Moffat and he was unlucky to be blocked out by the Berwick keeper in 78 minutes.
Ross Millen had come on at the same time and he made a crucial block after Berwick sub Dean Carse had made an impressive run into the right side of the Pars box. Martin cut out a dangerous Willis delivery from the left byeline while at the other end a free flowing move from Geggan, to Smith and on to Whittle was sent spectacularly wide.
Dunfermline finished well on top but could not add to their goals tally despite a nice cross from Forbes.¬ It was a much more pleasing effort in the second half which the manager felt was like night and day with the first.

Ryan Goodfellow returned to action v Berwick
BERWICK RANGERS: Billy Bald: Devon Jacobs, Jonny Fairbairn, Stephen Tulloch, Dean Hoskins; Paul Willis, Colin Cameron (Ross Gray HT¬ (Dean Carse 55), David Gold (Paul Currie 41), Scott Maxwell (Lee Currie HT); Andrew Russell (Ewan Bauld 62), Scott Dalziel
SUBS: Michael Andrews (GK)
SCORER: Maxwell (26)
YELLOW CARD: Cameron (57)
DUNFERMLINE: Ryan Scully (Ryan Goodfellow 84); Ryan Williamson (Ross Millen 74), Jonathan Page (Kerr Young HT), Gregor Buchanan (Andy Geggan, HT), Lewis Martin, Ross Drummond (Alex Whittle HT); Shaun Byrne (Lewis Spence 74), Ryan Thomson (Josh Falkingham HT), Andy Stirling (Ross Forbes 51), Ryan Wallace, Michael Moffat (Allan Smith 74).
SCORERS: Byrne (14), Moffat (47)
REFEREE: Mike Taylor
WEATHER: Overcast 19C
MATCH PICTURES
NEXT MATCH: Petrofac Training Cup (home) v Raith Rovers
Saturday 26th July, kick off 3.00pm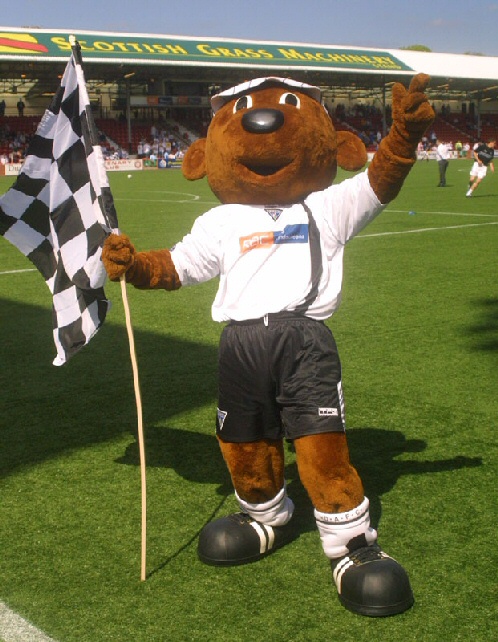 Sammy says thanks very much for visiting our web site where we have lots of news for young Pars fans.