SPFL League One: FORFAR ATHLETIC 2 DUNFERMLINE 4 : Date 15/02/14
MATCH PICTURES
WATCH THE GOALS ON PARS TV¬
WATCH THE VIDEO HIGHLIGHTS ON YOUTUBE
Forfar Athletic hosted Dunfermline Athletic and both teams were smarting after 4-0 defeats in the Scottish Cup the previous weekend. Dick Campbell made two changes with Gavin Malin and James Dale coming in for Martyn Fotheringham and Odmar Faero. Jim Jefferies left out Ross Millen, Alex Whittle, Lawrence Shankland and Shaun Byrne in favour of Danny Grainger, Jonathan Page, Ross Forbes and Faissal El Bakhtaoui.
The snow piled up around the touchline was the only evidence of the stormy overnight weather and the teams warmed up in bright sunshine.¬ The match kicked off with El Bakhtaoui and Wallace, the Pars attacking the goal at the town end. Within a minute Rab Douglas had to react to cut out a good Wallace cross from the left after he had been sent down the wing from a Forbes pass.¬
In third minute Ryan Scully had to beat away a good chance that had come the way of Gavin Malin just eight yards out afterr the defence had a dull moment. Next minute however it was the Forfar goal that was in danger. El BAKHTAOUI dispossessed an opponent and was able to cut in from the left.¬ He chipped the advancing Douglas to find the net just inside the far post. 0-1
The early goal is what every team seeks and playing with the wind and sun on their backs, Dunfermline were happy to try for more. Grainger's pass to Forbes was flicked on to Wallace and his effort went wide left. Grainger was next to send in another from the left but this time Douglas held. In 13th minute a Forfar clearance fell to Josh Falkingham and he fired that back on goal but Douglas held.
A long ball out of the home defence was run on to by Gavin Swankie and amid appeals for offside Scully saved when faced one on one with the striker.¬ A free kick given for Geggan's challenge on Kader sent the ball into the Pars six yard box and there were a couple of last ditch tackles to block Malin and keep the Loons out.
Forbes drove an effort on target from 25 yards¬ but again Douglas held.¬ At the midpoint in the first half¬ Grainger's square pass to Geggan in the middle of the park but the offside flag was raised as Forbes burst through the middle.¬ A Forbes free kick narrowly missed connecting with Geggan as he ran in towards the right goalpost and next Forbes had another shot wide right.
A 34th minute shot from Swankie sailed high over the crossbar from 25 yards but the Loons found the Pars net just a minute later. A free kick was driven into the box, Page could not clear¬ and Morris's header only set up James DALE who reacted fastest¬ to hit the ball home. 1-1
The loss of a goal dented the Pars momentum but a 42nd minute long ball for Grainger was controlled and crossed and Wallace's explosive volley was just outside the left upright.
Half time: Forfar Athletic 1 Dunfermline 1
The second half started brightly with Williamson getting up the right to set up Wallace with a shot from 16 yards that narrowly cleared the bar. The Fifers were then to lose their skipper and Stephen Husband was to be¬ the first sub of the afternoon after just 47 minutes. Scully had the travelling support gasping when he played a bit of football inside his six yard box while Swankie was pressing.
A 53rd minute corner escaped Husband but Page grabbed trhe chance but sent the ball over the top. Two minutes later Stuart Malcolm was yellow carded for blocking Husband and Forbes made Douglas save a well hit free kick from 30 yards out. It had been all Dunfermline but in 59 minutes a quickly taken free kick on half way sent SWANKIE off¬ through on goal and he stuck it away in the bottom left. 2-1
Forbes came very close¬ to scoring from a 64th minute free kick but Rab Douglas showed his class with a save to match the Pars midfielder's effort. A corner from the right was then not successfully dealt with and Husband got in a shot from 12 yards but went wide left. The equaliser that threatened thankfully arrived on 69 minutes when HUSBAND received a pass from El Bakhtaoui to crash the ball past Douglas from 25 yards. 2-2
The Pars then quickly got themselves ahead again with another goal 90 seconds later. Danny Grainger was deep down the left and his cross from the corner flag¬ was attacked by El Bakhtaoui but it was DODS who got the connection that sent the ball past his own keeper. 2-3
Forfar did not give up. Templeman headed on to the crossbar and Dale smashed a shot on target that Scully did well to stop. At the other end¬ an El Bakhtaoui shot in 81 minutes appeared to be stopped by a Forfar hand but play carried on. Templeman then sent another header over the bar and Williamson then turned away another dangerous ball into the Fifers box.
In the penultimate minute of regulation time sub Lawrence SHANKLAND put the result beyond any doubt latching on to a Grainger free kick hit from half way to melt the ball past Douglas. 2-4¬ At last the Pars could leave Station Park content with a win, their first there since September 1995.
FORFAR ATHLETIC: Rab Douglas, Mark Baxter, Daren Dods, Stuart Malcolm, Iain Campbell; Omar Kader (Ross Campbell 83), Gary Fusco, James Dale, Gavin Malin (Martyn Fotheringham 75), Chris Templeman, Gavin Swankie (c).
SUBS NOT USED: Neil McCabe, Marvin Andrews, Jamie McCluskey, Craig Smith, Darren Hill (GK)
SCORERS: Dale (35), Swankie (59)
YELLOW CARD: Dods (50), Malcolm (55), Campbell (64)
DUNFERMLINE: Ryan Scully; Callum Morris, Jonathan Page, Lewis Martin;¬ Ryan Williamson, Josh Falkingham, Andy Geggan (c)(Stephen Husband 47), Ross Forbes, Danny Grainger;¬ Ryan Wallace (Lawrence Shankland 75), Faissal El Bakhtaoui.
SUBS NOT USED:¬ Ross Millen, Alex Whittle,¬ Jordan Moore, Shaun Byrne, Ryan Goodfellow (GK)
SCORERS: El Bakhtaoui (4), Husband (69), Dods (70 og), Shankland (89)
YELLOW CARD: El Bakhtaoui (45+1), Forbes (59)
REFEREE: Euan Anderson
WEATHER: Sunny Intervals 7C
ATTENDANCE: 833
MATCH PICTURES
WATCH THE VIDEO HIGHLIGHTS ON YOUTUBE
NEXT MATCH: SPFL League One (home) v Ayr United
Saturday 22nd February 2014, kick off 3.00pm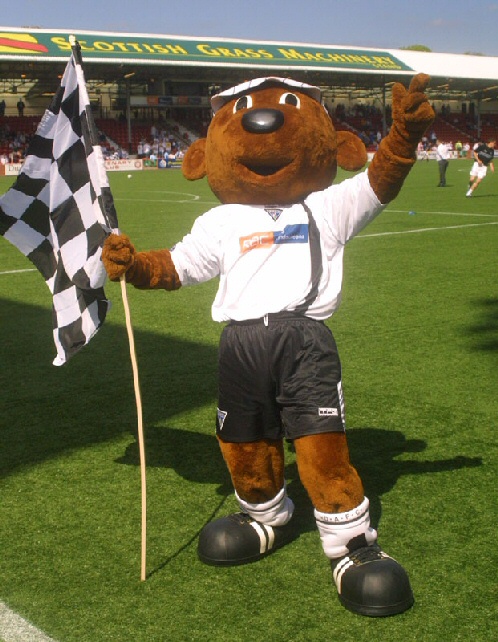 Sammy says thanks very much for visiting our web site where we have lots of news for young Pars fans.