SPFL League One: DUNFERMLINE 1 EAST FIFE 2: Date 22/03/14
┬
MATCH PICTURES
Dunfermline's fourth match against East Fife for season 2013-2014 saw┬ three changes from the team that started at Ibrox seven days before. Ryan Scully was fit to resume between the sticks after a remarkable recovery following his retirement just five minutes into the match against Rangers. Ross Millen and┬ Faissal El Bakhtaoui made way for Ryan Williamson and Ryan Wallace while Alex Whittle moved over to left back to deputise for the suspended Danny Grainger.
On the heels of a 5-0 drubbing from Ayr United, East Fife left out Gary Thom, Jonathan Stewart, Marc McKenzie to bring in Nathan "Fash" Austin, Lewis Barr and Kevin Smith.┬ Familiar faces in the opposition starting eleven were former Pars Greg Paterson, Kevin Rutkiewicz and Liam Buchanan. The visitors kicked off attacking the goal at the McCathie Stand end and despite Dunfermline quickly gaining possession it was Austin who created the first danger of the afternoon getting in on the right to the Pars byeline for a cut back.
At the other end Whittle crossed a good delivery in from the left for Lawrence Shankland┬ which the home side defended only to have Jonathan Page follow up with a strong right footed shot from 20 yards that Greg Paterson held.┬ As a result of slack play in tenth minute Austin was allowed to shoot and the right goalpost saved the Pars. That spared the blushes of Ryan Scully who had sent a wide pass out of his goalmouth towards Callum Morris and had then diverted the returned ball to the East Fife number seven.
Dunfermline were kept well away from the magenta kitted Paterson in the visitors' goal and really the second bottom team was giving as good as they got from the second top. A East Fife corner in 18th minute was headed behind by Stephen Husband and Scully held the next when it came in from the right.┬ A loose ball from Forbes then set up Stephen Hughes for a shot from 25 yards but he was wide right.
It could certainly be termed against the run of play when Dunfermline went ahead in 21st minute. A good penetrating pass from Byrne set up the chance on the right. It was the sixth of the season for SHANKLAND who expertly met a Williamson cut back at the near┬ post to┬ glance the ball past Paterson.
Husband was not challenged 40 yards out and he tested Paterson with a powerful on target effort six minutes later.┬ Wallace was tumbled by Lewis Barr to hand Husband a pop from 35 yards but the wall did its job.┬ Williamson forced the Pars first corner in 33 minutes and when Forbes sent that over from the right Andy Geggan's header was headed off the line. Wallace followed that up with an effort from the edge of the box that slipped over the top to hit the rear┬ net support.
Play stopped 12 minutes from the break when it appeared that┬ keeper Scully had a problem with the left foot that troubled him in the previous game but after physio Kenny Murray's treatment he continued. Austin next made a run on the right to fend off Page sufficiently to snatch a shot but he was wide right. There was to be no further chances of significance and so the Pars, in search of their first home league win over East Fife since October 1978 were ahead at the interval.
Half time: Dunfermline 1 East Fife 0
The second half almost started perfectly for the Methil men; Scott Durie was allowed to storm down the right and send an on target shot towards the far left of the Pars goal but Scully at full stretch denied the equaliser. Forbes was then yellow carded in conceving a free kick 26 yards out and Hughes executed his shot well, clearing the wall to make Scully push the ball over his crossbar.
After Forbes had let a pass through him, Page then had to cut out a good Durie cross from the right but the resultant corner was easily defended. In the tenth minute of the half Whittle bumped Buchanan off the ball, it looked outside the box on the┬ right but referee Euan Anderson pointed to the penalty spot and BUCHANAN gently stroked the setpiece to Scully's left. 1-1
Things got quite heated in 64 minutes when Barr seemed to kick out at Geggan in the centre circle. In a cauldron of noise the Pars skipper was yellow carded and then Buchanan too saw yellow presumably for something he said to referee Anderson.┬ Austin followed him into the referee's book five minutes later as he took down Whittle as he approached the East Fife box. Forbes' free kick travelled to the far post┬ but efforts to divert the ball in failed. That was his last involvement since Lewis Spence replaced him in 72 minutes.
Husband was then unfortunate with a cross from the left corner flag before on the right Williamson passed two men but Geggan failed to connect well when the cut back was made. Whittle followed that up from the left but only a corner was earned when that came over from the left Geggan hurt himself in the challenge.
The Pars then lost a very soft goal. ┬ A cross from the left was not cut out by Scully and the loose ball dropped┬ for Fash AUSTIN┬ to beat Whittle┬ to the ball┬ and┬ stab it across the line. 82 minutes and 1-2. There was a final push from the Pars but at no stage was Paterson's goal threatened.
A poor performance from┬ a Dunfermline┬ team┬ who have now taken just one point from the last twelve available and a deserved win for Gary┬ Naysmith's side that┬ will help boost their campaign to avoid the play offs with the League Two hopefuls.
DUNFERMLINE: Ryan Scully; Ryan Williamson,┬ Callum Morris, Jonathan Page, Alex Whittle, Andy Geggan (c), Shaun Byrne, Stephen Husband, Ross Forbes (Lewis Spence 72); Ryan Wallace (Allan Smith 52), Lawrence Shankland (Ryan Thomson 83).
SUBS NOT USED: Ryan Goodfellow (GK), Lewis Martin,┬ Ross Millen,┬ Faissal El Bakhtaoui.
SCORER: Shankland (21)
YELLOW CARD: Forbes (49), Geggan (64), Husband (91)

EAST FIFE: Greg Paterson; Scott Durie, Kevin Rutkiewicz, Steven Campbell, Craig Johnstone; Nathan Austin, Stephen O'Neill.┬ Lewis Barr, Stephen Hughes (Jonathon Stewart 89), Kevin Smith (Ryan Stewart 93), Liam Buchanan (Bruce Inkango┬ 80).
SUBS NOT USED: Connor Shaw (GK),┬ Liam Wooley, Gary Thom, Marc McKenzie,
SCORERS: Buchanan (56 pen), Austin (82)
YELLOW CARD: Johnstone (35), Buchanan (64), Austin (69), Smith (88)
REFEREE: Euan Anderson
WEATHER:┬ Sunny intervals┬ 10C
ATTENDANCE: 2858
MATCH PICTURES
50/50 HALF TIME DRAW: Winning number 91600 won £785.
NEXT MATCH: SPFL League One (home) v Brechin City
Saturday 29th March 2014, kick off 3.00pm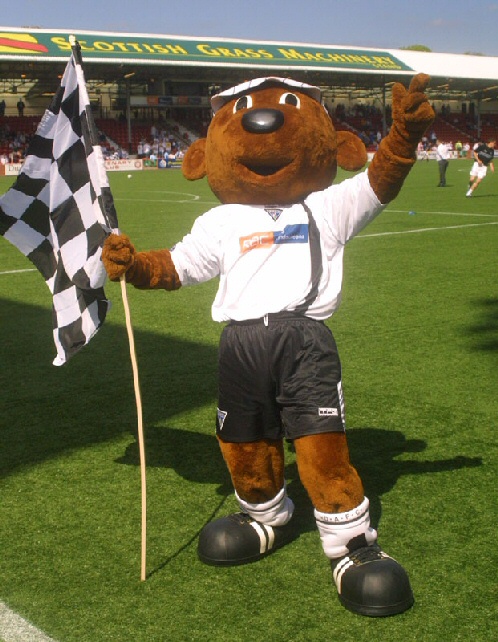 Sammy says thanks very much for visiting our web site where we have lots of news for young Pars fans.