SFL Div One: DUNFERMLINE 1 COWDENBEATH 0: Date: 20/04/13 :
MATCH PICTURES
It was the twelfth Fife Derby of an eventful First Division season but with Dunfermline needing points to avoid being dumped into the First Division play offs there was no doubt that this was the most important. Stephen Husband returned after missing the match at Morton through suspension and Callum Morris had shrugged off a hamstring injury to start. That meant that John Potter and Grant Munro found themselves back on the bench and the starrting eleven had an average age of under 21 for the second week running.
Cowdenbeath manager Colin Cameron made one change from the side that was successful at Starks Park. Kyle Miller was benched as Craig Moore was brought in. Off the park news has been overwhelming in the last six months but the news of the day at East End Park came from the catering outlets where William Stephens Bakers returned with their famous award winning Steak Bridies!
There was a great response to the appeals for a large and vocal home support and the home fans roared out the teams. Craig Moore got the game underway and forced play into the Pars box within twenty seconds. Kerr Young thumped the ball into the North West Stand where the pictorial covers had been removed to allow home supporters into that area.
The Pars were kept well away from Thomas Flynn until a Ross Millen throw in won the first corner of the match. It was the fifth minute when Millen's delivery from the right created mayhem in the visitor's six yard box but when the ball entered the net off Ryan Thomson the linesman's flag had already been raised for offside.
Five minutes later Allan Smith was flattened 28 yards out and Stephen Husband drove a powerful free kick narrowly wide of the left goalpost. Dunfermline kept up the pressure with Millen pumping a free kick into the Cowdenbeath box. That failed to cause any damage but it did keep the Pars well up the park. Josh Falkingham rounded his marker away over on the far left but Flynn held his low cross.
In 18 minutes Flynn scooped away a Thomson header. Colin Cameron was yellow carded on 20 minutes for his challenge on Falkingham but when Millen lobbed the ball into the box Morris couldn't quite get enough on his header. At other end a long ball put pressure on Alex Whittle with Marc McKenzie on his heels but he coolly picked out Morris who headed back for Hrivnak to hold. Cowdenbeath's midfield managed to take the heat off their defence for a spell but really that header was the most he had to do.
Eleven minutes from the break Smith fed Byrne on the edge of the Cowden box and when he released the ball to Falkingham to his right the blue defence dived in to block and then when the Pars skipper tried to respond to the loose ball he was booked for diving as he was closed out.
Greg Stewart set off on a surging run that he punctuated with a shot from 16 yards but Hrivnak dropped on one knee to gather. They then had a soft free kick awarded but sent that into the McCathie Stand from 28 yards. At the other end Byrne was unlucky not to catch the ball that cannoned off him from Flynn's clearance.
Dunfermline had certainly looked stronger and more likely to score but after the first 45 minutes it was still all square.
Half Time: Dunfermline 0 Cowdenbeath 0
Hrivnak was the first keeper in action in the second half diving at the feet of Moore after just 35 seconds and from the clearance Dunfermline immediately tested his opposite number. Smith ran in one on one on Flynn but the keeper parried the ball out to his left. Thomson followed up but Flynn made the save. Quite a start and all before many had returned to their seats.
In 53 minutes Byrne laid the ball back for Chris Kane who made Flynn save. The chilly wind was swirling around the stadium as the Blue Brazil mounted a couple of attacks and there was a great last gasp interception by Whittle to deny Moore and then Hrivnak saved somewhat unconventionally from Stewart.
On the hour Millen sent another free kick into the box but it was two Cowdenbeath defenders who fought over the defensive header and thankfully the break away ended with an overstruck ball towards Stewart. Then six minutes later great perseverance deep down at the left corner flag saw Falkingham come away with possession. The wee man was groaned at for not sending the ball to awaiting strikers and letting a defender make a telling tackle. Smith was taken down as he went for the loose ball and referee Steven McLean was in good position to make the penalty award.
Stephen HUSBAND stepped up and after replacing the ball after the wind blew it off the spot, smashed the ball down the middle to beat Flynn and shoot the Pars into the lead. 1-0 Pars with 67 minutes on the clock.
Cowdenbeath reacted to going behind and pushed up. It became nervy for the home team and Jim Jefferies decided to change it to a back five with John Potter coming on to replace Shaun Byrne. The visitors had lost their striker Greg Stewart and were forced to use all three subs but nevertheless did not give up the ghost.
An 83rd minute corner was sent over by McKenzie only for O'Brien to win another but there was a hearty cheer when Hrivnak held Jamie Stevenson's inswinger. Then it was back to the other end, Millen's free kick dropped for Young to force a corner but Cowden were coming right back at the Pars with Miller flicking an easy one into Hrivnak's hands.
In the end the one goal was enough and Jim Jefferies team were applauded off by the elated home fans. Two games remaining and level on points with Cowdenbeath but the Pars have a far superior goal difference. News elsewhere of Partick Thistle's win at the Falkirk Stadium meant Partick clinched promotion. Congratulations to Thistle.
DUNFERMLINE: Michal Hrivnak, Ross Millen, Kerr Young, Callum Morris, Alex Whittle; Chris Kane, Shaun Byrne (John Potter 77), Stephen Husband, Josh Falkingham (c), Allan Smith, Ryan Thomson.
SUBS NOT USED: Fayssal El Bakhtaoui, Blair Henderson, Grant Munro Ryan Goodfellow (GK).
YELLOW CARD: Falkingham (34)
SCORER: Husband (67 pen.)

COWDENBEATH: Thomas Flynn; David Cowan (Dean Brett 70), John Armstrong, Tom O'Brien, Kenny Adamson; Sean McAllister, Jamie Stevenson, Colin Cameron (Kyle Miller 62), Marc McKenzie, Greg Stewart (Mark Ramsay 75), Craig Moore,
SUBS NOT USED: Jason Naismith, Colin Stewart (GK).
YELLOW CARD: Cameron (20)
REFEREE: Steven McLean
WEATHER: Sunny Intervals 15C
ATTENDANCE: 4879
MATCH PICTURES
NEXT MATCH: (away) Scottish First Division v Partick Thistle
Saturday 27th April 2013, Kick off 3.00pm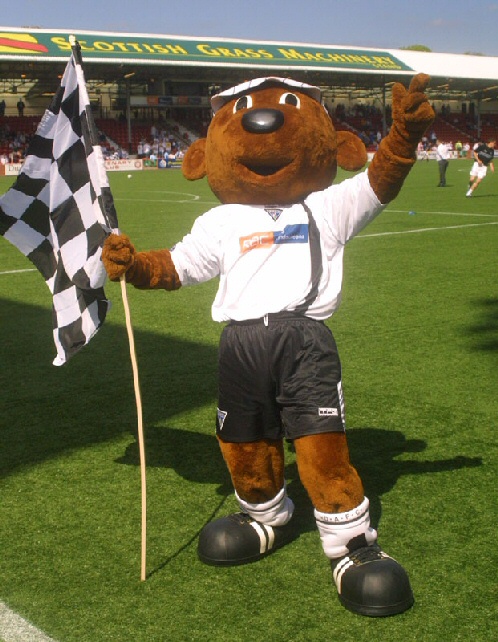 Sammy says thanks very much for visiting our web site where we have lots of news for young Pars fans.