SPFL League One: DUNFERMLINE 5 AYR UNITED 1: Date 28/09/13
MATCH PICTURES
Ayr United were the visitors for the final fixture in September; only the seventh meeting between the clubs this century. It brought the Pars defender Ross Millen up against his father Andy's team. Andy Millen is assistant to Mark Roberts at the Somerset Park club but with it being Ross's 19th birthday a home win was surely the order of the day.
Dunfermline gaffer Jim Jefferies made¬ one change to the side that recorded a home win over Airdrieonians the previous Saturday, Ryan Wallace came in to replace Jordan Moore.
Gordon Pope and Alan Forrest returned to the Ayr United¬ side following their suspensions. After signing on Thursday night, Kevin Kyle was named as a substitute while¬ Player-Manager Mark Roberts and Anthony Marenghi dropped to the bench.
The teams changed ends before the Pars kicked off attacking the goal at the town end. Just 22 seconds into the game Alex Whittle was eased off the ball inside the box by Adam Hunter but too early for referee to give a penalty apparently. Then with their first sortie of the game the visitors went ahead. It¬ came from a simple long ball from keeper David Hutton that was not taken by Luke Johnston. He allowed Craig Malcolm to bear in on Scully and when the keeper only parried the ball Ayr striker¬ Michael MOFFAT was well placed to shoot diagonally from 15 yards between Callum Morris and Johnston to find the net at the left goalpost. 0-1 after just 61 seconds.
Wallace then had two chances to get the Pars back level.¬ He came close to converting a Millen free kick and then in eighth minute he was played through to go one on one with the keeper but David Hutton came out on top.
Three minutes later Ayr were awarded a free kick just 27 yards out and Scott McLaughlin shot the¬ setpiece¬ over the wall and on target but Scully got down to his right to keep the ball out.¬ He was maybe a shade lucky to see Moffat shoot the loose ball over the bar.¬ Within the first quarter of an hour Husband tried to get in two efforts from long range but on both occasions the ball was blocked.
A 17th minute corner caused Ayr problems with Alan Lithgow closing down Josh Falkingham's shot from the edge of the box and then McLaughlin putting in a desperate clearance on the right side of his six yard box. The pressure told when another cross was sent in from the right, Robert Thomson¬ was pushed off the ball by Hunter to earn the Pars a penalty. A yellow card for the Ayr right back before Ryan WALLACE stepped up to convert his third penalty kick of the season. 1-1
Ayr came close to restoring their lead within four minutes when Johnston failed to prevent Craig Malcolm's shot but the ball sailed narrowly outside Scully's right hand post.¬ Then controversy at the other end. Wallace earned a free kick out on the right near the byeline and when Millen delivered the ball into a crowded six yard box, Johnston was appealing that the ball had crossed the goalline before Hutton cleared.
There was no doubt however about Alex WHITTLE's peach from 20 yards that was net bound as soon as it left his foot.¬ He accepted¬ the lay off from his captain¬ to make it¬ 2-1 on the half hour.
Ayr's Robbie Crawford collected his side's second yellow card in cutting down Shaun Byrne in 33 minutes setting up Stephen Husband for a free kick that was blocked out before it reached its intended target. Millen drove a powerful effort that just escaped on the wrong side of the right goalpost but this was just a foretaste of what was to come.
The match was in 39th¬ minute when Pars top goalscorer Andy GEGGAN got his name on the scoresheet, converting in front of goal when the ball was yet again delivered into the danger zone, this time by Falkingham. Within a minute Josh FALKINGHAM smashed the ball into the net after a good switch in play involving Byrne and Geggan. 4-1 and 40 minutes on the clock.
Ryan Scully kept Ayr out when firstly McLaughlin shot and then the keeper's knee denied Gordon Pope who connected really well with his shot.¬ The Ayr manager Roberts could not wait for the interval and made a double substitution in the final minute of the first half. Off came¬ McGowan and Forrest and on came Jackson Longridge and the manager himself.
It had been quite a first 45 for the Pars for whom both full backs had created immense problems for the visitors.
Half Time: Dunfermline 4 Ayr United 1
Ayr were out first for the second half but Andy Millen had the back four lined up in front of him for an extra on field lecture. In 49 minutes the woodwork kept Ayr out with Scully just left to spectate as Longridge's shot rebounded back into play off the left angle of bar and post.¬
There was a spell Dunfermline played some nice football but they did not test the opposition keeper. Falkinghan and Byrne combined well but they were kept out of the¬ Ayr box. The play got bogged down deep¬ on the Pars right with several throw ins and blocked crosses attempted¬ before a 62nd minute corner broke the mould.¬ That changed nothing and the urgency had drained out of the game as the Fifers three goal cushion looked to be too great for Ayr.
Whittle cut inside and set up WALLACE to dispatch the ball high into the net from 20 yards. 5-1. That was Whitts last involvement and as Kerr Young came on for him he left the field to a standing ovation.¬ Young picked up a yellow card in conceding a free kick within four minutes of him coming on and McLaughlin was close with his dipping effort from distance at the free kick.
French Morrocan midfielder Fayssal El Bakhtaoui had replaced Stephen Husband in 72 minutes and then Ryan Thomson for Geggan eight minutes later. The subs injected more appetite into the Pars game but even with both Robert Thomson and Ryan Thomson hitting high over the bar and¬ Kyle getting two chances at the other end¬ there were to be no more goals.
The Pars best result over Ayr United in fifteen matches, more importantly best result of this season so far and against the team in fourth place who were unbeaten going into this match.
DUNFERMLINE: Ryan Scully; Ross Millen, Luke Johnston, Callum Morris, Alex Whittle (Kerr Young 66); Josh Falkingham (c), Shaun Byrne, Stephen Husband (Fayssal El Bakhtaoui 72), Andy Geggan (Ryan Thomson 80); Ryan Wallace, Robert Thomson.
SUBS NOT USED: Jordan Moore,¬ Allan Smith,¬ Ryan Ferguson, Ryan Goodfellow (GK)
SCORERS: Wallace (21 pen., 65), Whittle (30), Geggan (39), Falkingham (40)
YELLOW CARD: Young (70)
AYR UNITED: David Hutton; Adam Hunter,¬ Alan Lithgow, Scott McLaughlin (c),¬ Michael Donald;¬ Gordon Pope, Robbie Crawford (Kevin Kyle 75),¬ Michael McGowan (Jackson Longridge 45), Craig Malcolm, Alan Forrest (Mark Roberts 45), Michael Moffat.
SUBS NOT USED: Anthony Marenghi, Aaron Wyllie, Mark Shankland, William Muir (GK)
SCORER: Moffat (2)¬
YELLOW CARDS: Hunter (20), Crawford (33), Longridge (60), Kyle (82)
REFEREE: George Salmond
WEATHER:¬ Sunny 18C
ATTENDANCE: 2743
50/50 PRIZE DRAW: Number 58353 won £534
BUCKET COLLECTION for U20s raised £1401.75
MATCH PICTURES
MANAGERS POST MATCH COMMENTS

NEXT MATCH: (away) SPFL League One v Forfar Athletic
Saturday 5th October 2013, kick off 3.00pm<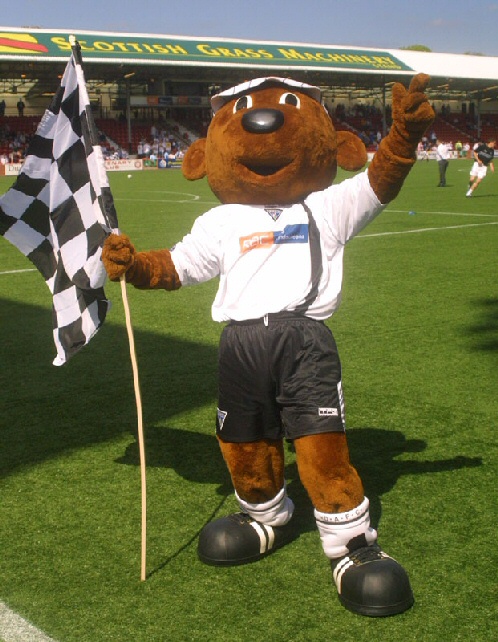 Sammy says thanks very much for visiting our web site where we have lots of news for young Pars fans.