SPFL League One: STENHOUSEMUIR 4 DUNFERMLINE 5: Date 24/08/13
MATCH PICTURES
It was¬ the first league match between Dunfermline and Stenhousemuir since 29th April 1986 but the Pars second trip to Ochilview Park in three weeks.¬ Manager Jim Jeffferies was without the services of midfielder Chris Kane who was serving a one match ban for his red card in the previous Saturday's league match against Arbroath. Ryan Wallace and Ryan Ferguson found¬ themselves on the bench making way for Craig Dargo and Ross Millen.¬ After several weeks out with an ankle injury Allan Smith was fit for a seat on the bench.
Stenhousemuir were without Ross McMillan also through suspension. Alan Lawson and¬ Craig Anderson were missing from the team that faced Peterhead on Tuesday night with Nicky Devlin and Kevin McKinlay coming in. A familiar figure in the home team was 27 year old keeper, Chris Smith.
Dunfermline in their turquoise away strip kicked off attacking the goal in front of their travelling support and Dargo forced a corner in just 24 seconds. That was followed immediately by two more corners but Stenny got the ball clear after Callum Morris failed to get his head on Millen's cross from the left.
Millen sent in a seventh minute free kick but again Morris failed to connect at the far post but he would have required to have been much taller.¬ At the other end Sean Lynch slipped a neat ball to the near post and Morris was happy to turn the ball behind for a corner that the home side failed to use to any advantage.¬ Then in 12th minute John GEMMELL found himself in on the right of the Pars box courtesy of a Ryan Thomson back pass. Ryan Scully came out but was beaten and as Morris and Young scrambled back the striker squeezed in the opening goal.
Dunfermline worked their way back into the game forcing a corner and then Geggan putting through Jordan Moore but his final ball to Dargo in the box went astray. At the midway point in the first half Stenny captain Brown Ferguson sent over a corner from the left and¬ Ross SMITH¬ rose to beat off Young's challenge and the Warriors were two ahead.
There was a chance to claw back a goal but Moore's attempt from close in was feeble. Then Falkingham smashed a rising shot¬ narrowly over the bar. Millen saved the day on 34 minutes after Darren Smith had penetrated the Fifers box on the right and as the ball pinged about in front of goal the right back intercepted a netbound effort.
Next minute Chris Smith beat away a Moore shot and then in 37 minutes held a Whittle cross after he had made the byeline.¬ The Stenhousemuir keeper¬ was then injured as he clashed with Ryan Thomson as he tried to convert a Moore cut back. After the attentions of the physio he was able to continue.
In 42 minutes Whittle whipped another ball into the home box, Smith came out but failed to fist clear¬ and Moore found himself with another chance but didn't connect well enough and Morris followed up to loop a header on target but Chris Smith was back to hold on his line. Smudger didn't look too clever just after that when he flapped away a Byrne cross but at the other end Scully was called upon to pull off a vital one handed save from Darren Smith to keep the Pars in¬ with a chance of a second half comeback.
Half Time : Stenhousemuir 2 Dunfermline 0
Whittle earned a first minute corner and Thomson was desperately unlucky not to convert when Millen's inswinger dropped on the six yard line. Disaster however in 51 for the Pars when Sean LYNCH was able to break through the centre and sidefoot a right footed pass beyond the advancing Scully. 3-0
Four minutes later the visitors got a goal back and it came after great work from Dargo cutting in from the right to play a 1-2 off Geggan and set up MOORE who finished really well, thrashing the ball home¬ from eight yards. 3-1
There was a double substitution for Dunfermline six minutes later with Dargo and Byrne making way for Ryan Wallace and Stephen Husband and within two minutes Hubby had sent in a¬ superb ball that GEGGAN ran on to head home from eight yards. 3-2
On 70 minutes Wallace's touch to Moore was smacked at goal but just cleared the bar.¬ Just as the Pars seemed to be staging a push for an equaliser Ferguson ran through the Pars defence to tee up HIGGINS who swept home the fourth Stenhousemuir goal¬ of the afternoon. 4-2
Wallace cut back from the right byeline but behind Thomson and the Warriors were remarkably let off the hook.¬ Husband whacked a low range free kick over the bar before Allan Smith replaced Ryan Thomson for the last ten minutes. It was the sub who was to put the Fifers back into the match six minutes from time. SMITH smashed in at an angle from the right and it was 4-3.
Then Moore was turning in front of goal looking for an opening when Ross Smith took him down. Stevie O'Reilly pointed to the spot as MOORE grabbed the ball to take the spot kick. He made no mistake and it was all square with four minutes to go.¬ Unbelievably the Pars notched a fifth in 89th minute. Whittle made a fantastic run down the left and his cross was met by GEGGAN. 4-5.
What a match and what a comeback from 3-0 and then 4-2 down. There was just six minutes left when the two goal advantage was cut back and Moore and Geggan kept their cool to send the Pars fans home very happy to celebrate a famous 5-4 win.
STENHOUSEMUIR: Chris Smith;¬ Nicky Devlin, Ross Smith,¬ Robbie Duncan,¬ Eddie Malone,¬ Sean Lynch (David Rowson 59), Brown Ferguson (c)(Craig Anderson 75); Darren Smith, Sean Higgins (Ross McNeil 79), Sean Dickson; John Gemmell.
SUBS NOT USED: Dean Shaw (GK), Daniel Nimmo, Errol Douglas.
SCORERS: Gemmell (12),¬ Smith (23), Lynch (51), Higgins (73)
YELLOW CARD:¬ Malone (68), Gemmell (88)
DUNFERMLINE: Ryan Scully;¬ Ross Millen,¬ Kerr Young, Callum Morris, Alex Whittle; Shaun Byrne (Stephen Husband 61), Andy Geggan, Josh Falkingham (c), Ryan Thomson (Allan Smith 79); Craig Dargo (Ryan Wallace 61), Jordan Moore.
SUBS NOT USED: Ryan Ferguson,¬ Luke Johnston, Fayssal El Bakhtaoui, Ryan Goodfellow (GK)
YELLOW CARD: Young (24)
SCORERS: Moore (55, 86 pen.), Geggan (63, 89), Smith (84).
REFEREE: Stevie O'Reilly
WEATHER: Fine 17C
ATTENDANCE: 968
MATCH PICTURES
NEXT MATCH: Scottish Communities Cup (away) v Falkirk
Tuesday 27th August 2013, kick off 7.45pm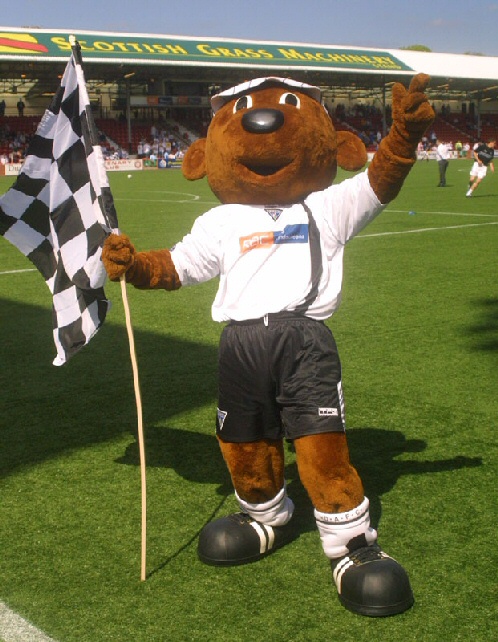 Sammy says thanks very much for visiting our web site where we have lots of news for young Pars fans.