Pre Season Friendly: DUNFERMLINE 2 FALKIRK 2: Date 20/07/13
>MATCH PICTURES
This was billed as a pre season friendly but fans in both camps struggle to recall any fixture between the clubs that could be termed friendly. Rivalry comes no greater than that between Pars and Bairns and it was hoped it would set up a match to attract the crowds out in the superb Scottish summer.
Callum Morris returned to the Pars starting eleven having missed out on the play offs at the end of last season. Alongside him was 17 year old Lewis Martin and there was a first start for Ryan Ferguson on loan from Dundee United. Falkirk fielded a familiar face, former Pars loanee Rory Loy as a trialist.
The Pars kicked off through captain Josh Falkingham and Ryan Thomson, they would attack the goal in front of a sparsely filled East Stand. The first breakthrough almost came in the third minute, Loy penetrated the Pars defence rounded the keeper but saw his effort cleared off the line by Morris.
Six minutes later the other Falkirk trialist, Phil Roberts managed to get a shot in but he pulled it across the face of goal. The 19 year old striker who had spent last season at Inverness on loan from Arsenal, threatened on the left side of the box forcing Martin to concede an 11th minute corner that fortunately caused no problems.
The home side then took advantage of indecision in the visitors defence Thomson picking out FERGUSON 12 yards out and he squeezed in a shot on the angle that McGovern just could not stop. 1-0.
The Pars came close to adding to their lead when McGovern came for a cross from a Ross Millen free kick and failed to take the ball. Morris got a prod at the loose ball but the keeper covered back to clutch it. Andy Geggan had sustained an early knock that required physio Kenny Murray's attention and he was subsequently withdrawn in 24 minutes with Stephen Husband being the first to come off the bench.
Dunfermline looked comfortable once ahead and Falkirk were kept well away from Hrivnak's goal. In 36 minutes Chris Kane was tripped by Jay Fulton who was warned by referee Paul Robertson for persistent fouling. Millen's free kick in the direction of Husband escaped the Pars player and then when play switched to the other end Martin was applauded for his interception. The pressure did not relent and when the cross came in from Fulton the left trialist ROBERTS swept the ball across the line at the far post to level the score. 1-1
Jonathan Flynn was injured in a last ditch tackle as Thomson and Ferguson threatened at the top of the box. The defence held out but Flynn would take no further part, he was assisted off and Kyle Turnbull was drafted into the Bairns central defence.
Half time: Dunfermline 1 Falkirk 1
Half time substitutes for Dunfermline were keeper Ryan Scully and striker Craig Dargo, they replaced Hrivnak and Ferguson. The Pars defence relaxed their concentration as Falkirk took a quick free kick in 53 minutes and McGRANDLES nipped into the right side of the box to slip the ball past the advancing Scully. 1-2
A 58th minute corner swept in from the left by Fulton was met by Roberts but he directed the ball narrowly over the crossbar. then just three minutes later Fulton had a good chance of his own after Turnbull had delivered a good ball in from the left. Fortunately for the Fifers his header went wide right but the game was getting uncomfortably bossed by the First Division outfit.
Scully held a low effort from Roberts. As the match entered its final quarter Loy took the ball wide left and teed up Turnbull for a cross that again Fulton headed over the bar from six yards. Blair Alston broke through the Pars defence on 75 minutes causing Scully to pull off a fine diving save to turn the ball around his left hand post. Then from the resulting corner Kingsley headed the ball on to the crossbar.
Rory Loy blasted a 28 yard free kick over the wall and over the crossbar but then Dunfermline got an equaliser with just eight minutes remaining.
The Pars goal came from a great surging run by Williamson playing a one two off Byrne and then engaging Dargo to release BUCHAN in on goal. The former Dundee youth player bulged the net with his forceful shot from 16 yards. 2-2
Scully pulled off another fine save from a shot from close in by Alston to deny Falkirk a winner in 87 minutes. Buchan made McGovern hold a header off a Falkingham ricochet but there were to be no more goals.
DUNFERMLINE: Michal Hrivnak (Ryan Scully HT), Ross Millen (Ryan Williamson 69), Lewis Martin (Kerr Young, 61), Callum Morris (John Potter 80), Alex Whittle (Ross Drummond 80); Chris Kane (Fayssal El Bakhtaoui 80), Andy Geggan (Stephen Husband 24 (Lewis Spence 61)), Shaun Byrne (Scott Mercer 83), Ryan Ferguson (Craig Dargo HT), Josh Falkingham (c), Ryan Thomson (Kevin Buchan 72).
SCORERS: Ferguson (14), Buchan (82)
FALKIRK: Michael McGovern (c); Kieran Duffie, Will Vaulks, Jonathon Flynn (Kyle Turnbull 41), Stephen Kingsley; Connor McGrandles, Oli Duratayie, Jay Fulton (Thomas Grant, 69), Craig Sibbald (Blair Alston 62); Trialist, Trialist.
SUBS NOT USED: Graham Bowman, Scott Shepherd, Ryan Blair, Babai Botti, Luke Leahy
SCORERS: Roberts (38), McGrandles (53)

REFEREE: Paul Robertson
WEATHER: Sunny 22C
ATTENDANCE: 1344
MATCH PICTURES
NEXT MATCH: Pre Season Friendly (home) v Dundee United
Wednesday 24th July, kick off 7.30pm<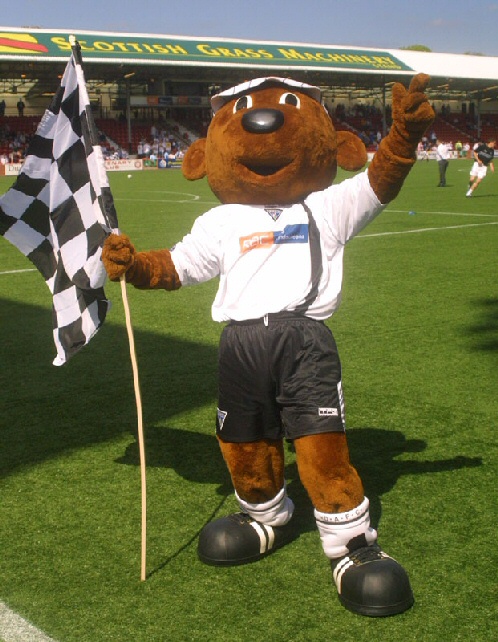 Sammy says thanks very much for visiting our web site where we have lots of news for young Pars fans.