SFL: Div One Play Off 2nd Leg; DUNFERMLINE 6 FORFAR 1:11/05/13
MATCH PICTURES
Forfar Athletic manager Dick Campbell fielded a starting eleven that was unchanged from Wednesday night's First Leg at Station Park. Jim Jefferies brought in Ross Millen and Ryan Wallace meaning Shaun Byrne and Chris Kane found themselves on the bench.¬ It was a big gamble to play Wallace since he had dislocated his shoulder in training and was playing after taking a pain killing injection.
There was a great pre match atmosphere with plenty of noise¬ with the backing of the McCathie stand drum and red smoke. Forfar kicked off¬ attacking the goal at the¬ town end. The sizeable¬ travelling support filled the South East Stand and they were the ones to be cheering a goal.
The Pars conceded a soft corner and when Iain CAMPBELL sent that in from the right Michal Hrivnak let the ball slip in at his near post. 1-0 to Forfar in sixth minute of the game and the visitors led 4-1 on aggregate.
Things looked bleaker for the home team as Craig Dargo replaced Wallace in 12th minute¬ when the injury carrying striker was forced to retire. Dunfermline were awarded a free kick just 20 yards out when the sub was tumbled by Ross Campbell. Stephen Husband drilled that into the Forfar wall but just three minutes later when Allan Smith carved a route through the centre of the Loons defence a penalty kick was awarded. Former Pars player Mark McCulloch was shown red for what was a last man tackle but after he took the long, and slow, walk back to the dressing rooms, Husband sent the spot kick disastrously wide left.
Just¬ four minutes later Chris Templeman was fortunate to see yellow and not red for his wild challenge and then Dunfermline felt that they had the ball in the net on 24 minutes when a Millen free kick from the right was missed by keeper Darren Hill and the ball appeared to drop behind the line off the back of Michael Bolochoweckyj. Despite appeals Referee O'Reilly was not convinced.¬ At the other end Gavin Malin had a chance to score another Forfar goal but thankfully that was closed out.
On the half hour Dargo drove into the Forfar box, he picked out Smith whose shot was well saved by Hill and Thomson managed to hit the rebound but he was wide left from close in. Forfar still threatened on the break with Dale Hilson testing Hrivnak who conceded a corner as he turned the ball around his left hand post.
In 36 minutes Smith made ground on the right and cut in along the byeline from where he crashed a ball in towards the six yard box. Michael DUNLOP tried to clear but only succeeded in deflecting the ball into his own net. 1-1
Dargo broke into the box on the left side but Hill pulled off a good save to push the ball out on the left. In 40 minutes a Millen corner from the right was headed towards the far post by Kerr Young but Smith's header remarkably sent the ball over the crossbar.¬ Hill won a one on one with Thomson when the Pars man¬ had a great chance in 44 minutes.¬
For a neutral¬ it had been an electrifying first half, for Dunfermline fans terrifying.
Half Time: Dunfermline 1 Forfar Athletic 1
The Pars were out early and the Skids had just about got through all of Into the Valley before Forfar and the match officials returned.¬ Dick Campbell threw on his first sub for the restart withdrawing his son Ross and sending on in his place Omar Kader. The McCathie Stand were on their feet within 40 seconds in unanimous objection to Stevie O'Reilly's goal kick decision.
A soft free kick on 50 minutes allowed¬ Forfar's Gavin Malin¬ to deliver a good ball to the far post and this time Hrivnak got lucky as the ball cannoned off the goalpost on to Templeman and then behind.¬ The game then got even more heated when Dunlop was red carded for his challenge on Whittle. So Forfar were down to nine men just eight minutes into the second half.¬ To further compound matters Dick Campbell was sent to the stand along with Neil McCann.
Dargo was supplied with a great chance in front of goal but failed to make a good connection and Hill gathered. Smith drove a strong cross into the sidenetting but still with thirty minutes remaining the Pars needed two goals to take the play off into extra time.
Allan Smith supplied the run and pass that set up THOMSON to shoot the ball past Hill to give the Pars a 2-1 lead in 62 minutes.
Forfar with their nine men kept Gavin Swankie upfront but Templeman was pulled back into the central defence. The home fans willed their side up the park and the team were responding well. It was thrilling stuff¬ but there was a pause as treatment¬ was required for¬ Robertson.
Twenty minutes left and still seeking that tie levelling goal. Falkingham laid the ball off for Dargo but Hill held¬ the shot. Forfar almost solved their predicament in 76 minutes when Swankie broke with Potter trailling him. The Loons striker made Hrivnak save¬ the shot from an acute angle and then the keeper turned the follow up behind for a corner.
Pars battled on but the Forfar defence, blessed with good fortune¬ continued to hold out.¬ Then Dunfermline's luck for once went their way. A ball chipped into the Forfar box appeared to hit an arm and Stevie O'Reilly pointed to the spot. This time 18 year old Ross MILLEN stepped up and after a delay while the referee noted a yellow card for Iain Campbell, the young full back beat the keeper to his left. 3-1 and 4-4 on aggregate.
Before the game resumed Forfar were unbelievably reduced to eight men when Campbell joined McCulloch and Dunlop in the dressing room.¬ At the far post Dargo came close to converting a Millen corner¬ but after four added minutes¬ O'Reilly's whistle signalled extra¬ time would be required.
Full Time: Dunfermline 3 Forfar Athletic 1
The Pars kicked off the extra time with Shaun Byrne on in place of Andy Geggan. The prize for the winner would be a place in the First Division play off final against Alloa Athletic who despite losing 3-2 at home to Brechin City¬ won through 4-3 on aggregate.
Husband hit the post in 93 minutes. Millen's shot in 95 minutes was parried by Hill and Byrne's follow up was kept out by desperate defending.¬ Dunfermline had all the possession and their patience didn't have to be tried for much longer.
In 102 minutes Allan SMITH, in a central position¬ was given the opportunity to shoot from 20 yards out and he sunk his shot into the bottom left. 4-1 to the Pars and for the first time in 192 minutes of this play off the Fifers were ahead.
Into the second period of extra time it looked a hopleless case for the Angus team. The tie which was already beyond them was put out of their touch when left unmarked, HUSBAND found the net with a shot from 25 yards. 5-1
HUSBAND then rubbed it in, making it 6-1 with another two minutes from the end with another low shot from the right side of the penalty box.
What a day! A rollercoaster after Forfar opened the scoring, Dunfermline missing a penalty and then indiscipline causing the total downfall of Forfar Athletic.¬ ¬ Great scenes of jubilation at 5.30pm when Stevie O'Reilly blew up for full time and a 7-4 aggregate win.
DUNFERMLINE: Michal Hrivnak; Ross Millen, Kerr¬ Young, John¬ Potter, Alex¬ Whittle (Chris Kane 112); Andy Geggan (Shaun Byrne FT), Stephen Husband, Josh ¬ Falkingham, Ryan Wallace (Craig Dargo 12), Ryan Thomson, Allan¬ Smith.
SUBS NOT USED:¬ Fayssal¬ El Bakhtaoui, Ryan¬ Goodfellow (GK)
YELLOW CARD: Smith (21)
SCORER: Dunlop (36 og), Thomson (62), Millen (83 pen.), Smith (102), Husband (110, 118)
FORFAR ATHLETIC: Darren Hill, Michael Dunlop, Mark McCulloch, Michael Bolochoweckyj, Iain Campbell; Dale Hilson (Charlie King 93), Willie Robertson, Gavin Malin (Barry Sellars 72), Ross Campbell, Gavin Swankie, Chris Templeman,
SUBS NOT USED:¬ Omar Kader, Jordan Brown, Ross Salmon (GK).
SCORER: Campbell (6)
RED CARD: McCulloch (15), Bolochoweckyj (32), I Campbell (84)
YELLOW CARD: Templeman (19), I Campbell (83), Sellars (93)
REFEREE: Stevie O'Reilly
WEATHER: Overcast, cold wind 10C
ATTENDANCE: 4252
MATCH PICTURES
50/50 PRIZE DRAW: winning number was 58825, won £972.
NEXT MATCH: Scottish First Division Play Off Final v Alloa Athletic
Wednesday 15th May 2013, kick off 7.45pm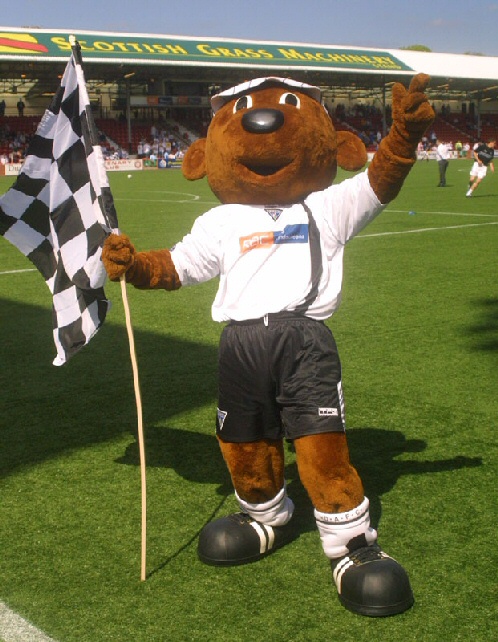 Sammy says thanks very much for visiting our web site where we have lots of news for young Pars fans.