Scot Comms League Cup:
DUNFERMLINE 3 MONTROSE 0 Date: 28/08/12
MATCH PICTURES
From the team that started at Airdrie on Saturday, Dunfermline brought in new signing Callum Morris, Alex Whittle and Ryan Wallace for this Second Round Scottish Communities League Cup tie.¬ Making way for them were John Potter, Joe Cardle and Andy Kirk. Visitors Montrose made two changes from the side that faced Annan Athletic on Saturday. Sandy Wood came in to keep goal and Craig McLeish took the place of Lloyd Young.
The Angus side kicked off attacking the goal at the McCathie Stand end and Paul Watson their left back went down injured within 20 seconds.¬ After a two minute delay play resumed and seventy seconds the ball was in the back of the Montrose net.¬ Jordan McMillan took the ball to the byeline and his cross appeared to nick off Wallace as it travelled to Andy BARROWMAN who tucked the ball away from close in. 1-0.
Six minutes later McMillan was forward again combining sweetly with Wallace before keeper Sandy Wood turned the ball around his left hand post. Dunfermline then continued to control the game but were kept away from goal. Josh Falkingham blasted a ball across the face of goal in 19 minutes when a little bit more composure might have paid dividend.
Montrose caused Paul Gallacher to make his first take after Scott Johnston threatened and Craig McLeish got in a soft effort. Then in 23 minutes Johnston got close as Montrose won their first corner but made nothing of it.
Play was quickly back at the other end with Husband going forward and feeding Falkingham who then released Wallace but his shot at an angle from 12 yards out beat the keeper¬ and rebounded back off the crossbar. Then on the half hour Barrowman squared ball back across the penalty box was blasted away by Paul Lunan but he almost created the second goal as the clearance cannoned off McMillan and narrowly wide to the left of the Montrose goal.
In 35 minutes Andy Geggan headed a Whittle cross wide left and next Wallace shot high over the bar.¬ Whittle had another cross that was well intercepted by a Montrose defender.¬ The second goal did materialise in 41 minutes when Falkingham cut the ball back from the right for WALLACE who angled the ball in at the left post. 2-0
Husband hammered the ball wide from 30 yards and a Whittle corner was then blown up as Dowie was overanxious to challenge for the cross.¬ It was a first half in which Dunfermline¬ looked comfortable¬ without creating terribly much in the way of chances.¬ They merited their two goal lead but the Manager will probably still not be happy with them when he gets them inside.

Half Time: Dunfermline¬ 2 Montrose 0
The Pars brought on their Italian winger Ivan D'Angelo for Alex Whittle at the beginning of the second half and Montrose introduced Scott Gordon for earlier sub, Dean Easton. The home fans were encouraged by a Wallace break and then a soaring run from Falkingham was punctuated with a fine pass to Geggan at the edge of the Montrose box but his switch for D'Angelo was misguided and the Links Park side survived.
There was a touch of Italian class in 59 minutes when D'Angelo twisted left then right in getting around the left back and finding Barrowman in front of goal, unfortunately in an offside position. Then two minutes later Callum Morris showed some skills to¬ beat two men as he broke out of defence and then sent Barrowman away with a fine pass. Unfortunately the striker could not get the shot away before a blocking tackle came in.
Falkingham¬ then produced a special cross in from the right on 64 minutes that BARROWMAN met perfectly to convert with relative ease from six yards. 3-0.¬ Craig Dargo replaced Falkingham as the match entered its final third.¬ The sub earned a free kick down on the left and Wallace's cross was headed back across goal by Barrowman for Morris but he could not make it a scoring debut.
In 75 minutes Ryan Wallace came off and Shaun Byrne came on to make his Pars debut. Jim Jefferies had the courage to finally send on the midfielder who has come through the youth system and¬ had to sit through 19 matches last season on the subs¬ bench without featuring.¬ Byrne immediately made a run that forced a corner on the right and that almost let Barrowman in for his hattrick but Wood was alert enough to deny the Pars no.9.
Montrose tested Gallacher in 81 minutes when former Ross County player Garry Wood's shot¬ produced the visitor's best effort of the night. The remainder of the game saw the Fifers coast home and Byrne was desperately unlucky when his speedy run almost handed him a goal but his touch just beat him as the ball was laced towards him.
So the Pars find themselves comfortably through to the next round of the Scottish Communities League Cup, succeeding on a night when other favourites Kilmarnock, Hibs and Ross County all got knocked out by lower league teams.
DUNFERMLINE: Paul Gallacher; Jordan McMillan (c), Andy Dowie, Callum Morris, Stephen Jordan; Stephen Husband, Andy Geggan, Josh Falkingham (Craig Dargo 68), Ryan Wallace (Shaun Byrne 75), Andy Barrowman, Alex Whittle (Ivan D'Angelo HT),
SUBS NOT USED: Chris Kane,,¬ Michal Hrivnak (GK)
SCORER: Barrowman (4, 64), Wallace (41)
YELLOW CARD: McMillan (36)
MONTROSE: Sandy Wood; Stephen McNally, Alan Campbell, Paul Lunan, Paul Watson (Dean Easton 5 (Scott Gordon HT)), David Gray, Terry Masson, Jonathan Crawford, Craig McLeish, Scott Johnston, Garry Wood
SUBS NOT USED:¬ Dale Reid, David Beedie, Grant Mosson.
YELLOW CARD: McNally(28)
REFEREE: George Salmond.
WEATHER: Dry 15C
ATTENDANCE: 903
MATCH PICTURES
NEXT MATCH: SFL First Division (home) v Raith Rovers
Saturday 1st September 2012, kick off 3.00pm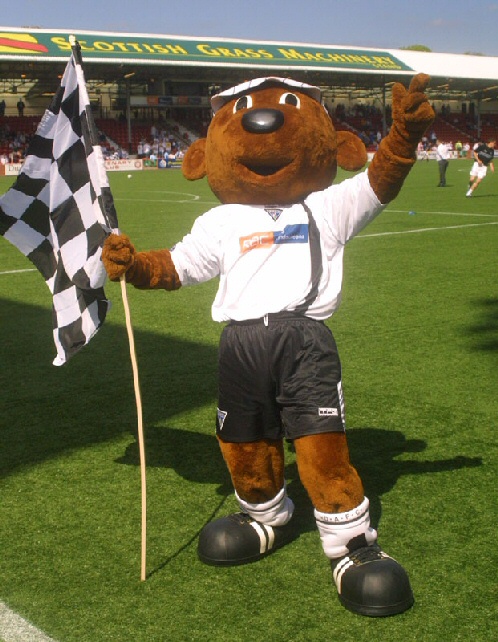 Sammy says thanks very much for visiting our web site where we have lots of news for young Pars fans.