Pre Season Friendly: BERWICK 1 DUNFERMLINE 2
Date: 24/07/12
MATCH PICTURES
It was only Dunfermline's second game in England in 24 years and like the last to Northumberland to play Blyth Spartans,¬ a winning one.
Dunfermline travelled south to meet Berwick Rangers with¬ seven trialists in their squad.¬ Alex Whittle's clearance has not been received so he continued to¬ be listed¬ as trialist. Ian Murray and Stephen Jordan played in defence, while Stephen Husband was in central midfield. Jim Jefferies started the Slovakian trialist keeper.
The Scottish Division Three team¬ defeated Livingson 2-1 on Saturday and they got off to a great start against the Fifers. Ian Murray miskicked a clearance in the centre of the Pars box setting up Fraser McLaren to break in on the right side and fire the ball across goal for former Cowdenbeath striker John FERGUSSON to turn the ball in at the far post.¬ Three minutes gone, 1-0 down.
Dunfermline's new striker Ryan Wallace almost levelled right away. He took the ball wide on the right and sent an invitation across the face of goal that unfortunately wasn't accepted.
In eight minutes Alex Whittle raced up the left and delivered a perfect ball for Andy¬ Kirk in front of goal but somehow he managed to put the ball over the bar from just five yards out.
Then in 20 minutes an Alex Whittle corner was met by Andy Kirk on the nearside and his header was kept out by the hand of Devon Jacobs. KIRK grabbed the opportunity and stuck the ball away from the spot with no hesitation.
Andy Dowie was commanding in defending a corner before Jordan McMillan bundled Lavery off the ball to hand the home side the first of two free kicks from 28 yards out.¬ Both 32nd minute efforts were driven into the Pars wall but Neil Janczyk got in a shot from an acute angle on the right forcing the Pars trialist keeper to pull off a good save after the shot was deflected high off Husband.
At the other end Wallace set up Kirk for a fierce shot from 20 yards but Yousseff Bejaoui pulled off a good save. In 37 minutes Josh Falkingham evaded the challenge of Kevin McDonald to burst forward and feed Wallace fast enough to evade being caught offside. Unluckily when through on the keeper his shot was stopped by an outstretched right leg.
Five minutes from half time Andy¬ Geggan headed an Andy McLean header off the line and then the wee Rangers had another chance but Dean Hoskins blasted a free kick over the bar from 25 yards out.
The first half ended without Dunfermline really taking any real grip of the game. Some good individual touches with Dowie and Wallace possibly showing up best.
Half Time: Berwick Rangers 1 Dunfermline 1
No changes in the Dunfermline line up for the restart and the visitors kicked off attacking the goal at the west end. In just the second minute of the half Wallace released a shot that Bejaoui could only parry and as the ball broke to Kirk at the right post he was bundled away by Hoskins and another penalty was awarded.¬ Kirk again took responsibility but sent the ball right as he did with his first success and this time the Berwick keeper kept the ball out with the help of his left hand post.
The home side had a good chance with a corner from the right. McLean headed the ball to the far side back for McLaren and he was unlucky to see his header go over the top from eight yards.¬ In 54 minutes Geggan sped up the right¬ to send over a great ball for Kirk at the far post but amazingly he managed to direct the ball over the crossbar.
Five minutes later another fine ball from the right was headed into the keeper's hands by Kirk.That was Kirkie's last involvement as immediately thereafter the Irishman, Husband and Whittle were withdrawn to make room for Barrowman, Cardle and Kane.
It was Berwick's sub trialist who was to threaten holding off his defender to power an attempt over the bar from 20 yards.¬ Paul Burns replaced Jordan McMillan and Burns first effort from distance soared narrowly wide. On 71 minutes Jordan created a good chance for Barrowman but he failed to convert as the ball flashed across the six yard box.
Jim Jefferies introduced two more trialists with sixteen minutes remaining. France and Italy appear to be their origins but no names yet. Barrowman and then Burns had shots on target in quick succession but both were kept out.
Cardle created some danger on the left but it was a through ball down the right from Burns, headed on by¬ Trialist¬ that put BARROWMAN in to make it 2-1 with a sizzler of a shot on the angle.
McLaren was in space on the right and he gained ground before crashing the ball into the near post. Remarkably their trialist met the rebound but sent his attempt over the bar from eight yards.
A good run out for Dunfermline and some good stuff at times.¬ Better in the second half and the Manager enthused in his post match comments on what a joy it was to watch the pace of play from his new young signings.
BERWICK RANGERS: Yousseff Bejaoui (Grant Sandison 85), Devon Jacobs, Dean Hoskins (Ben Miller¬ 65), Andy McLean, Dougie Brydon, Damien Geilty, Fraser McLaren , Neil Janczyk, John Ferguson (Craig Stevenson¬ 69), Darren Lavery (Trialist 65), Kevin McDonald (Lee Currie HT)
SUB NOT USED:¬ Philip Addison.
SCORER: Fergusson (3)¬
DUNFERMLINE: Trialist; Andy Geggan, Andy Dowie, Trialist, Trialist; Jordan McMillan (c)¬ (Paul Burns 68), Trialist (Chris Kane 58), Josh Falkingham (Trialist 74), Trialist (Joe Cardle 58); Andy Kirk (Andy Barrowman 58), Ryan Wallace (Trialist,74)
SUBS NOT USED: Ryan Thomson, Paul Willis, Ryan Goodfellow (GK).
SCORER: Kirk (20 pen.), Barrowman (83)
REFEREE: George Salmond
WEATHER: Dry 20C
ATTENDANCE: 250 (est.)
MATCH PICTURES
NEXT MATCH: Ramsdens Cup (away) v Forfar Athletic
Saturday 28th July 2012, kick off 3.00pm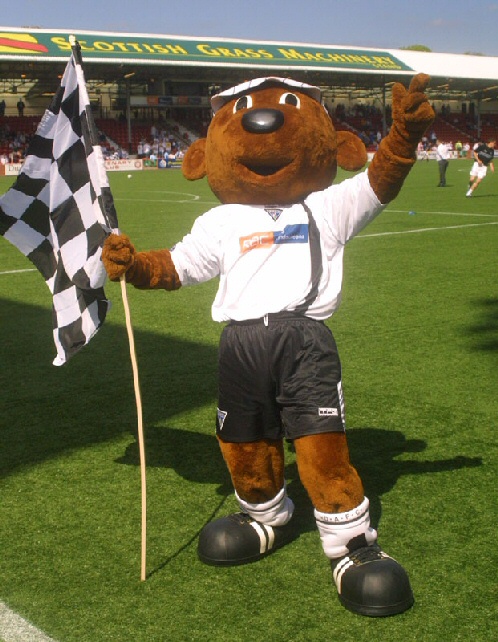 Sammy says thanks very much for visiting our web site where we have lots of news for young Pars fans.