Young Pars News - 16 April 2011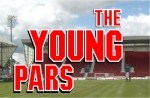 (Entry for Young Pars page of Match Programme v Queen of the South) Hi Young Pars

Unfortunately, the school holidays are over again for another few weeks. Hope you managed to do lots of interesting things!
Not many games to go now
before the end of the season and it's getting really exciting!�
We want to hear you all make as much noise as you can to support the team
and help make this another great game for the home fans!
Young
Pars training
We finally managed to hold
the coaching session at Pitreavie playing fields which had to be postponed
during the Christmas holidays because of the weather.�
There were no such worries this time though as the sun shone and it was
actually quite warm for Pitreavie!� Young
Pars watched the Pars first team train and had an impromptu game of football
themselves before taking part in a coaching session taken by Pars striker,
Graham Bayne.� Everyone had a great
time practising various skills before playing a 7-a-side game.�
Graham got Pars Under19s goalies, Ryan Goodfellow and Aaron Somerville,
to step in between the posts but, to make it fairer on the Young Pars, they had
to stay on their knees and try to save any shots on goal from there! � The
session ended with the two teams taking penalties.�
Everyone had a great time and a fair level of skill was on display –
some future Pars players we hope!� We'd
like to thank Graham who, we have to say, was excellent with the kids, for
taking the coaching session and making the morning such a success.�

You can see more photos of
the Young Pars training on our Young Pars website
End
of Season event
This is being held at
Bowlplex at the
Leisure
w:st="on">
Park
in
Dunfermline
on Tuesday 26th April at 7.30pm.�
If you wish to come along to this event then please phone or email
Christine to let her know.
Sammy's
Easter party
Sammy held his party at w:st="on">

East End
w:st="on">
Park

last weekend.� Look out for details
and photos of what happened in the next programme!�

Player
of the Year/Young Player of the Year
We still need to hear from
Young Pars members about their choices for Player of the Year and Young Player
of the Year.� The best way to send in
your votes is by emailing your choices to the address at the foot of the page.�
At the moment it is very close with the votes spread out amongst several
players.� It's really important
that you send in your vote if you don't want your favourite players to miss
out!�
How
to contact us
If you would like to find out
more about the Young Pars or how to join simply visit our website at www.youngpars.co.uk
and you will find lots of information.� Or
why not send us an email to pars@youngpars.co.uk
if you want to know more or contact us by phone on the following numbers -
Christine (01383 822012), Jean (01383 731409) or Helen (01383 735358).