NZ Tour: NEW ZEALAND 0 DUNFERMLINE 1: Date: 28/06/02
Westpac Trust Stadium, Wellington
Friday 28th June 2002

There can be few Scottish clubs who have taken on an international team. Dunfermline Athletic has never before travelled to the other side of the world to play football and on this expedition they played two matches against the New Zealand National side. The Pars were invited to the Southern Hemisphere as late replacements for Wolverhampton Wanderers who had been involved in domestic play offs. Pars fan Gordon Baird went on the tour and he reported:-

The invitation came through organisers, the Canterbury Management Group whose main man, Kevin Clarke, was brought up in North Queensferry and attended schools in Rosyth and Dunfermline. Kevin was the only FIFA licensed player agent in New Zealand and it was he who had the idea of approaching his home town club to see if they were interested.

The first match of the Pars three game tour was in Wellington. Veteran striker Craig Brewster marked his debut for the Scottish Premier League club with a well-taken 66th minute goal to clinch the winner in the match at 34,500 capacity, WestpacTrust Stadium.

As well as Scott Thomson lining up in goal due to slight knocks to Marci Ruitenbeek and new signing Derek Stillie, the other surprise appearance was Sammy The Tammy, looking remarkably fresh and raring to go after his long flight over. The home side included Aaron Lines who had spent three weeks on trial at East End Park early on in the previous season.

Both teams seemed cautious early on and any attacking play was from Dunfermline. Lee Bullen followed up a strong run down the wing with a cross that Stevie Crawford slid wide. Neat footwork by Nipper Thomson gave Brewster the opportunity to set up Sean Kilgannon who sent an angled drive over the bar.

Pars keeper Thomson was called into action in 28 minutes, saving from Manchester City striker Chris Killen, and Dunfermline responded immediately with Crawford's curling shot tipped behind by South Africa based keeper, Matt Utting.

The All Whites had a poor first half but upped the pace after the break and enjoyed their best attacking spell. On the hour Killen was allowed too much space in the penalty area but hooked his shot wide. Then Mark Burton had a shot smothered by Thomson.

In the 66th minute Dunfermline took the lead following the best move of the game. Gary Dempsey received the ball on the left, cut inside and played a neat one two with Crawford before squaring the ball for BREWSTER to side foot home from eight yards out. 0-1

NZ manager Mick Waitt got the tough workout he wanted in the countdown to the next month`s Oceania Nations Cup. But Australia will hardly be trembling when they get their hands on a tape of the game played before a disappointing crowd of 3500.

After the All Whites scored seven goals in two outings in China in their previous outings, Waitt was disappointed Dunfermline goalkeeper Scott Thomson was rarely tested. Manchester City striker Chris Killen looked likely but was limited to just two attempts on goal and was isolated up front with Aaron Lines, Paul Urlovic and second-half substitute Chris Bouckenhooghe reluctant to leave their flanks.

The All Whites saw plenty of possession but despite Killen`s best efforts and the tireless work of Chris Jackson in the midfield, the All Whites did not look capable of equalising and it was the Pars who came closest to scoring again. Ten minutes from the end Dempsey's shot following a free kick was cleared off the line.

DUNFERMLINE: Scott Y Thomson: Gus MacPherson, Andre Karnebeek (Stewart Petrie 45), Gary Mason, Scott Walker, Scott M Thomson, Lee Bullen, Barry Nicholson (Kevin McLeish 76), Stevie Crawford, Craig Brewster ( Colin Nish 80), Sean Kilgannon (Gary Dempsey 48).
SCORER: Brewster (66)

NEW ZEALAND: Michael Utting: Gerard Davis, Scott Smith, Ivan Vicelich; Aaron Lines, Chris Jackson, Raf de Gregorio, Paul Urlovic, Mark Burton, Glenn Collins (Kris Bouckenooghe HT), Chris Killen.

T

Two fine saves from goalkeeper Michael Utting would give NZ manager, Mick Waitt plenty to ponder with one of his three keepers to be jettisoned after Sunday's second match against Dunfermline in Auckland.

"I'm not that worried about the result but it's a bit disappointing because in China we did create chances and to be honest I don`t think they caused us too many problems," Waitt said.

"At half time we talked about the other two up front being a little bit too wide and we did have two good chances after half time. It's early days yet but no excuses."

New Zealand did better in the Auckland game and ran out 4-2 winners. Opinion was that Dunfermline won a dull first half by a narrow points decision. Goals from Thomson and Nish got the Pars ahead after losing an 18th minute goal. But three goals in the final 14 minutes after the introduction of two Australian trialists meant the Scots would lose this match.

The third and final match of the tour was played in the Waikato Stadium, Hamilton where the Pars won 2-1 against an All Stars team that included Scot, Graham Little.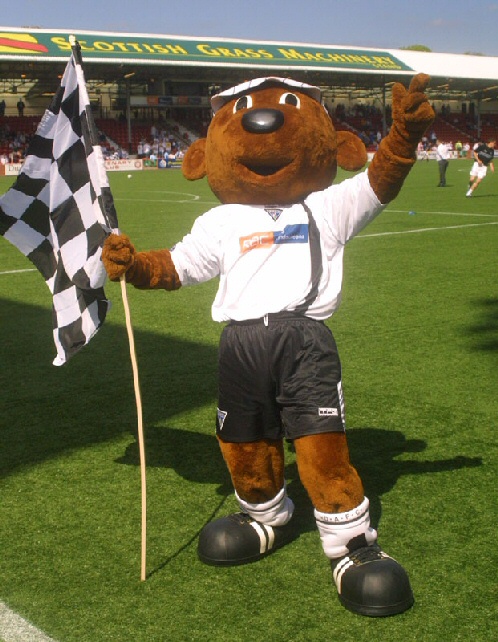 Sammy says thanks very much for visiting our web site where we have lots of news for young Pars fans.