Young Pars News - 14 December 2010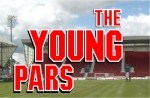 (Entry for Young Pars page of Match Programme v Partick Thistle)

Hi Young Pars

Hope you've managed to get all your Pars related Christmas presents for the Pars fans in your family. Mid-season tickets would make a great present for anyone who doesn't have a season ticket yet. Also all season ticket holders get 10% off anything they buy in the Club shop, as well as lots of other benefits!
Christmas
event

This year we have organised something a bit
different for Young Pars – an opportunity to be coached by some of the players
after they have completed their own training session at Pitreavie.�
This will take place on Tuesday 4th January and is a great way
to finish off the Christmas holidays! You can come along just for the coaching,
or a bit earlier if you would like to see the players training first.�
If you would like to take part then you must let Christine know as soon
as possible either by phone or email.� Contact
details can be found at the end of this page.�
We need to know how many Young Pars are interested so that we have the
right number of players to take the coaching!�
Birthday
board
Happy Birthday to the following Young Pars who
celebrate their birthdays during December.
Chloe
Kidson, Michael McKenzie, Alexander Wilson, Conor Stewart, Logan Smith, Jennifer
Bald, Holly Munro, Daniel Milligan, James� Penny, Robert McKenzie, Argyll
Graham, Douglas Harvey and Andrew Morrison.
Hope you all enjoy your special day when it
arrives!�

Hospitality
prize
This year we wanted to offer a special prize
for the parents of Young Pars for a change after all the support they have given
us over the years. The prize was for hospitality for two at any home game of
their choice during this season.� All
parents of children who joined before the end of August were entered into a
draw.� The lucky winners were Mr and
Mrs Harvey, whose children, Ruth, Douglas and Lynn have been members of the
Young Pars for many years.� Worthy
winners indeed!� We hope you both
enjoy your day out in Hospitality. Many thanks to the Club for donating the
prize.� � �
Competition
time
Now here's a chance for a Young Pars member
to win a great prize in one of our programme competitions.�
All you have to do is answer the following question.
Which
club did goalkeeper Chris Smith play for before joining the Pars on a permanent
basis at the beginning of this season?
Nice and easy!�
Send your answer to Helen Beard,

31 Elliot Street
,
Dunfermline

KY11 4TF

or by email to the address at the end.
How to
contact us
If you would like to find out more about the
Young Pars or how to join simply visit our website at www.youngpars.co.uk
and you will find lots of information.� Or
why not send us an email to pars@youngpars.co.uk
if you want to know more or contact us by phone on the following numbers -
Christine (01383 822012), Jean (01383 731409) or Helen (01383 735358)