Young Pars News - 11 December 2010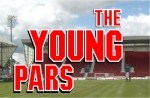 (Entry for Young Pars page of Match Programme v Queen of the South)

Hi Young Pars

Can you believe that Christmas is only 2 weeks away! Hope you have lots of goodies from the Pars shop on your Christmas list to Santa.
We were really disappointed when our game
against Cowdenbeath couldn't be played a couple of weeks ago because of the
referees strike and then last week's home game against Partick Thistle was
postponed because of all the snow we had!� We're
sure you all enjoyed the extra week off school though and had great fun sledging
or building a snowman or two.� Did
any of you build a Sammy the Tammy snowman?�
Now that would be worth seeing!
Christmas
events
This year we have organised a coaching session
for Young Pars members at Pitreavie. � You
are invited to watch the players training and then after training some of the
players will take Young Pars members for some training of their own on the
artificial pitch.� An opportunity not
to be missed!� This will all be
happening on Tuesday 4th January and promises to be an excellent way to finish
off the Christmas holidays!� Anyone
wishing to come along would need to let Christine know as soon as possible.�
We need to know how many Young Pars are interested so that we have the
right number of players to do the coaching.� You can either phone or email
Christine.� Phone number and email
address are at the end of this page.
Reminder
Please remember to let us know if there are any
changes in your home address, email address or phone number so that we can keep
you up to date with what's going on at the Young Pars.
Competition
time
Here is another chance for Young Pars members
to win a prize in one of our programme competitions.�
All you have to do is answer the following question.
Which
club did goalkeeper Chris Smith play for before joining the Pars on a permanent
basis at the beginning of this season?
Nice and easy!�
Send your answer to Helen Beard,

31 Elliot Street
,
Dunfermline

KY11 4TF

or by email to the address at the end.
Finally
Thought we'd give a mention for the ball boys
and girls today.� The weather has
been really cold recently so hopefully they are well wrapped up under their
jackets.� At least they can look
forward to a hot drink and a pie at half time!�
Any Young Par who fancies having a go at being a ball boy or girl should
contact Jean on the number at the bottom of the page.
How to
contact us
If you would like to find out more about the
Young Pars or how to join simply visit our website at www.youngpars.co.uk
and you will find lots of information.� Or
why not send us an email to pars@youngpars.co.uk
if you want to know more or contact us by phone on the following numbers -
Christine (01383 822012), Jean (01383 731409) or Helen (01383 735358)