SFL v Raith Rovers
DUNFERMLINE 2 RAITH ROVERS 2 Date: 13/11/10

Fixture: Irn Bru SFL Division

Attendance: 7158, Kick Off: 3.00pm.

Referee: Eddie Smith
MATCH PICTURES
Comfortably ahead by two goals at the interval, Dunfermline went down to ten men in 72 minutes when McGregor was sent off. A blunder by Chris Smith seven minutes from the end then let Raith in for a goal and they struck with an equaliser in the second minute of added time.
With the two Fife teams sitting first and second in the league this second derby of the season between them promised to be a real cracker. Neil McGregor, for his first start of the season and Alex Keddie came in for Chris Higgins and the injured Steven Bell. Mark Ferry and former Par Scott McBride came into the Rovers eleven in place of John Baird and Stephen Simmons.
After a ten minute delay to the kick off time, the teams emerged to the greatest noise at East End Park so far this season. There was a one minutes silence as a mark of remembrance and it was Raith who got the game underway with the visitors attacking the goal in front of the McCathie Stand. Raith started the stronger pushing the Pars back into their own half for the opening minutes and Andy Dowie did well to head out an Allan Walker flick into the box.
A Ferry foul on Wullie Gibson in six minutes handed Dunfermline an opportunity from a 35 yard free kick but Gibson`s low blast was kicked clear by Lawrie Ellis. The home side were settling in better by now and a series of passes kept play firmly under their control. A tenth minute challenge by Ellis on Kirk gave Gibson another go at crossing a diagonal ball through the Raith box but unfortunately just too strongly for his inrushing colleagues.
Deep on the left David Graham did really well in 18th minute to beat off Craig Wilson and Ian Davidson, actually stealing the ball back to send in a dangerous ball that got defended out to the right. That set up Calum Woods to feed Gibson the ball out on the wing and his low bouncing ball was met by Pat CLARKE at the near post to delftly flick the ball past McGurn from five yards.
Rovers rallied with Tade tormenting Woods on the right and Dyer sending over a cross that led to two corners for the visitors before Chris Smith held a return into his box. The Pars were soon back in front of McGurn`s goal. McGregor chested down a Gibson delivery into the box and Clarke drove at goal but his shot was blocked. Then in 31 minutes Calum WOODS found the net with a cool low strike from 30 yards. The ball had been won on the left by Austin McCann when yet again two opponents couldn`t prevent the cross and although that initially was cleared it fell for the right back and he doubled the Athletic advantage.
Craig Wilson was shown a yellow card for bringing down Graham 30 yards out and from the setpiece Gibson dinked the ball into the left side of the penalty box but the Pars top goalscorer couldn`t get control. A pass from Dowie deep for Kirk earned the Pars a corner off Grant Murray and Kirk came oh so close to converting Gibson`s cross. He peeled away at the near post to meet the ball at the far post but just couldn`t get enough control over his direction on his header.
It had been a fruiful first half for Jim McIntyre`s eleven. Rovers had not really tested Chris Smith but they were two up at Dundee at the break then failed to win, so there`s still plenty to do in the second half.
Half Time: Dunfermline 2 Raith Rovers 0
The restart was delayed with both teams on the park but no match officials. They emerged six minutes behind schedule and Kirk and Clarke eventually got the match resumed. Playing towards their own vociferous fans, Raith fired crosses into the Pars box. Mole from the left and Tade from the right but the home defence held firm with both Dowie and Keddie playing their part.
Dunfermline`s first forward move of any consequence came in 50th minute and it really should have finished the contest. Pat Clarke was sent deep up the right by Gibson but his ball to Kirk in front of goal was not perfect for Kirk and he despatched what looked like an easy chance wide left. Judging by the Irishman`s protestations his co-striker`s delivery was not what was needed.
Raith introduced John Baird for Jamie Mole in 59 minutes and the ball became a bit of a hot potato for a spell. Things were getting heated and referee Smith showed yellow to both Ellis and Clarke after Clarke was fouled and Ellis raised his hands to the Pars striker. No one really followed what Clarke had done wrong.
Kirk poked the ball to Gibson on half way for the Pars winger to mount a run at goal but his shot wasn`t to trouble McGurn. At the other end a loose ball in the Pars box eventually found its way into hands of Smith after Tade looked to have had the best chance. Gibson fired another free kick through the Rovers box with Kirk, Keddie and Clarke all failing to get a touch.
In 70th minute Mark Ferry had a go from 20 yards and Raith won a corner as it was deflected behind. Davidson challenged at the second corner but sent his header wide while at the other end Murray headed a Gibson cross away from Clarke. Two minutes later Neil McGregor who had already been booked was shown yellow as he dumped Scott McBride on the left wing.
On 76 minutes Iain Williamson and Graham Weir replaced Gregory Tade and Scott McBride. David Graham limped off and Ryan Thomson and Joe Cardle came on in Jim McIntyre`s first substitution of the day. Raith took the corner kick down on the right and as the Pars cleared their box the linesman was alerted to the fact that ten men Dunfermline now had eleven on the park. In fairness Gerry McCabe and Jim McIntyre had tried hard to prevent the corner being taken with Gerry racing up the touchline.
Andy Kirk was then withdrawn to return Dunfermline to ten men and bizzarely David Graham was shown yellow despite the fact he had left the field and was sitting in the dugout with a calf injury.
In 81 minutes Iain Williamson was offside when he headed what looked like a net bound shot over the crossbar. Then seven minutes from time the Kirkcaldy side were thrown a lifeline when Smith seemed lose the ball at the feet of Woods and WILLIAMSON had only to walk the ball into the net.
Williamson rattled the horizontal as the away support turned the atmosphere into a cauldron. It was all Rovers but they nearly got caught on the break as Thomson and Cardle broke and Clarke just couldn`t quite get enough on the ball to send it netbound.
Two minutes into added time a cross from the left was met by WALKER and he looped the ball into the far right of the Pars net for the away team, management and fans to erupt. The Raith fans had precious little to cheer until the final ten minutes but they left in a frenzy and of course with a reminder that they`re still top of the league.
This was a match that Dunfermline should have won and in the end it felt like a defeat. A disastrous final quarter could not have been foreseen but every Dunfermline player left the field knowing that Raith had just been handed an early Christmas present.
DUNFERMLINE: Chris Smith; Calum Woods, Andy Dowie, Alex Keddie, Austin McCann (c); Wullie Gibson (Chris Higgins 89), Neil McGregor, Gary Mason, David Graham; Andy Kirk (Joe Cardle 78), Pat Clarke.
SUBS NOT USED: Steven McDougall, Kyle Allison (GK).
SCORER: Clarke (19), Woods (31)
YELLOW CARD: McGregor (59), Clarke (63), Graham (78)
RED CARD: McGregor (72)
RAITH ROVERS: David McGurn; Craig Wilson, Grant Murray, Laurence Ellis, Willie Dyer, Allan Walker, Iain Davidson, Mark Ferry, Scott McBride (Graham Weir 76), Gregory Tade (Iain Williamson 76), Jamie Mole (John Baird 59)
SUBS NOT USED: Mark Campbell, Andrew McNeil.
YELLOW CARD: Wilson (37), Ellis (63)
SCORER: Williamson (83), Walker (92)
WEATHER: Cool, rain and sunshine at times 8C
NEXT MATCH: (away) First Division v Cowdenbeath
Saturday 27th November 2010, kick off 3.00pm.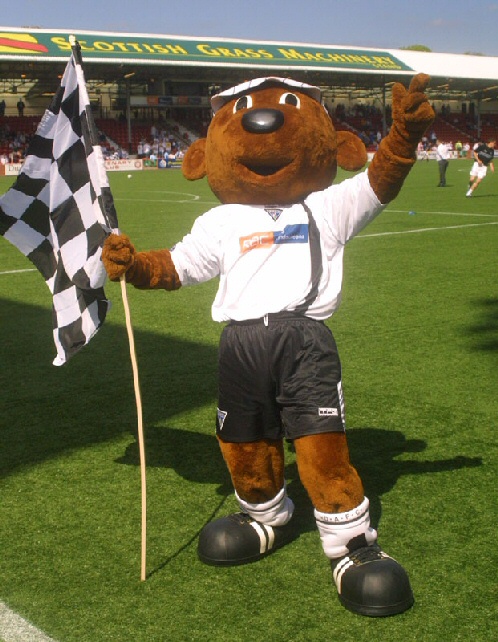 Sammy says thanks very much for visiting our web site where we have lots of news for young Pars fans.