SFL v Raith Rovers
RAITH ROVERS 2 DUNFERMLINE 0 Date: 21/08/10

Fixture: Irn Bru SFL Division

Attendance: 6169, Kick Off: 3.00pm.

Referee: Stevie O`Reilly
MATCH PICTURES
Both Raith and Dunfermline had won their opening two matches of the league season. Raith had scored seven goals and Dunfermline had conceded none but with six points each they were up for this top of the table clash. Raith were unchanged from the eleven that were successful at Palmerston the previous Saturday whilst Dunfermline made two changes from the side that started against Morton - Willie Gibson and Steven Bell coming in for David Graham and Pat Clarke. Alex Keddie had served his two match suspension but there was no room for him even on the bench.
In front of a crowd of 6169 the Rovers kicked off through Allan Walker and John Baird attacking the goal in front of the travelling support. Joe Cardle and Andy Kirk moved quickly into the Rovers half but surrounded by six dark blue shirts the move was stifled. The home side`s efforts to get into the match was hampered by overstruck balls and passes out of play.
A fifth minute corner for John McGlynn`s men was powerfully headed over the crossbar by former Par, Iain Williamson. Gregory Tade made a break down the right but failed to get the better of Chris Higgins who intercepted just as it looked like the big number 10 had rounded his defender.
Stephen Simmons was heavy into a ninth minute tackle on Gibson but after a lengthy lecture referee Stevie O`Reilly kept his cards in his pocket. Dunfermline failed to make much of the free kick with Calum Woods cross easily defended. Rovers had more of the possession but were doing little with it and in contrast Steven Bell almost put Dunfermline into the driving seat with a 13th minute run where he beat three men on the right wing to get to the byeline and cut back for Kirk but the Rovers defence read that ball well.
The ball was a hot potato with both defences playing ropey balls back to their keepers and Grant Murray was fortunate that McGurn was out quickly to thwart Cardle`s chances at a light back pass. Midway through the first half Woods sent a forward pass to Gibson n the right wing and he delivered a decent cross but it was cleared.
In 24th minute Nick Phinn motored at the Rovers box leaving men in his wake but his shot, although good, was not enough to beat McGurn who held. Two minutes later Gibson dispossessed Simmons on the right but after breaking to shoot, his effort went well wide left.
Another Raith corner in 32 minutes was a low delivery from the right by Walker but a simple Laurie Ellis flick wasn`t going to beat Chris Smith. Two minutes later Gibson sent the Pars first corner to Kirk at the far post but Willie Dyer cleared at his own left upright. Dunfermline kept up the pressure but Gibson`s shot was well off target.
Gibson brought the ball across the park playing one twos off both Mason and Phinn before picking out Austin McCann on the left. The skipper`s ball in was ideal height for Bell to head on target from 12 yards but McGurn held the 39th minute attempt.
Just before the break Wiliamson misplaced a pass to Mason on the centre line and the Pars midfielder sent Cardle up the left. His cross was sliced over his own crossbar by Ellis and from the corner sent in from the right by Gibson, a chance dropped to Higgins but his drive was held on his line by McGurn.
Half Time: Raith Rovers 0 Dunfermline 0
First showing in the second half was from Gibson who accepted a lay off from Phinn in 80 seconds, beat off the challenges of three men along the edge of the box but then sent his shot over the crossbar. In 49 minutes the game and the crowd that had been so quiet for so long came alive.
A ball passed into the left side of the Pars penalty box from Mark Ferry looked to be too strong for Baird to catch but Chris Smith came out and as he threw his feet into the challenge Baird went down. Stevie O`Reilly pointed to the spot and amidst much protestation the keeper was shown a yellow card to match his attire.
Baird took responsibility for the award but he was unconvincing with his execution, Smith dived to his left to turn the ball on to his post and then dropped on top of it. The heat was turned up and McCann soon earned a caution as well. Rovers were urged on by their fans, they won corners and Smith held a Ferry cross under pressure from Williamson.
Steven McDougall replaced Willie Gibson and he was unfortunate on the hour as he turned Cardle`s cross on to the back of Bell. Williamson went on a run towards the Dunfermline defence and he got the breaks with the ball canoning of defenders and nearly setting up Tade but Smith was out faster to the ball.
Higgins headed away a 63rd minute cross from Ferry and two minutes later there was a remarkable let off for the Pars when Tade`s ball from the left towards the far post was missed by Baird who only needed a touch to convert before Smith hooked the ball wide with his left foot.
Dunfermline got the ball back in front of their own fans but Cardle`s cross was too strong and Raith cleared Phinn`s attempt to set up Kirk. Next Woods picked up the clearance but launched one of his specials screaming well left of goal.
On 70 minutes Woods started the move that almost created the opener. Calum sent the ball deep on the right from where Kirk squared up for McDougall and from his lay off Phinn hit the crossbar with the ball travelling into the crowd.
Raith took the lead however in 73 minutes when Allan Walker`s ball over from the left came back off the back of Woods for newly introduced Raith sub, Iain DAVIDSON to turn past Smith.
Five minutes later Walker sent over a corner from the right and despite a crowd of Pars players it was Laurie ELLIS who met the ball at the near post to net from close in. The Kirkcaldy men defended their lead with attacking football and sadly the Pars just didn`t have any answers. A Higgins mistake let sub Jamie Mole break up the right but his cut back failed to give Tade the delivery he needed for a third.
It was a hard defeat to take as the Raith cries of "we`re top of the League and you`re no" heralded the Pars first defeat at Starks Park since 3rd January 2000.
RAITH ROVERS: David McGurn; Craig Wilson, Grant Murray (c), Laurie Ellis, Willie Dyer; Allan Walker, Iain Williamson (Iain Davidson 71), Stephen Simmons, Mark Ferry; John Baird (Jamie Mole 81), Gregory Tade (Graham Weir 88)..
SUBS NOT USED: Dougie Hill, Andrew McNeil (GK).
YELLOW CARD: Ellis (36), Walker (74), Dyer (77)
SCORER: Davidson (73), Ellis (78)
DUNFERMLINE: Chris Smith, Calum Woods, Andy Dowie, Chris Higgins, Austin McCann (c), Willie Gibson (Steven McDougall 55), Gary Mason, Nick Phinn, Steven Bell. Joe Cardle; Andy Kirk (Pat Clarke 71),
SUBS NOT USED: Neil McGregor, Alex Burke, Kyle Allison (GK)
YELLOW CARD: Smith (49), McCann (52), Mason (88).

WEATHER: Overcast 16C
MATCH PICTURES
NEXT MATCH: (home) Co-operative Cup Second Round v Clyde
Tuesday 24th August 2010, kick off 7.45pm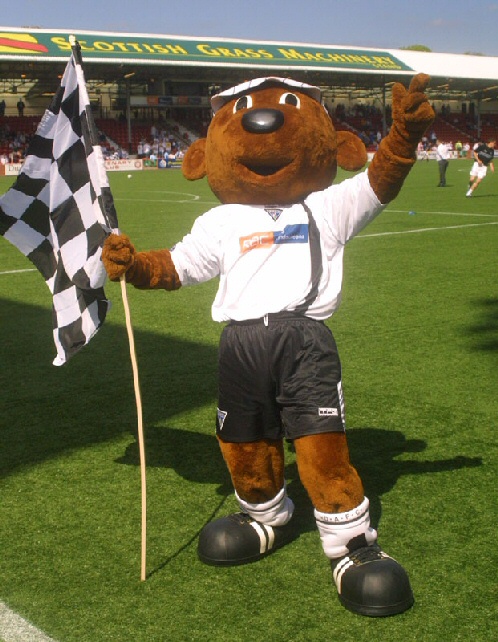 Sammy says thanks very much for visiting our web site where we have lots of news for young Pars fans.