Young Pars News - 11 September 2010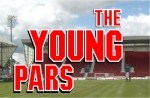 (Entry for Young Pars page of Match Programme v Dundee)

Hi Young Pars

We'd like to extend a warm welcome to the Junior Dees who are at the game today as part of our exchange agreement with Dundee Football Club. Hope you all enjoy your day!

We are looking forward to
going to
Dundee
in October with the Young Pars.� It's
always a great day out.� If any Young
Par would like to join us for the
Dundee
trip then please phone Christine or email us at the address below to book your
place.� There is a charge for the bus
but entry into the game is free for all Young Pars travelling with us.�

Competition
We have been running a
competition in the programme since the start of the season to win free
membership of the Young Pars.� We
asked which country won the World Cup which was held in

South Africa

earlier this year.� The answer was

Spain

and the lucky winner is 5 year old Ryan Hale.�
Congratulations to Ryan who is now a member of Sammy's Gang!�

Sammy's
birthday party
That's leads us on nicely
to a reminder to all Sammy's Gang members that Sammy will be holding his
birthday party in the Kingdom Suite tomorrow.�
He is really looking forward to the party and to meeting up with another
entertainer to have some fun with!� You
should have replied to Christine by now if you are coming to the party but if
you have forgotten and would still like to come along then please phone or email
to let us know.
Club
night
We have been busy organising
a Club night for our older members but haven't picked a date for this yet.�
We hope to hold it towards the end of this month and will keep you posted
when we have confirmed a date.
DAFC
Open day – a big thank you!
This took place in May and as
part of our fundraising events we decided to run a bottle stall.
�

We asked for contributions to the stall from our Young Pars families and
it's fair to say we were overwhelmed by the generosity shown by everyone.
�

We'd like to take this opportunity to thank everyone who donated
bottles for our stall.
�
We really
appreciate it.
�
Thank you also for
supporting us at the Open day.
�
It
was a busy day but lots of fun!
Birthday
board
A belated Birthday wish to all our August birthdays.
�
They are:-
Natalie
Penny, Lauren Watt, Jack Cruickshanks, Ryan Turner, Tom Milne and Lynn Harvey.
Hope you all had a lovely
day!
How
to contact us
If you would like to find out
more about the Young Pars or how to join simply visit our website at www.youngpars.co.uk
and you will find lots of information.� Or
why not send us an email to pars@youngpars.co.uk
if you want to know more or contact us by phone on the following numbers -
Christine (01383 822012), Jean (01383 731409) or Helen (01383 735358)