Young Pars News - 24 August 2010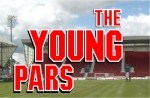 Entry Young Pars Page Programme v Clyde

Hi Young Pars

Are you all enjoying being back at school after the summer holidays? Bet you were getting bored!
We are hoping to hold the final of the Young Pars penalty kick competition now that the holidays are over and we can get all the finalists together at last! This had to be postponed at the end of last season when one of our finalists was injured.
Competition
time
Our first programme
competition of the season gives you the chance to win free membership of the
Young Pars!� If you are aged 7 and
over you can meet your favourite players at our Club nights or end of season
events.� Those of you aged 6 or under
become members of Sammy's Gang with the opportunity to join Sammy the Tammy at
his parties throughout the year.� To
win free membership simply answer the following question and either post your
answer to Helen Beard,

31 Elliot Street
,
Dunfermline

KY11 4TF

or email it to the address at the end.�
Which
country won the World Cup which was held in

South Africa

this year?
Nice, easy question! If you
have already joined the Young Pars you can still enter and if you win you can
either have your membership fee refunded or receive a £10 voucher to use in the
Club shop.
Please have your entries to
us by 31st August.�
Sammy's
birthday party
Sammy the Tammy is
celebrating his birthday with a party in the Kingdom Suite on Sunday 12th
September from 1pm-2.30pm.� As well
as an entertainer, Sammy will be there full of his usual nonsense and keeping us
all amused! Sammy's Gang will be receiving their invitations shortly.�
Please remember to let us know if you are coming by either phoning
Christine or sending an email to the address at the foot of the page.
Birthday
board
We'd like to wish all our
July birthdays a belated Happy Birthday today.�
They are
Lucy
Martin, Ryan Simpson, Cameron Tunnicliffe, Kim MacFarlane, Ruth Harvey, Aaron
Bennet, Eilidh Gallacher, Callum Anderson, Jack McCullow, Cameron Harris and
Andrew Purdy.
Hope you all had a lovely
day!
Talking about July birthdays
we'd like to give a special mention to one of our newest members and certainly
the youngest so far this season!� Leo
Fotheringham was born on Friday 16th July and his application form to join the
Young Pars was delivered to us the following day!�
So a warm welcome to Leo and congratulations to Leo's mum and dad from
everyone at the Young Pars – we look forward to meeting you all at Sammy's
parties at some point in the future!
How
to contact us
If you would like to find out
more about the Young Pars or how to join simply visit our website at www.youngpars.co.uk
and you will find lots of information.� Or
why not send us an email to pars@youngpars.co.uk
if you want to know more or contact us by phone on the following numbers -
Christine (01383 822012), Jean (01383 731409) or Helen (01383 735358)