Young Pars News - 14 August 2010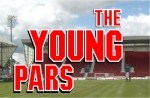 (Entry: Young Pars page of Match Programme v Morton)

Hi Young Pars

What a great result last weekend and what an atmosphere! First opening league game of the season we have won for a number of seasons so let's hope that's a good omen!

Competition
time
We will soon be holding our
first events of the season for Young Pars and Sammy's Gang so now is the time
to join us, if you haven't already done so, to make sure you don't miss out!�
In our first programme competition of the season we are giving you the
chance to win free membership of the Young Pars for this season!�
Simply answer the following question and either post your answer to Helen
Beard,

31 Elliot Street
,
Dunfermline

KY11 4TF

or email it to the address at the end.�

Which
country won the World Cup which was held in

South
Africa

this year?
Nice, easy question! If you
have already joined the Young Pars you can still enter and if you win you can
either have your membership fee refunded or receive a £10 voucher to use in the
Club shop.
Please have your entries to
us by 31st August.� Sammy
the Tammy is having his birthday party on Sunday 12th September and
if the winner is aged 6 or under they won't want to miss out on that!
End
of season bowling
As mentioned in a previous
programme this took place at Bowlplex where last season's Young Pars Player of
the Year, Willie Gibson, was presented with his trophy.�
We'd also like to congratulate the prize winners who achieved the
highest scores for their bowling prowess.� Top
scorer on the night for the Young Pars was Grant Barr.�
Well done, Grant!� Graeme
Holmes, who now plays for Morton, had the highest score for the players. He had
gone from getting the booby prize the last time out to winner this time!
The bowling is a very
popular event for Young Pars members.� We
are always looking for new ideas though and if any of you have any ideas of
activities you would like us to organise then please get in touch.�

Birthday
board
We are playing catch up
with the birthday board due to the close season and today we would like to send
belated birthday greetings to all those who celebrated their birthdays in June.
They are
Declan
Pierce, Finlay Martin, Jamie McKay, Kenneth Ford, Craig Barr, Kyle McKenzie,
Andrew Milne, Josh Ford, Alicia Howatt, Euan Divertie and Rory Campbell.
If your birthday fell
during July and August look out for your name in upcoming programmes!
How
to contact us
If you would like to find
out more about the Young Pars or how to join simply visit our website at www.youngpars.co.uk
and you will find lots of information.� Or
why not send us an email to pars@youngpars.co.uk
if you want to know more or contact us by phone on the following numbers -
Christine (01383 822012), Jean (01383 731409) or Helen (01383 735358)