Young Pars News - 17 July 2010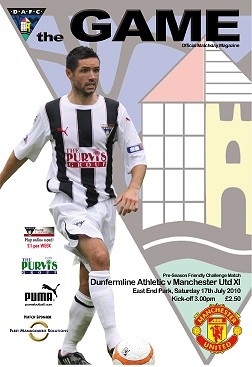 (Entry: Young Pars page of Match Programme v Manchester Utd)
A warm welcome back to all our members. It's always exciting looking forward to a new season which hopefully sees us challenging at the top of the league! � This season looks particularly exciting with a number of local derbies to enjoy!

We are really looking forward to this game. It may not be the Manchester United first team but there will still be plenty of football talent on display. This is your chance to spot the stars of the future!
About
the Young Pars
The start of a new season is always a good time
to tell you about the Young Pars and the benefits of joining.�
The Young Pars is a supporters club specifically for young supporters of
the Pars aged up to 16.� Members aged
7 and over come along to Club nights at

East End

Park

where they can meet their favourite players. We also organise exchange visits
to other football clubs for away games.� Special
events are held at Christmas and at the end of the season when we present the
Player of the Year awards.� Members
also receive a birthday card personally signed by first team players!
Young Pars aged 6 and under join Sammy's
Gang.� Sammy is very popular
with members of his gang and he enjoys meeting them all at his parties
throughout the season.� He likes to
make sure that everyone has a great time and usually brings along one of his
magician friends to entertain them!� Members
of Sammy's Gang get a special birthday card signed by Sammy himself!
As a member of the Young Pars you will also
receive a newsletter twice a year to keep you up to date with what has been
happening and events coming up.
Just take a look at the photos on this page and
you will see how much fun we have at Sammy's parties and Club nights!�
All this for a joining fee of just £10 a season!
Competition
time
Enter our first competition of the season and
you could win free membership of the Young Pars.�
Simply answer the following question and either post your answer to Helen
Beard,

31 Elliot Street
,
Dunfermline

KY11 4TF

or email it to the address at the end.
Which
country won the World Cup which was held in

South Africa

this year?
A nice, easy question to start the season off,
so we look forward to your entries flooding in!�
If you have already joined the Young Pars you can still enter and if you
win you can either have your membership fee refunded or receive a £10 voucher
to use in the Club shop.
How to
contact us
You can find out more about the Young Pars and
how to join by visiting our website at www.youngpars.co.uk
Our email address is pars@youngpars.co.uk
or you can contact us by phone on the following numbers - Christine (01383
822012), Jean (01383 731409) or Helen (01383 735358)
The Game is great value for money at £2-50 and is available around the ground prior to kick off or by subscription. If you would like to subscribe to The Game and receive a programme in the post after every home match simply email susan@dafc.co.uk