SFL v Dundee
DUNFERMLINE 2 DUNDEE 1 Date: 30/03/10

Fixture: Irn Bru SFL Division

Attendance: 2134, Kick Off: 7.45pm.

Referee: Willie Collum
MATCH PICTURES
Dunfermline`s first win over Dundee in 12 matches, not great conditions but a fine result.
Ross Campbell, Neil McGregor and Steven Bell came into the Pars starting eleven at the expense of Nick Phinn, Chris Higgins and the suspended Joe Cardle. Dundee were unchanged from the side that drew with Ross County on Saturday.
It was certainly a night for being beside the fire. As the `Final Countdown` strained over East End Park the sleet pelted in from the east on to a sodden surface. Prior to kick off puddles formed on the south side under the Main Stand. The groundstaff re-lined the pitch and then ran for cover. The players weren`t so lucky, this had to be an occasion where footballers would rather stay in the dressing room.
Dundee kicked off towards the sparsely populated McCathie Stand with only four weatherproofed souls in the front 12 rows. Not a lot happened in the opening four minutes but Macca was doing plenty of shouting and when he got his team forward there was a big return. Campbell sent McDougall wide right and his cross in set up the yellow boot of Willie GIBSON to smack the ball past Tony Bullock from six yards for the opening goal.
Four minutes later the goalscorer almost took out two men as he dribbled in from the left but Richie Hart mde a great recovery to prevent Gibson setting up his teammates for a second. On ten minutes Greg Ross collected an Eddie Malone clearance to pump another ball into the Dundee box that had no joy but with Macca calling `get in the box` Austin McCann sent one in from the other side Woods came very close to beating Bullock again.
Hutchison and Harkins forged a route through the defence in 19 minutes and not knowing the offside flag was up Greg Paterson dived in bravely to grab the ball. Griffiths then managed a shot at goal but the ball ended up nearer the pie stall.
In 22 minutes Bullock was forced into a magnificent save after Gibson`s cross was deflected towards his own goal by Ryan O`Leary. Campbell was next to have a go but he was well wide left. Three minutes later a penetrating Gibson run led to a defence splitting pass but McDougall, Bell and Woods were all offside.
The Dundonians in the East Stand had little to cheer as their team was restricted to poor shots from distance. When a ball broke back towards Paterson it was clear that he was seriously injured as he was struck by Ben Hutchinson as he attempted to kick clear on the edge of the box. The Dundee player, on loan from Celtic, was yellow carded before Greg was stretchered off in 33rd minute.
The gloom that descended around East End Park at such a sight was quickly eradicated when Steven BELL hit a 35 yard shot soaring past Bullock to double the Fifers advantage.
The Dee fans were booing their team as Gibson threatened yet again to run amok up the left. Campbell and McDougall both failed to finish after the ex Killie man had done the hard bit. Woods next had a fine chance that he headed wide right and the half ended with Dundee trying unsuccessfully to create something from a corner.
Half time was a welcome respite from the foul weather but for Dunfermline they would have been quite happy for it to be 90 minutes. The only doubt around at the interval was whether or not the football could defeat the conditions and go the regulation time.
Half Time: Dunfermline 2 Dundee 0
Dundee made a triple substitution at the restart when Andrew Shinnie, Sean Higgins and former Par, Craig McKeown replaced Ben Hutchison, Gary McKenzie and Eric Paton. Fleming was first keeper into action stopping a well struck shot from 30 yards out and then preventing Griffiths although the offside flag had been raised against him.
Grifffiths put in a good run in 52 minutes to pick out Gary Harkins for a shot but he pulled his effort across the goal. Gibson delivered another fine ball from the left but McDougall was offside as Harkins nipped back to turn the ball behind. Higgins prodded the ball right for Shinnie in 59 minutes but he slipped as he shot and was wide right.
There was great disappointment for the Pars when just two minutes later Bell broke on the counter to release McDougall down the right but with Campbell waiting for the cross, he tried a shot that was woefully off target.
McKeown was next to get a pop at goal when a quickly taken corner on the right was defended only out as far as him on the edge of the box. Craig sent that over the crossbar and the same fate awaited Maros Klimpl`s attempt as he latched on to a Dowie header.
Campbell came close at the other end as the match entered its final quarter; his angled shot was smashed narrowly wide. Woods then had a similar chance and again narrowly wide, this time left into the arms of a Dunfermline sub. There was a let off for Dundee as the ball was knocked back across their own goal but McKeown just thwarted Campbell.
After 80 minutes there was a mass exodus from the Dundee end as even the most loyal Dee gave up any hopes of a comeback.
Dunfermline continued to drive on with a grit and determination that their opponents lacked. With one minute remaining a moment of weakness gave MALONE a consolation. Shinnie forced Fleming into turning a shot over for a corner and from that Dundee got a soft header in to find the net..
In the end it was a good result for the Pars but with Inverness demolishing Ross County in the Highland derby the gap between Terry Butcher`s side and Dunfermline remains six points. Dundee remain in second position two points better off with a game in hand. The Pars have five matches remaining, anything could happen yet.
DUNFERMLINE: Greg Paterson (Greg Fleming 33); Greg Ross, Neil McGregor, Andy Dowie, Austin McCann (c); Steven Bell, Gary Mason, Willie Gibson (Paul Willis 88): Calum Woods, Ross Campbell, Steven McDougall (Nick Phinn 76),
SUBS: Chris Higgins, Scott Muirhead,
SCORER: Gibson (5), Bell (34)
YELLOW CARD: Mason (54)
DUNDEE: Tony Bullock; Maros Klimpl, Ryan O`Leary, Gary McKenzie (Andrew Shinnie HT), Eric Paton (Craig McKeown HT), Eddie Malone; Gary Harkins, Brian Kerr, Richie Hart, Ben Hutchison (Sean Higgins HT), Leigh Griffiths.
SUBS NOT USED: Derek Soutar, Craig Forsyth.
SCORER: Malone (89)
YELLOW CARD: Hutchinson (31), Paton (36), Hart (74), O`Leary (81)
WEATHER: Wet 0C

MATCH PICTURES
NEXT MATCH: (home) First Division v Ross County
Saturday 3rd April 2010, kick off 3.00pm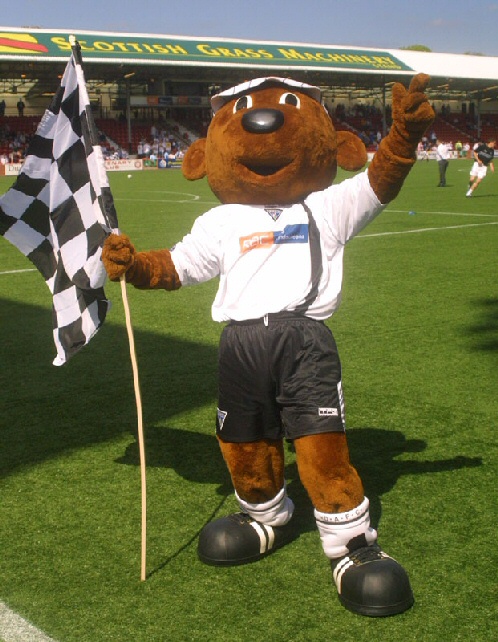 Sammy says thanks very much for visiting our web site where we have lots of news for young Pars fans.