SFL v Dundee
DUNFERMLINE 1 DUNDEE 1 31/10/09

Fixture: Irn Bru SFL Division One

Attendance: 4001, Kick Off: 3.00pm.

Referee: Euan Norris

MATCH PICTURES
Manager Jim McIntyre dropped stand in captain Graham Bayne to the bench preferring to start with Willie Gibson. Dundee fielded an unchanged eleven from that starting against Rangers in midweek.
Stand in captain, Alex Burke led the Pars out and it was the home team that kicked off through Kirk and Graham attacking the goal in front of the travelling support, possibly numbering 1500, in the CCW East Stand.
Dunfermline forced two early corners on the right and when the second wasn`t fully cleared Willie Gibson smashed in a cracking third minute shot that narrowly escaped outside the left goalpost. Nevertheless it was a strong and confident start from the home side.
Both sides sized each other up meaning it was 13th minute before another chance was created. Gibson was faced with two men in front of him as he tried to enter the right side of the Dundee box so chose the better option, a cut back to Greg Ross who gained ground towards the penalty box before releasing an angled shot from 20 yards that was deflected behind for a corner.
It was all Dunfermline as Joe Cardle involved Graham in reaching Kirk for an opportunity but his shot from eight yards blocked by a defender. In 17th minute Gibson pumped over another ball from the right. It looked too strong but Bell headed back into the central area and Dowie edged it to Graham whose header dropped just wide left.
One way traffic but could the Pars capitalise on all this pressure? Dundee won their first corner of the afternoon in 26 minutes but the home defence coped well. Gibson fired over another Pars corner this time from the left, that was defended as was Cardle`s return.
In 32 minutes there was a let off for the Pars when Jim Lauchlan`s free kick from the half way line was headed down on the edge of the box by Gary McKenzie into the path of Leigh Griffiths but the striker was unusually slow in reacting and Fleming was able to collect.
Another Gibson cross was intercepted in front of McGregor by Craig Forsyth and next a Woods cross from the left failed to do any damage as well. A Ross cross was nicely held by Tony Bullock as the interval approached then neat work between Burke and Graham kept up the pressure but not enough to produce a shot on target.
In the final minute of the first half Lauchlan turned a Woods cross behind for a corner but that was not to alter anything that had gone before.
In terms of possession, territorial advantage and corners Dunfermline were ahead on points but its goals that count and that meant that there was all to play for in the second 45.
Half Time: Dunfermline 0 Dundee 0
Austin McCann replaced Calum Woods fot the second half and within two minutes of the restart Dundee had forced a good save out of Fleming and for the first time in the game the travelling support broke out into song. Gibson almost put an end to that with a shot from 20 yards that maybe should have ended up under rather than over Bullock`s crossbar.
In 53 minutes Gibson`s acute angled shot tested Bullock and this time the Pars fans rallied behind their side. Come on ye Pars warmed up the North West Stand while the Norrie had a sweet melody about Dundee housing.
A 20 yard free kick for Dundee silenced the Pars folk for a minute but cheers greeted Griffiths pop over the five man wall and the crossbar. Dunfermline then had a free kick 30 yards out that Gibson fired on target but comfortably into the hands of Bullock.
It had all looked so positive for Dunfermline but Griffiths` deflected shot on the hour won Dundee a corner on the left.┬ Sean Higgins┬ delivery from the left picked out Gary HARKINS and his header flew into the Pars net to break the deadlock.┬ Greg Ross turned a Higgins shot off the┬ line as Dundee took a lift from the goal.
Steven Bell shot wide in 68 minutes but the dominance that Jim McIntyre`s side had enjoyed in the first half had ebbed. Griffiths was booked for diving when he could have done better had he stayed on his feet.┬ McCann crossed for Graham to get a head on but Bullock caught the aerial ball before Cardle could react.
Cardle sent a dangerous ball into the box but there was no one in a black and white shirt there to convert. Graham Bayne came on for Cardle and there were cries of `must be` as the ball rebounded around the Dundee but the eventual shot by Gibson was blocked.┬ Dundee made a substitution at a Dunfermline free kick and when Gibson sent that over BAYNE headed home.┬ Yet another inspired substitution.
David Graham made Bullock earn his corn with a wonderful 82nd minute save just when it looked as though the points might have all been coming to Fife.┬ Everyone thought Andy Kirk had sealed it when he swept the ball into the net in 87 minutes but the offside flag had been raised.
Dundee forced two corners as time ran out and Dunfermline tried hard too to find the goal that would separate the teams. That never came and the match ended all square with the home fans showing their appreciation for a really good game.┬ Possibly not taking chances in the first half cost Dunfermline a win.
DUNFERMLINE: Greg Fleming; Greg Ross, Neil McGregor, Andy Dowie, Calum Woods (Austin McCann HT); Willie Gibson; David Graham, Steven Bell, Alex Burke (c),┬ Joe Cardle (Graham Bayne 75), Andy Kirk,
SUBS: Graeme Holmes, Nick Phinn, Greg Paterson (GK)
SCORER: Bayne (77)
DUNDEE: Tony Bullock; Eric Paton, Craig Forsyth, Gary McKenzie, Jim Lauchlan, Eddie Malone; Paul McHale, Brian Kerr, Gary Harkins (Richie Hart 90), ┬ Leigh Griffiths, Sean Higgins (Colin McMenamin).
SUBS: Derek Soutar, Richie Hart, Pat Clarke, Chris Casement
SCORER: Harkins (60)
YELLOW CARD: Forsyth (64), Griffiths (72)
WEATHER: Bright 16┬║C

MATCH PICTURES

NEXT MATCH: (away) v Raith Rovers Admission Info
Saturday 7th November 2009, Kick Off 3.00pm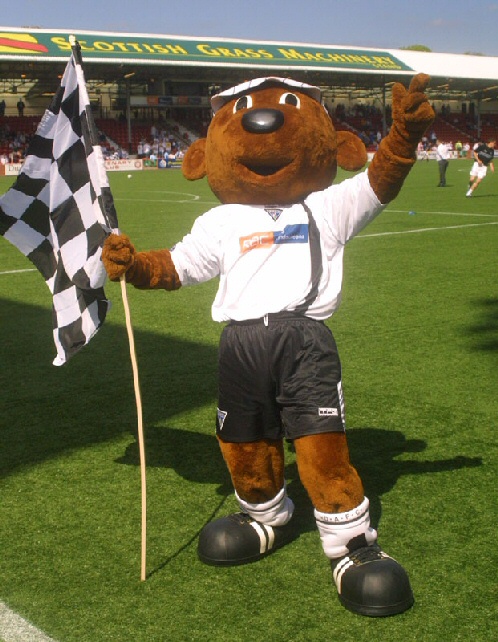 Sammy says thanks very much for visiting our web site where we have lots of news for young Pars fans.