SFL v Inverness Caley Thistle
INVERNESS CT 1 DUNFERMLINE 1 Date: 17/10/09

Fixture: Irn Bru SFL Division One

Attendance: 3082, Kick Off: 3.00pm.

Referee: Alan Muir
MATCH PICTURES
There can be fewer more picturesque settings for a football stadium than Inverness` home ground on the Moray Firth just where the Kessock Bridge spans the strait taking the A9 on to the Black Isle.┬ Never mind the scenery however what would look best after this sunny afternoon in the Highland Capital would be three more league points on the table.
Andy Kirk returned from international duty with Northern Ireland to the Dunfermline bench and Steven McDougall dropped out.┬ Russell Duncan was out of the ICT team, Dan Stratford,replacing him, otherwise the same starting elevevn as turned out at Starks Park on Tuesday.
Nick Phinn and Graham kicked off for the visitors attacking the goal at the bridge end.┬ There was seven minutes on the clock when the┬ Pars created the first real test for either keeper. A diagonal ball from the right touchline from Graham Bayne was headed on target by Phinn some 15 yars out but Ryan Esson touched the fine effort over his crossbar.
Overstruck balls and misplaced Pars passes meant that Inverness got into the game and in 18 minutes Fleming was called upon to make a great save after Johnny Hayes cross was net bound off David Proctor before the yellow shirted Pars keeper parried the ball to his left and Calum Woods reacted fasted than Richie Foran to dispatch the loose ball away from danger.
An Andy Dowie┬ pass wide left in 26 minutes sent Woods in with an opportunity to cross but Nauris Bulvitis headed the ball behind for a corner before it could reach Phinn. Gibson`s corner failed to trouble the Caley defence but when a Woods - Graham interchange four minutes later forced another corner on the same side there was a narow escape for Terry Butcher`s side.┬ Gibson`s delivery reached the inrushing Neil McGregor and his powerful header travelled across the face of goal and out at the left post.
The Fifers kept up the pressure with Bayne nodding down a Woods cross that Graham nearly sneaked through to the awaiting Phinn. But this was better from Dunfermline and the game began to be played for longer spells in the Caley Thistle half. Imrie and Foran threatened with a counterattack but McGregor put an end to that.
Ten minutes from the break Ross accepted a poor Caley pass and sent Bayne in on the right but his shot whistled past the far post. Gibson was too low with a free kick in from the right and Phinn was flsgged for offside as he connected with a Bayne lay off that might have created the much sought after opening.
Caley`s response was another Proctor header from a Hayes pass that was diected over the crossbar from 15 yards. At the other end Phinn reeled about in agony after taking a tumble on the right side of the Caley box as Gibson popped a long range shot over the crossbar. The Pars midfielder received treatment but was able to continue.
Dunfermline might have done better in the 45th minute when Dowie sent the ball wide left for Woods whose cross Bayne was unfortunate to miscue and then just seconds from the half time whistle Hayes sent over a cross from the left, Foran rose to head the ball down and PROCTOR nipped in to┬ head the ball┬ home from inside the six yards box.
A cruel end to a first half where Dunfermline had promised so much but failed to cash in on their five corners and ample possession.
Half Time: Inverness CT┬ 1 Dunfermline 0
In 47 minutes Dunfermline were happy to concede their second corner of the afternoon when Graham put in a good block on a Lee Cox effort. Joe Cardle, replaced Phinn just four minutes into the second half┬ and another Caley corner in 55 minutes required Fleming to come out and hold.
Andy Kirk,replaced David Graham four minutes later but it was Caley who should have had another opportunity as Foran laced a ball through for Proctor on the edge of the box but the Caley man failed to control the pass.┬ The Irishman was then subbed by Adam Rooney and Steven Bell entered the fray at the same time with Graeme Holmes making way.
In 65 minutes Bayne cut back an inviting ball but Cardle was just too far away from him to get in the early shot required. Their fans were shouting reminders to┬ Caley Thistle┬ that they were the home team as Cardle and Gibson pushed forward.
Ross pumped over a cross from the right that Bayne headed high but then Dunfermline won a corner on the left that Cardle took quickly and short.┬ Gibso whipped the ball across and Andy KIRK rose to head the ball to the far post where it dropped in off the post. 1-1 and game on as the visitors looked the more eagre team.
A 71st minute corner brought another near thing as Gibson picked out Bell and McGregor closer in had his attempt sent out for another corner.┬ Kirk broke through in┬ next minute but Munro forced him to shoot wide.
Inverness were still sorting themselves out as Roy McBain replaced the injured Hayes when Rooney broke clear and he was unlucky to see his well struck drive saved off Fleming`s legs. Tokely and Kirk then collided┬ but the big Highland defender recovered after treatment. McGregor then blocked another Rooney shot and the corner was successfully defended.
The match was in its 83rd minute Gibson failed to cash in on a Bayne lay off and then Kirk had the 300 or so Pars fans oooh as he drove narrowly outside the left post. Woods swept the ball square for Ross two minutes later and almost got the breakthrough as Bayne, Kirk and Bell all got a touch before caley forced the corner.┬ Bell got his head to the Gibson delivery but Dowie turned the ball on to a defender.
Danni Sanchez teased the Pars defence before Woods conceded the corner that Fleming was to hold. Back up to the other end came the Pars but they nearly got caught on the break as Golabek crossed for Proctor to have his attempt tipped over off the crossbar in the final minute.
Added time continued in deadlock despite a strong Cardle cross and a Stratford free kick that Dunfermline beat away.



MATCH PICTURES


INVERNESS CALEY THISTLE:
┬ Ryan Esson; Ross Tokely, Nauris Bulvitis, Grant Munro (c),Stuart Golabek; ┬ David Proctor,┬ Lee Cox, Dan Stratford, Jonathan Hayes (Roy McBain 77); Richie Foran (Adam Rooney 63), Dougie Imrie (Dani Sanchez 70)
SUBS: Robert Eagle, Kyle Allison (GK)
SCORER: Proctor (45)
YELLOW CARD: Tokely (60), Imrie (68)
DUNFERMLINE: Greg Fleming; Greg Ross, Neil McGregor, Andy Dowie, Calum Woods; Graeme Holmes (Steven Bell 63), Alex Burke; Willie Gibson, Nick Phinn (Joe Cardle, 49), David Graham (Andy Kirk,59); Graham Bayne (c).
SUBS: Chris Higgins,Greg Paterson (GK)
SCORER: Kirk (69)
WEATHER: Sunny 12┬║C
NEXT MATCH (home) First Division v Morton
Saturday 24th October 2009, kick off 3.00pm┬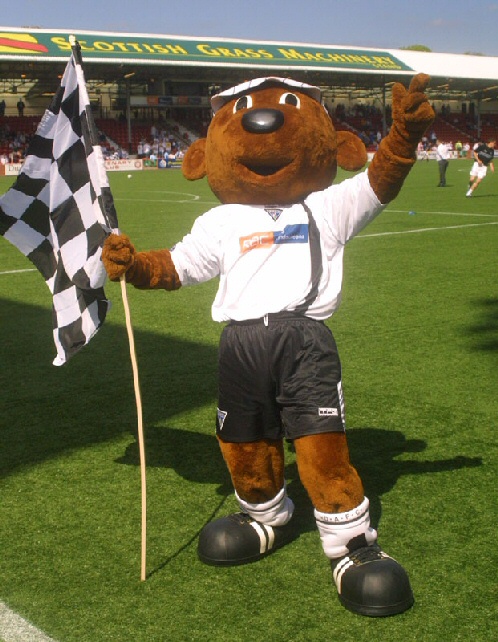 Sammy says thanks very much for visiting our web site where we have lots of news for young Pars fans.