SFL v Partick Thistle
PARTICK THISTLE 2 DUNFERMLINE 0 Date: 19/09/09

Fixture: Irn Bru SFL Division One

Attendance: 3263, Kick Off: 3.00pm.

Referee: Charlie Richmond
Despite the reputation gained during its now century-spanning history, there were precious few thrills on offer in the opening spell of this encounter at Firhill.

An early effort from Simon Donnelly curled narrowly wide but was only followed by a string of unimpressive efforts from hosts and visitors alike. Donnelly and Hodge were to have efforts off target while Paul Cairney`s
on-target shot did little to scare the visitors.
At the opposite end, the most that the Pars could manage in the early part of the game were a lacklustre shot from Gibson which was deflected wide for a then-wasted corner and a long range drive from Woods which sailed harmlessly over Tuffey`s crossbar.

With a little over five minutes remaining of the first half, the game sparked into life with a disastrous moment for the Pars when Austin McCann was short with his pass back to Fleming. Â With Partick`s anniversary strip bearing a passing resemblance to Dundee colours and Thistle youngster Paul CAIRNEY heading straight at him, the Pars goalkeeper must have been having a horrendous flashback.
This time however he was beaten fair and square as Cairney collected the ball and dribbled round Fleming to prod home from a tight angle. Such was McIntyre`s disgust, McCann did not even manage to last out the rest of the half, instantly being replaced by Muirhead.

This decision might almost have paid off when a Muirhead cross found Kirk a couple of minutes after the restart but the striker`s elaborate flick bounced back off the underside of the bar. Partick got out of jail again two minutes later when a close-range shot from Bayne was somehow scrambled wide of the goal.

If the Pars had learned anything from the goal it didn`t show five minutes into the second half when Woods passed the ball along the edge of his own box to the feet of Cairney, but the goal scorer`s miskicked attempt to find a team mate was the only thing that prevented Woods suffering the same embarrassment as McCann.

Although Thistle still had the edge, Pars were not completely lacking in drive and Alex Burke had an ambitious shot from the edge of the box tipped over the bar.

Sadly the play settled back into a familiar pattern and the Pars defence were all at sea once more. Dowie came close to taking his turn as villain when a header back to Fleming was dangerously close to being intercepted and Fleming had to be on guard to stop a Donnelly lob after the former Par strolled through a huge hole in the Pars sleepy back line.

There was no denying Donnelly a goal against his former club for much longer however. Failure to clear their lines saw the Pars firstly gift Cairney with a chance to double his tally when he found himself with possession and time inside the box. His shot was blocked but as it bounced back up Simon DONNELLY was on hand to nod home the rebound and bury the Pars.

The visitors` attempts to claw one back never convinced and after Cardle fired well over the target and Woods hit a shot that was easily saved, they finally came close only in the last minute of the game when substitute Holmes saw his 6-yard drive tipped onto the post by Tuffey.
The Thistle keeper celebrated his 100th start today but this would not go down as one of his busiest games. In the end the Pars looked like they might have played until Firhill`s next anniversary celebrations without scoring.

PARTICK THISTLE: Tuffey; Paton, Archibald, Hodge, Robertson, Maxwell, Cairney, Rowson, Doolan (Corcoran 59), Donnelly (Hamilton 79), Erskine (Boyle 76).
SUBS: Hinchcliffe, Kinniburgh,
SCORERS: Cairney (39), Donnelly (70)
DUNFERMLINE: Greg Fleming; Calum Woods, Andy Dowie, Neil McGregor, Austin McCann (Scott Muirhead 39); Willie Gibson (Graeme Holmes 66), Nick Phinn, Alex Burke, Joe Cardle; Andy Kirk, Graham Bayne
SUBS: Greg Ross, Jordan White, Greg Paterson (GK)
YELLOW CARDS: Woods, Dowie
NEXT GAME (away) Co-operative Insurance Cup v Hearts
Wednesday 23rd September kick off 7.45pm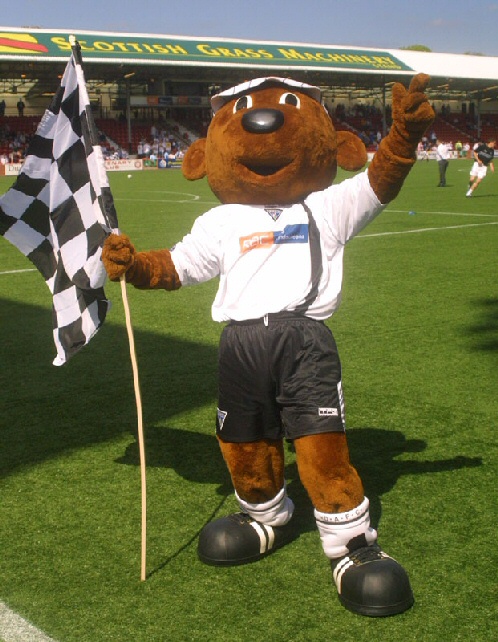 Sammy says thanks very much for visiting our web site where we have lots of news for young Pars fans.