Pre Season Friendly v East Fife
EAST FIFE 1 DUNFERMLINE 7 Date: 21/07/09

Pre Season Friendly

Kick off 19:30

Referee: Brian Colvin
MATCH PICTURES
They fairly know how to entertain you down Methil way; eight goals, a dazzling electric light show from mother nature and half price pies!
The music blasted out "It`s a Beautiful Day" but it was just another typical summer`s night in Methil - dreich and cold with the mist obliterating the view of East Lothian. Jim McIntyre was able to bring back Steven Bell after his ankle injury in the opening friendly at Stirling. Graham Bayne also returned after his leg knock and Greg Paterson was between the sticks.
Bayne captained the side and it was he who took the toss with East Fife captain, Scott Thomson. The hosts kicked off but Dunfermline got off to a fast start with BAYNE slotting in at the right post after just 30 seconds. The centre took advantage of a ricochet off the Methil men`s defence and finished with composure from 12 yards out.
With immediate reply, Paul McManus whistled one just outside Paterson`s left hand post. In tenth minute Holmes prompted a fine move that saw Bayne and Kirk combine before the ball was spread out right for Cardle but his effort was hit both high and wide.
In 15 minutes Woods headed a Thomson ball behind for a corner on the right and another followed from the left when Holmes did the same. East Fife then fouled Paterson as he went for the delivery and the threat was gone, but not for long. A Fagan free kick was headed behind for another corner and this time Smart headed wide left.
Andy Kirk came close on 20 minutes when his diving header directed Cardle`s cross from the right corner flag narrowly wide of the near post. Next minute Guy Kerr flattened Bayne in front of goal as he was about to finish a Holmes cross but no penalty given
Then a Gibson corner from the right was met with a powerful Bell header that the keeper saved. Then on 23 minutes another Gibson corner from the right saw Kirk challenge but the ball was clearded out only as far as Chris HIGGINS who smashed the loose ball into the roof of the net.
Two minutes later a Joe Cardle shot from 25 yards was well stopped by keeper, Michael Brown but BAYNE followed up to rifle the ball low into the net. Five minutes later Stevie Crawford`s new signing Mark Staunton sent the ball wide but then it was back to the other end. Even before establishing the 3-0 lead Dunfermline had been passing the ball around well but now they had plenty of confidence.
Scott Muirhead replaced Austin McCann in 33 with the former Hearts man being given ice to administer. Brown spilled a Kirk cross but his defence mopped up. Kirk missed one on the line and then Woods went on one of his solo runs, reaching a shooting position on the top of the box but blasting the shot well high and wide left.
In 37 minutes Gibson chipped the ball across the face of goal but Bayne at the left post just failed to turn the ball in. As half time approached in the gathering gloom, Kirk had another effort blocked before Holmes played Bayne to Kirk and then the returned ball was directed in by BAYNE to complete the big man`s hattrick.
The Pars first half play had certainly brightened up the evening but if we are to enjoy the second half let`s hope someone finds the light switch!
Half Time: East Fife 0 Dunfermline 4
Floodlights beamed down but the teams were slow to return, not helped perhaps by the stadium announcer`s intimation that the pies were now half price! Stevie Crawford came on in midfield of a re-organised East Fife team with Scott Thomson moving into defence. Ovenstone and Smart almost conjured up an early chance for Bayne with some more slack play but they survived.
As the rain pelted down in 52 minutes and Greg Paterson was tested as Paul McManus broke through but the young Pars keeper came out bravely to block. Sub Johnny MacRae hauled down Gibson on the right corner of the penalty box but Referee Brian Colvin waved play on. Holmes was allowed to make headway through the centre to lay the ball off for Bayne but Brown did really well to hold the Pars strikers fierce shot from 20 yards.
East Fife earned a corner on the hour but it was the Pars who should have benefited. Graham burst forward out of defence but Gibson`s cross in for Kirk was cut out. Nick Phinn came on for Graeme Holmes and his square ball to GRAHAM on the left was juist kept in by the former Hamilton man. He cut inside and released a cracking shot from 20 yards out that was deflected past substitute keeper Stuart Bailiie.
In 71 minutes Brian Colvin awarded the home side a soft penalty, certainly in comparison to the ones disallowed at the other end. Greg Ross was adjudged to have pushed Mark Staunton off the ball and Paul McMANUS was given the task of sending Greg Paterson the wrong way to net and claw it back to 1-5.
Paul WILLIS replaced the injured Willie Gibson in 72 minutes and seven minutes later opened his Dunfermline account when Glass picked out McDougall on the left side of the box and his cross was tucked away by the 17 year old.
The rain got harder and harder as the thunder and lightning appeared to get close. That did not put Graham off as six minutes from time he again cut in from the left and tested Bailie with a cracking shot from 30 yards. McDougall had a chance well saved and then Willis a good shot on the angle tipped away for a corner by the keeper.
A huge flash and crash of thunder heralded Steven BELL`s goal that he took courtesy of a Glass pass cum shot. The announcer again causing great amusement in a previously unheard of kind of statement: "A goal for Dunfermline but the scorer`s name eludes me!"
EAST FIFE: Michael Brown (Stuart Baillie 62); David Muir (Darren Gourlay 66), Guy Kerr (Johnny MacRae HT), John Ovenstone, Jonathan Smart, Scott Thomson, Stuart Cargill (Paul Nugent 30), Shaun Fagan (Stevie Crawford HT), Paul McManus (Aaron Conway 72), Mark Staunton (Jordyn Sheerin 72), Robert Campbell (Darren Thomson HT)
SCORER: McManus (71 pen)
DUNFERMLINE: Greg Paterson; Greg Ross, Calum Woods (Stephen Glass 62), Chris Higgins, Austin McCann (Scott Muirhead 34); Joe Cardle (David Graham 58), Graeme Holmes (Nick Phinn 62), Steven Bell, Willie Gibson (Paul Willis 72), Graham Bayne (Steven McDougall 66), Andy Kirk (Alex Burke 72)
SUBS: Greg Fleming
SCORERS: Bayne (1, 25, 43), Higgins (23), Graham (65), Willis (79), Bell (89).
WEATHER: Rain, 14C,
MATCH PICTURES
NEXT MATCH: (home) Alba Challenge Cup v Arbroath
Saturday 25th July 2009, kick off 3.00pm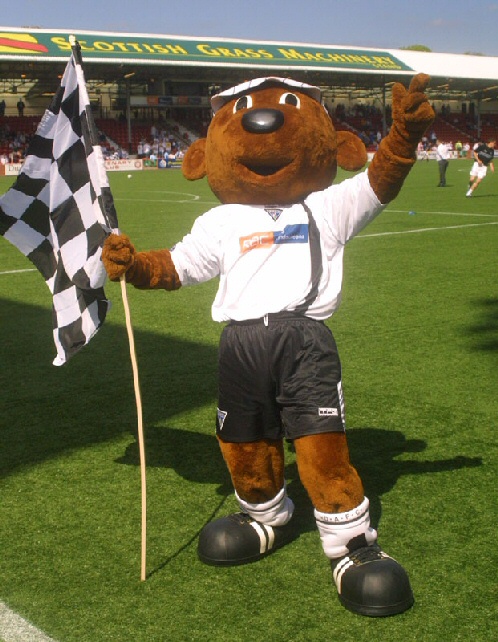 Sammy says thanks very much for visiting our web site where we have lots of news for young Pars fans.