Scottish Cup Semi Final Replay v Hibs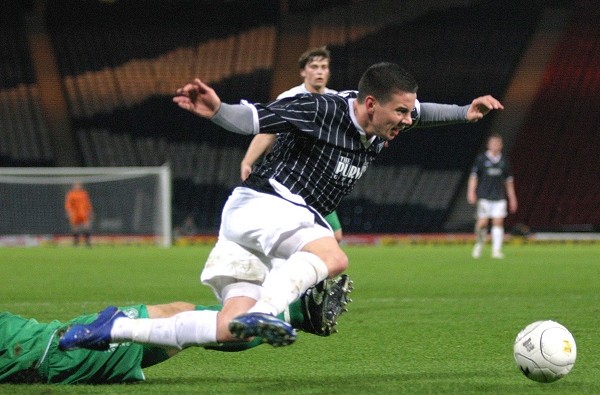 DUNFERMLINE 1 HIBERNIAN 0
Tennents Scottish Cup Semi Final Replay

Attendance: 8536 Kick off 19.45

Referee: Craig Thomson
The road to Hampden was a fairly quiet one but for the loyal supporters who travelled through from Fife, the rarefied atmosphere of the National Stadium was of no importance. They were hoping it would materialise into just another step for the Pars as they tried to leap into Europe as a welcome aside from stern attempts to avoid visits to Hamilton, Cumbernauld and Dumfries.
Darren Young returned for the Pars in a reshuffled line up, replacing Scott Wilson in the only change from the side that played nine days ago. Hibs went with Damon Gray in preference to Steven Fletcher, their only change from the first meeting.
Hibs kicked off playing towards the Celtic end with Bejelloun shooting as early as the 18th second to bring Dorus de Vries into the game very early. The Edinburgh piled on the pressure until O`Brien stole the ball off Benjelloun and Jamie McCunnie broke out of defence sending Adam Hammill up the right and although the Hibs defence fended him off, Young was able to win the first corner of the game in 4th minute. Scott Muirhead sent the ball in from the right only for McNeil to gather somewhat unconvincingly.
More Hibs pressure was not good for the faint hearted and thankfully David Murphy was too strong with his tenth minute corner. Greg Shields then made a tremendous tackle on Beuzelin on the edge of the box when it looked like Benjelloun`s break had set up the Frenchman for a strike at target.
Dunfermline then came back at Hibs when Jim McIntyre`s pass into the path of Hammill looked good but Hammill dallied and the defence closed him down. Then in 14 minutes McIntyre fed Hammill again and this time he shot low towards the bottom right but McNeill touched the ball around his post.
Four minutes later Muirhead won a corner on the left and the Pars were denied the opener when O`Brien sent the ball across. First McNeil parried McIntyre`s header and then Lewis Stevenson headed McGuire`s kneed follow up off the line. A let off for the Easter Road side and tt was becoming all Dunfermline with another Pars corner. McCunnie pumped the cleared ball back into the left side of the Hibs box from where Hammill drilled another effort at McNeil.
The chances were not all in front of McNeil and in 27th minute Scott Brown danced around the left side of the defence to direct the ball over de Vries towards goal. Miraculously just when it looked goal, Greg Shields made a fantastic clearance off the line for de Vries to collect with the coolness to suggest nothing had happened.
Five more minutes passed with play swinging from end to end. A high ball into the Hibs penalty area was nodded down by McIntyre and Jim O`Brien spun to rifle a shot on target but that rebounded off Rob Jones. The cries for a penalty met no sympathy from Referee Craig Thomson.
de Vries touched a 34th minute shot from distance over his crossbar from Stevenson before at the other end McIntyre`s lay off to Mason looked to be a great chance but the Hibs defence blocked him out. Next Whittaker pushed forward and he released a dangerous ball to Benjelloun and fortunately his strike was high.
Hibs pushed even more towards half time with Scott Brown causing further problems, setting up Whittaker for a shot that deflected wide of the left post. The Hibs corner found Jones at the far post but de Vries held after a quick adjustment.
A 44th minute corner relieved some pressure on the Athletic defence but only a wide Young volley resulted. Quite a first half, real cup tie stuff with the Dunfermline fans making lots of encouraging noise.
Half Time: Dunfermline 0 Hibernian 0
Steven Fletcher replaced Damon Gray for the restart and within 30 seconds he evaded all challenges to make ground up the left and send in a cross cum shot that de Vries had to hold. The Pars were allowed to take the game to Hibs but despite the advantage of possession they failed to endanger McNeil`s goal.
In 52nd minute Gary Mason sustained his second yellow card of the competition for his late tackle on Steven Whittaker on the half way line. That would of course mean that he would miss the cup final should his team win but all that was dependent on somehow finding the Hibs net, something that had not happened in the previous 142 minutes of this semi final.
It was Hibs who came closest to breaking the deadlock with Jones heading a corner from the right narrowly outside the far post. Further good play from Hibs created another chance in front of the Fifers goal with Fletcher heading over the bar from six yards.
From outside the box Adam Hammill shot an effort at Rob Jones before Owen Morrison was introduced for O`Brien. A fine move started by McGuire and then involving Morrison, McCunnie and Hammill ended up with a cross into the box from McCunnie that just eluded the leap of McIntyre. There were further let offs in front of the Pars goal as Hibs turned up the pressure with 15 minutes remaining.
Mark Burchill was Stephen Kenny`s second substitution, Darren Young going off and Morrison slotting into the centre of midfield. The 81st minute corner that Jones won off Burchill almost gave Hibs the goal that was required. Bamba and Jones went up together at the near post and when the ball broke to Brown he shot low towards the left side of goal. de Vries reached out to take the sting out of the shot and McCunnie cleared off the line.
The Hibs substitute Dean Shiels, on for Sproule, spilled over in a challenge from Bamba but the appeals for a penalty. It transpired that Craig Thomson was to point to the spot but it was at the other end!
Hammill`s shot from 25 yards out won a corner on the left. Morrison swung the ball in but Hibs cleared, Hammill gathered and faced with defenders between him and goal, the Liverpool lad chose to take the ball right. He then shuffled and stepped inside a defender to advance on goal. He was taken down by Chris Hogg and there was little surprise that the decision went Dunfermline`s way.
Jim McINTYRE, scorer in two previous semi finals stepped up and calmly did the business with just two minutes remaining. There was little doubt after that Stephen Kenny`s troops were not for relinquishing that lead. 90 minutes came and the added three before the final whistle heralded the most fantastic players and fans celebration.
There was little time to commiserate with John Collins` side who had put up an extremely strong attempt to thwart the Pars progress.
Well done lads! That`s Rangers, Hearts, Hibs and Partick Thistle disposed of, should Celtic be scared?
DUNFERMLINE : Dorus de Vries; Greg Shields (c), Souleymane Bamba, Phil McGuire, Scott Muirhead; Jim O`Brien (Owen Morrison 69), Darren Young (Mark Burchill 77), Jamie McCunnie, Gary Mason, Adam Hammill (Greg Ross 89); Jim McIntyre.
SUBS: Roddy McKenzie (GK), Freddie Daquin.
YELLOW CARD: Mason (52), Hammill (83), McIntyre (90)
SCORER: McIntyre (87 pen)

HIBERNIAN: Andrew McNeil; Steven Whittaker Chris Hogg, Rob Jones (c), David Murphy; Scott Brown, Abdessalam Benjelloun, Guillaume Beuzelin (Ross Chisholm 74), Lewis Stevenson, Damon Gray (Steven Fletcher HT), Ivan Sproule (Dean Shiels 67)
SUBS NOT USED: Simon Brown, Kevin McCann.
YELLOW CARD: Stevenson (36)
WEATHER: Overcast 16ºC
ATTENDANCE: 8536

MATCH OFFICIALS:
Referee - Craig Thomson
Assistant Referee 1 - Gordon Middleton
Assistant Referee 2 - John Gilmour
Fourth Official - Mike Tumilty
NEXT MATCH: SPL (away) v St Mirren, Monday 30th April 2007, kick off 7.45pm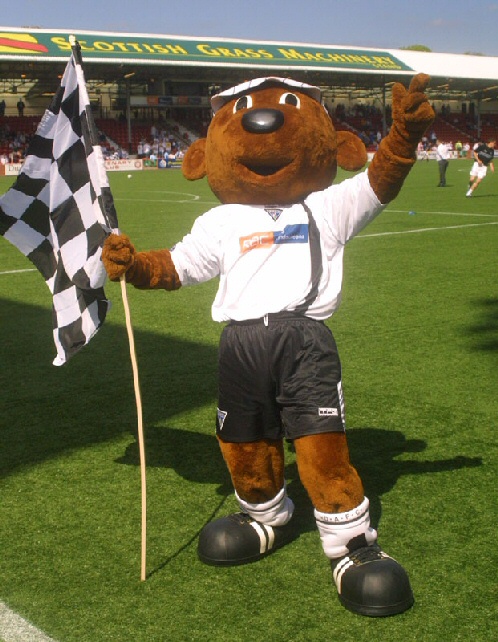 Sammy says thanks very much for visiting our web site where we have lots of news for young Pars fans.