UEFA Cup v BK Hacken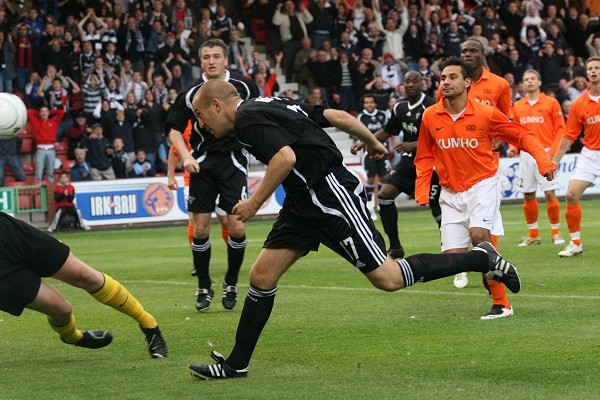 DUNFERMLINE 1 BK HACKEN 1 16/08/07

Fixture: First Leg Second Qualifying Round UEFA Cup

Attendance: 6017, Kick off 19.45

Referee: Robert Kranjc (Slovenia)
There were three changes from Saturday`s starting line up; Tam McManus and Stevie Crawford dropped to the bench and Scott Muirhead was out after sustaining an injury in training. Jim Hamilton and Stephen Simmons were on from the start and Scott Wilson returned having recovered from his calf strain.
Pre match the atmosphere was quiet but expectant with everyone hoping that the return of European football to East End Park after a gap of over 37 years was not going to be a one off. Swedish Division One club BK Hacken provided the opposition but they were stunned by a Dunfermline goal after just 55 seconds.
Kevin Harper won a corner on the right after 20 seconds and although that was delivered in a very tame way, Dunfermline won possession and Darren Young lofted a high ball into the box. A defender sent the air soaring into the evening sky and when it came down to earth, Sol Bamba was high above his opponents to head the ball beyond Källqvist but the crossbar saved the Swedes. Jim HAMILTON was on hand at the left goalpost to grab the early goal. What a start!
Hacken responded with a rocket of a free kick from 35 yards by the Brazilian José Antônio Periera and Roddy McKenzie had to drop down to his left to hold. The match was still inside the third minute when a Scott Thomson pass back was hoofed in the air by McKenzie. He was challenged by Dioh Williams but neither player could find the ball over their heads and eventually Williams got a connection that went wide right as McKenzie covered back.

McKenzie hurt himself as he fell on top of a low cross from the left and after a lengthy period while the physio Gerry Docherty and Doctor Bobby Robertson tried to revive him but the thigh strain forced him to retire so Sean Murdoch was introduced in 10th minute to make his senior debut.

Next a Glass free kick was sent through the Hacken box with Bamba and Wilson just failing to reach the strongly hit delivery. Bamba lived dangerously at the other end, losing possession on the left side of his penalty box and letting Hacken cut the ball back for a shot from the edge of the box that went high over the crossbar into the empty East Stand.

At the midway point of the first half Shields picked out Burchill and he played the ball off Hamilton on 18 yards but fell in his challenge to head at goal. No penalty for the challenge.

A 26th minute free kick from Glass tried to find Hamilton but a corner was won and Thomson was wide with his headed effort. Glass tried something different with another free kick just three minutes later. This time he hit the ball straight for Burchill to run on to in the left side of the box. His cross was cleared only as far as Harper and when he slipped the pass to Hamilton Hacken were saved by a defender`s block.
On the half hour Hacken had two good attempts and there were deep sighs of relief all around East End Park when Murdoch saved from Williams and then after a cut back from Henriksson was sent over the top by Williams. In 33rd minute Harper sent a free kick in from the left touch line and Bamba could not take the half chance at the far post.

Hacken were far from out of things, they were getting in a worrying amount of crosses, off target shots and winning the odd corner. With a stoppage for a late tackle on Scott Thomson in addition to the delay when changing keepers there were four added minutes at the end of the regulation 45.

The Hacken keeper made no mistake clutching Harper`s cross to deny Hamilton and the Pars ended the half attacking but at the break there was just the one goal separating the sides.

Half Time: Dunfermline 1 BK Hacken 0

A medial knee strain meant Scott Thomson was replaced by Scott Morrison for the restart, Greg Shields assuming the captain`s armband. Burchill almost got the second half off to a flyer racing beyond the defenders on to a Scott Wilson free kick but despite his speed he just couldn`t catch the chance.
The Pars fans were bursting into song after two near things in 50th minute. Periera earned himself a yellow card for his foul on Young and from the free kick Bamba flick the ball into the path of Hamilton who from a tight angle hit the right goalpost. A minute later Burchill broke into the right side of the Hacken box, he checked and as three defenders closed him down teed up Simmons to launch a good shot that hit the wrong side of the roof of the net.

Dunfermline`s young goalkeeper was having a good debut game until in 57th minutes he came for a ball on the right side of his area. Williams was running towards Murdoch but the ball bounced over the substitute keeper`s head. A touch from the keeper had slowed the ball and HENRIKSSON latched on to it to score an extremely soft equaliser.

Simmons went down in the Hacken box and then Burchill felt that he too should have had a penalty. His dissent won him only a yellow card. Sean Murdoch redeemed himself a bit with a great save from Daniel Larsson as Hacken seemed to step up the pressure. The orange shirts raced around and they completed a deeply concerning amount of passes.

Glass had a wild attempt that was high over the top before he had two free kicks in from the right touchline. From the second Harper prodded the ball into the left side of the Hacken box where Bamba just could not control the bouncing ball and the defence turned the ball away for a corner.
In 75th minute Sean Murdoch pulled off another fine stop from Skúlason and then from a corner Williams header was headed clear at the far post by Bamba. Dunfermline won a corner on the right from a Hamilton challenge and when Harper whizzed the ball through the six yard box Bamba, Hamilton and Wilson all failed to get the vital touch.

Six minutes remained when Darren Young found himself with an inviting ball on the edge of the Hacken box but his well struck shot was blocked by Mats Hedén. Next Bamba wound up for a shot from a Harper cross but his wild shot was well wide right.

Three added minutes were shown as the Pars pushed for a winner but it was the Swedish side that should have clinched it when in 93rd minute Henriksson`s run down the left was squared and somehow Williams missed the chance and luck was with the Pars as Scott Morrison`s attempt to clear went behind him and around the far post.

In disappointment, the home crowd booed at the end in recognition that their team will have a really hard task to win through in Gothenburg in a fortnight`s time. For one unfortunate 21 year old this match will be remembered forever for a terrible goalkeeping blunder lets hope things can be different in the Ullevi.

DUNFERMLINE: Roddy McKenzie (Sean Murdoch 10); Greg Shields, Souleymane Bamba, Scott Wilson, Scott Thomson (c) (Scott Morrison HT); Kevin Harper, Darren Young, Stephen Simmons (Owen Morrison 78), Stephen Glass; Jim Hamilton, Mark Burchill
SUBS: Tam McManus, Phil McGuire, Stevie Crawford, Nick Phinn
SCORER: Hamilton (1)
YELLOW CARD: Burchill (62), Young (70)

BK HACKEN: Christoffer Källqvist; Johan Lind, Mats Hedén, David Marek, Daniel Larsson ( Peter Olofsson 87); Jonas Henriksson, José Antônio Periera, Robert Mambo Mumba, Ari Freyr Skúlason; Dioh Williams, Daniel Forsell.
SUBS: Alexander Hysén (GK), Teddy Lucic, Jesper Ljung, Erik Friberg, Fredrik Holster
SCORER: Henriksson (57)
YELLOW CARD: Periera (49)

REFEREE: Robert Kranjc (Slovenia)
WEATHER: Dry 14ºC
ATTENDANCE: 6017

NEXT MATCH: (away) v Livingston, Sunday 19th August kick off 3.00pm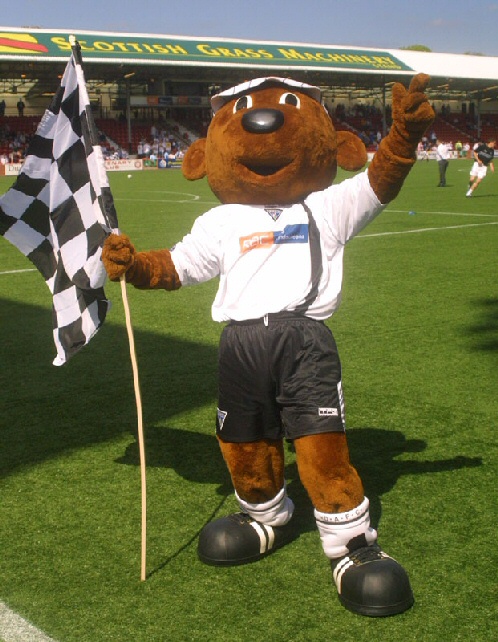 Sammy says thanks very much for visiting our web site where we have lots of news for young Pars fans.