SPL v Inverness Caley Thistle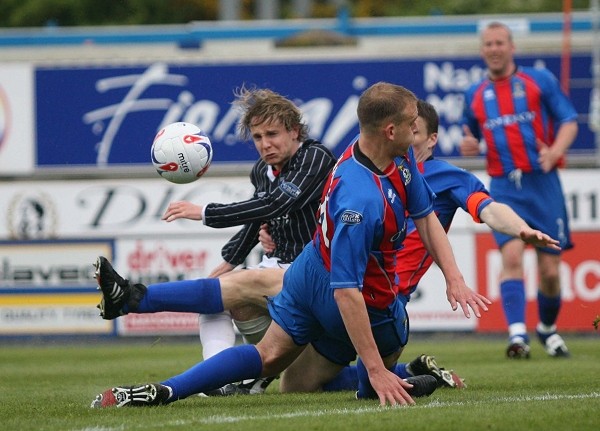 INVERNESS CALEY TH 2 DUNFERMLINE 1 Date: 12/05/07

Fixture: BOS SPL Premier League

Attendance: 6464, Kick off 15.00

Referee: Mike Ritchie
In April 2000 Dunfermline won promotion to the SPL at Inverness and it was there seven years later that they got relegated. The team that had looked to have turned things around to successfully mount a last ditch effort to avert the drop, finally ran out of luck with an unfortunate mistake and a cruel deflection nailing their fate. Inverness Manager Charlie Christie summed it saying that Dunfermline got a couple of bad breaks but:- "For a long period of the second half Dunfermline were keen for the game to end 1-0 to them and only showed a desire to score a second goal after we got the two goals."
It was a wet drive up to Inverness for the Pars travelling support but they were met there by sunshine and hopes were high that the clouds that have shaded their team`s season were also parting.
Dunfermline made one, enforced change with Phil McGuire replacing the suspended Scott Wilson. Inverness brought in Ross Tokely for his 400th game for Caley. Ian Black and Markus Paatelainen also came in displacing Russell Duncan, Stuart McCaffrey and John Rankin.
The Pars won the toss and chose to attack the goal in front of their own supporters. In the early exchanges Dunfermline looked the more alert. There were confident touches and fine interceptions and the passes started to come together. It was de Vries who had to make the first serious save after eight minutes, holding a glancing header from Tokely.
Michael Fraser at the other end made an easy catch of Jim O`Brien`s effort following a Stephen Glass free kick. In 13th minute a Sol Bamba clearance was well collected by Jim McIntyre on the edge of the Caley box and after seeking for other options decided to shoot but he was narrowly wide of the right post.
A Caley Thistle corner delivered from the right by Richie Hart but the home side managed to take the sting out of the Pars urgency. Grant Munro launched a long throw into the Pars box and despite numerous attempts to connect the ball reached Craig Dargo and he tested de Vries with a firmly struck shot from 16 yards. Graham Bayne sent a 20th minute shot wide of the left post before Dunfermline took the game back to the other end.
A Muirhead long throw in was headed clear and then Adam Hammill tried a shot from distance that skimmed over the crossbar and then an O`Brien`s cross was deflected at Fraser by Hammill. When Tokely and Muirhead tangled on the Dunfermline left, that allowed Hart to send over a free kick into the centre of the Pars penalty area but the defence got that away.
The visitors` first corner of the match in 32nd minute was simply plucked out of the air by Fraser. Greg Shields was up to send a ball across the Caley box, Hammill gathered but failed to get a shot in. He did better however with his next attempt, this time popping up on the right side, evading a tackle to rifle a shot from 16 yards that Fraser did really well to touch over his bar.
Glass sent the corner in low to the near post and the ball was cleared. Muirhead was the deepest Pars player and he sent a square pass to Gary Mason who dropped back to control before pumping the ball forward. McManus touched the ball on for McINTYRE to hit the net with great left footed volley. The fans behind the goal went berserk as they celebrated the opener with the players who dived over each other down near the left corner flag.
Almost simultaneously news came through of Motherwell taking the lead against St Mirren and if things remained the same then of course that would put the Pars above St Mirren for the first time this season.
There was a push for a second goal with Sol Bamba being extremely unlucky when Muirhead`s cross in to him was blocked out.
Inverness had a fantastic opportunity to make it level in 44th minute when Muirhead`s challenge failed to win possession and the Jags attacked with three against two. Hart played in Dargo on the left of the box but he checked and set up Hart for a crack at goal. He enacted that well but Dorus de Vries pulled off a great save. The half finished with another Hammill shot from 15 yards that again Fraser held.
Looking good then at 1-0 up
Half Time: Inverness Caley Thistle 0 Dunfermline 1
Dunfermline took the game to Caley in the opening minutes of the second half with McIntyre`s early cross almost catching out Darren Dods who severely tested Fraser with his attempt to turn the ball out for a corner. Bamba could only divert the ball wide from Glass` corner.
At the other end Caley drove forward with Hart reaching the byeline on the right to cut back for Graham Bayne. It looked a glorious chance but Shields did enough to prevent a connection. Tam McManus almost converted his 50th minute chance, turning and causing Fraser to save well on the ground at his near post.
On the hour Dargo was presented with a good chance when Paatelainen ran on to a ball that Phil McGuire was just not tall enough to cut out, but the scissor kick failed to come off. As Barry Wilson came on for Caley Thistle, Muirhead took the ball for a ride down the left before finding McManus deep in the Caley box. He turned neatly but Grant Munro came in bravely to block out the threat.
In 64th minute Caley keeper Fraser almost gift wrapped SPL survival for the Pars when he dropped a simple ball but his defence spared his blushes by stepping in before McIntyre could accept the chance. As the game entered the final quarter it was known that St Mirren were drawing 2-2 at Motherwell and that did nothing for the nerves at the Caledonian Stadium. The mood had twisted worryingly and the fans were quietened.
Luck certainly looked to be shining on the Pars when in 71 minutes Bamba was left with two opponents challenging him. The big man`s header back to de Vries was short and Wilson got in to shoot from ten yards out on the left side. Fortunately the effort was wide of the far post but it was a major let off.
With their final substitution of the afternoon Caley introduced Rory McAllister in place of Grant Munro as the home side looked set to go to three men at the back. A Caley free kick on the right about 35 yards out turned out to be a disaster for Dunfermline. Richard HASTINGS struck the effort well but at de Vries. The Dutchman got his hands on the ball but it slipped through his hands and dropped over his line.
News of a goal that put St Mirren into a 3-2 lead at Motherwell came just after Stephen Kenny played a double substitution, taking off Glass and O`Brien and introducing Burchill and Owen Morrison. It was Morrison who had the next chance as the ball came across the 18 yard line from Shields and through Mason to the Irishman but he he was blocked out.
In 84th minute Morrison`s cross was headed on target by McManus but Fraser saved it and then another ball into the box landed for Mason but somehow his attempt went over the crossbar.
The game was in the 89th minute when Rory McALLISTER snapped a shot in from the right around 35 yards out and a deflection off Bamba at the top of the penalty area took the ball past de Vries who had no chance of preventing the goal.
There was one almighty push for an equaliser with Bamba playing well up the park and de Vries going up for a 92nd minute corner but after three added minutes Dunfermline`s fixtures for next season meant they would be heading for Dumfries, Greenock and Stirling. The players obviously did not know the significance of the final score but as the stadium announcer said "Motherwell 2 St Mirren 3", Tam McManus and Phil McGuire dropped on their backs.
It has been a valiant effort by Stephen Kenny and his players, unfortunately the outcome that we all desired couldn`t be achieved.
DUNFERMLINE: Dorus de Vries; Greg Shields (c), Souleymane Bamba, Phil McGuire, Scott Muirhead; Jim O`Brien (Mark Burchill 81), Stephen Glass (Owen Morrison 81), Gary Mason, Adam Hammill (Jamie McCunnie 66), Tam McManus, Jim McIntyre.
SUBS: Roddy McKenzie (GK), Darren Young, Jim Hamilton, Calum Woods.
SCORER: McIntyre (37)
INVERNESS CALEY THISTLE: Michael Fraser; Ross Tokely, Darren Dods, Grant Munro (Rory McAllister 76), Richard Hastings; Richard Hart, Roy McBain (Zander Sutherland 69), Ian Black, Markus Paatelainen (Barry Wilson 62); Graham Bayne, Craig Dargo
SUBS NOT USED: Ally Ridgers (GK), Stuart McCaffrey, Russell Duncan, John Rankin.
SCORER: Hastings (77), McAllister (89)
YELLOW CARD: Tokely (50)
WEATHER: Dry, Bright 11ºC
NEXT MATCH: (home) SPL v Falkirk, Saturday 19th May 2007, kick off 12.30pm
�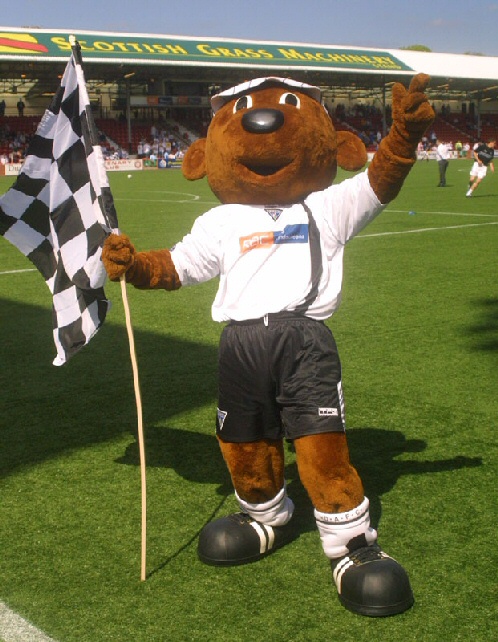 Sammy says thanks very much for visiting our web site where we have lots of news for young Pars fans.