SPL v Kilmarnock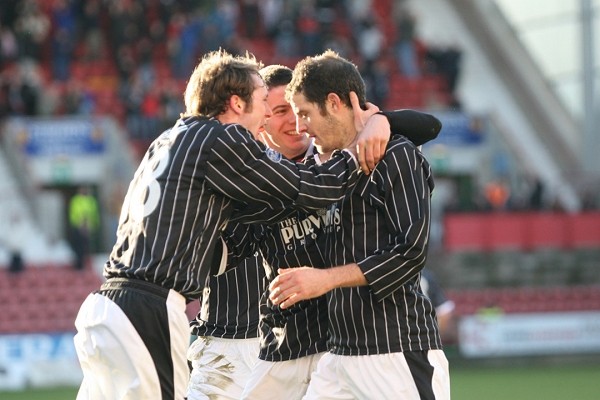 DUNFERMLINE 1 KILMARNOCK 1 Date: 17/02/07

Fixture: BOS SPL Premier League

Attendance: 4500 Kick off 15.00

Referee: David Somers

Jim Hamilton came in for for Mark Burchill and Kilmarnock brought in Colin Nish for Rhian Dodds as Dunfermline fans turned up with renewed optimism. Jamie Fowler kicked off for Killie attacking the goal at the McCathie Stand end.
The Pars had much of the opening minutes with Adam Hammill firing over the crossbar in the third minute and three corners from the left putting the visitors under early pressure. Kilmarnock`s first chance came to Naismith in 9 minutes but Dorus de Vries stuck out his left foot to save.
Next minute however the Pars were not so lucky. A cross from the left dropped nicely for the Kilmarnock top goalscorer and after turning Phil McGuire Steven NAISMITH stuck the ball passed de Vries from 16 yards.
Dunfermline immediately tried to strike back with Stevie Crawford forcing Alan Combe to save an effort from outside the box. Hammill hit a 27 yard free kick wide to the right of goal and then he had another pop at goal but this time wide on the other side.
Kilmarnock sat back comfortable with their lead and this gave the Fifers a chance to go forward. In 22nd minute Greg Ross placed the ball in front of Jim O`Brien and his nice low cross was heading for Hamilton at the near post but he could not direct the shot goalwards as Simon Ford kept close to him.
Next O`Brien pumped the ball into the far side of the Killie six yard box and Alan Combe leapt for it but the ball went off a defender for a corner on the left. That produced nothing but there were appeals for a Pars penalty in 31st minute when Phil McGuire was pulled back at a free kick from the left.
Hammill then struck a fine effort that was goalbound from 23 yards but Combe touched it away to the right. Scott Wilson got half a chance from Stephen Glass` corner but the effort slipped wide right. Dunfermline continued to attack and it looked like Stephen Simmons was in in the 36th minute when he pounced on O`Brien`s lift through but Combe came out the better.
de Vries was kept alert with a fine strike from Rocco Quinn that he held well. At the other end Crawford tested Combe but it was not enough to beat the Kilmarnock keeper but a weak pass from Simon Ford brought a dramatic end to the first half. The defender lost the ball to Adam Hammill and chased the youngster back taking him down just 16 yards from goal. The last man tackle earned him a red card and Stevie CRAWFORD sent the spot kick into the left side beyond Combe to score Dunfermline`s first SPL goal since 15.47 on 10th December last year.
Half Time: Dunfermline 1 Kilmarnock 1
Playing against ten men the Pars immediately got stuck in to their Ayrshire opponents. In 53 minutes an O`Brien cross was met by Simmons and his header was on target for the top left before Combe pulled off a fine save. Kilmarnock kept de Vries warm with a Peter Leven free kick from the right touchline that the keeper held well.
Then two minutes later Wilson provided Simmons with a chance that Combe blocked but when the ball broke to Gary Mason it took a deflection off Fowler that kept the score level. It continued to be one way traffic with Crawford getting to the right byeline in 61st minute to cut back for captain Scott Wilson but his attempt went wide right.
Jim Hamilton headed Hammill`s 65th minute cross wide of the left post from 12 yards and next Hammill launched a free kick through the Kilmarnock box but no one touched it. Iain Williamson, a scorer for the reserves in midweek came on for Crawford as the Pars continued to push.
Kilmarnock managed to relieve their defence in 75th minute when a Greer free kick was touched on by Frazer Wright. Wilson failed to take the flick on and Colin Nish was given a great chance but his half hearted effort was easily gathered by de Vries.
McIntyre came on for Ross as everything went forward and it was the ex Killie man who delivered the ball for Hammill to control and fire on target. That was blocked but urged on by the despairing home support the Pars tried hard for the winner. As Greer closed in on him, O`Brien pulled his 86th minute opportunity wide left from 22 yards and as the game entered the three added minutes, Hammill set up Bobby Ryan but this time Wright was quickly in to block.
McIntyre had a chip through the six yard box but Dunfermline just could not invent a way to add to their tally. When referee David Somers blew for full time it felt like a defeat and two points that were badly needed had escaped.
Kilmarnock possibly competed more when down to ten men and for all Dunfermline`s pressure Alan Combe barely had a save to make. With St Mirren bagging a surprise point at Tynecastle it was not the best of days for the Pars. Stephen Kenny acknowledged that his team now has a mountain to climb but with 30 points still to play for it is far from over.
DUNFERMLINE: Dorus de Vries; Greg Ross (Jim McIntyre 81), Phil McGuire, Scott Wilson (c), Stephen Glass; Jim O`Brien, Stephen Simmons (Bobby Ryan 76), Gary Mason, Adam Hammill; Stevie Crawford (Iain Williamson 69), Jim Hamilton
SUBS: Roddy McKenzie (GK), Souleymane Bamba, Scott Morrison, Jamie Harris
SCORER: Crawford (45)
YELLOW CARD: Mason (75)
KILMARNOCK : Alan Combe; Grant Murray, Frazer Wright, Gordon Greer, Simon Ford, Jamie Fowler, Steven Naismith, Rocco Quinn (Gary Locke HT), Peter Leven, Gary Wales, Colin Nish
SUBS: Graeme Smith (GK), Allan Johnston, Paul Di Giacomo, Ryan O`Leary, Alme Koudou
SCORER: Naismith (10)
YELLOW CARD: Nish (45), Fowler (74), Locke (78), Murray (78)
RED CARD: Ford (44)
WEATHER: Dry 10ºC
NEXT MATCH: Fife Cup, (away) v Cowdenbeath, Tuesday 20th February 7.30pm kick off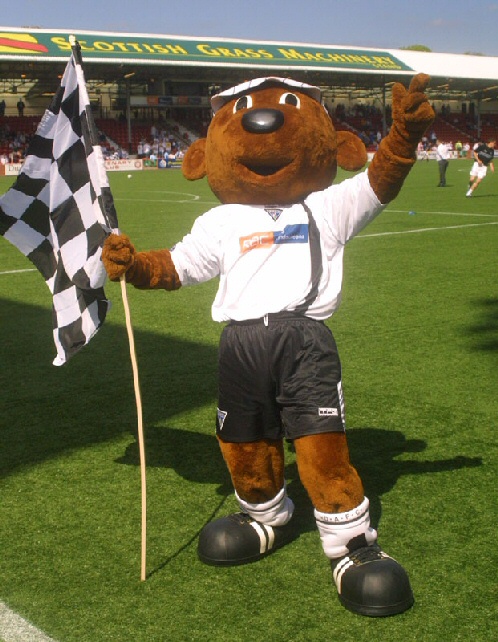 Sammy says thanks very much for visiting our web site where we have lots of news for young Pars fans.