SPL v Celtic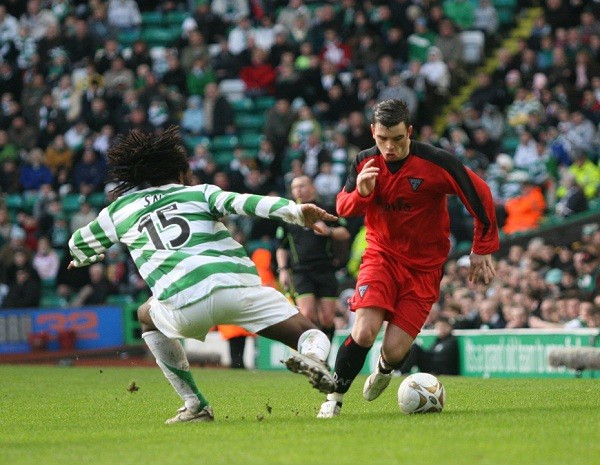 CELTIC 2 DUNFERMLINE 1 Date: 03/03/07

Fixture: BOS SPL Premier League

Attendance: 59131 Kick off 15.00

Referee: Steve Conroy
Celtic made four changes from the side that scraped through against Inverness in the Cup. Club Captain Neil Lennon was on the bench alongside some useful reserve firepower in Jan Vennegoor of Hesselink and Derek Riordan.
Dunfermline were without Jim O`Brien; Greg Ross and Gary Mason dropped out meaning starting places for Stephen Glass, Jamie McCunnie and Darren Young. Jim Hamilton was to plough a lone furrow upfront with five men strung across the middle with four behind them.
When the teams emerged from the tunnel Celtic made their way down the flag lined route to the centre circle whilst Scott Wilson sidestepped the welcome to lead his team on to the park and acknowledge the travelling support in the south east corner.
There was much greater volume when the Pars went into their pre kick off huddle before Jim Hamilton and Stephen Simmons got the game underway.
After only 100 seconds Scott Morrison received a lecture from Referee Steve Conroy as he dumped Shunsuke Nakamura on to the touchline and Celtic overhit the resulting free kick.. Celtic however were to take an early lead when Aiden McGeady accepted a sweeping pass on to the left from Paul Telfer, and he evaded the challenge of Darren Young to square to Kenny MILLER to tap in from 5 yards with less than four minutes on the clock.
Celtic continued to cause the Pars problems but two saves from Dorus de Vries kept it at 1-0. In 11th minute Evander Sno played a nice one two off Nakamura before threading through a ball to Miller on the right side of the box and when he released a fine right footed shot the Dutch keeper as the equal of it.
Next minute a Nakamura free kick from the left was placed deep inside the Pars penalty box to find the head of Craig Beattie and de Vries tipped over the dangerous effort. Adam Hammill gave the Pars some hope working his way into a shooting position 25 yards out but Artur Boruc gathered easily.
From the fifteenth minute rain came down in monsoon like fashion creating a deafening noise off the roof of the stands. Scott Wilson used the wet conditions to brilliantly intercept a ball into the six yard box. Next Nakamura thrashed a right footed shot from 18 yards that escaped wide right and then Miller should have accepted a chance from Beattie but the ball rebounded off his shin.
McGeady created a fantastic chance for Beattie was Dunfermline struggled to contain Celtic on the right but somehow the striker failed to get enough power on his 26th minute shot. The rain stopped and the sun shone brightly as Dunfermline tried hard to get back into the match.
Stephen Glass made an opportunity for himself in 35 minutes but his shot from 30 yards sailed high of Boruc`s crossbar. Still the Dunfermline defence were continually tested with first Wilson coming to the rescue and then Jim Hamilton was back to head away Thomas Gravesen`s cross to the far post.
Celtic had one final chance in the added minute at the end of the first half when Nakamura and Naylor combined to allow Miller a shot that travelled across the face of goal and out from a throw in on the right.
Despite all the SPL leaders pressure at least it was still 1-0 at half time and there was still something to play for in the second 45.
Half Time: Celtic 1 Dunfermline 0
Celtic had the ball in the net in 50 minutes after Gravesen had punted a through ball that Miller raced on to ahead of McGuire and lob past de Vries from 20 yards but the offside flag was up. Three minutes later the Fifers had a great chance to grab an equaliser Owen Morrison was deep inside the Celtic box to send a cross into the six yard box. When the ball was defended it fell to Morrison again and this time his delivery was heading for Glass to convert but somehow he missed the chance.
At the other end Nakamura sent Gravesen up the right and his cross in was unbelievably scooped over the crossbar by Craig Beattie. Miller got even closer three minutes later in the 59th when he turned a Nakamura cross on to the crossbar from six yards.
New signing Tam McManus replaced Owen Morrison just after the hour mark and Celtic introduced Jan Vennegoor of Hesselink for Craig Beattie. It was the Celts sub that played in Naylor for a good try in 67 minutes that de Vries held nicely.
The former Den Haag keeper made another good save after McGeady`s 1-2 off Miller set up the midfielder with a cracking shot on target. The Pars first corner of the match brought every Celtic player back in 72nd minute after McManus had forced Naylor to concede. The Hoops headed away Glass`s delivery from the right but the Pars were in this half much more than they were in the first, well until the 76th minute at least.
A corner from the right that followed a very good save from de Vries was swung over deep from Nakamura to Gravesen 25 yards out and unmarked he hit a shot on the volley that Jan VENNEGOOR OF HESSELINK backheaded past de Vries from five yards.
It looked all over but Adam HAMMILL`s strike from 30 yards three minutes from time was fair consolation. The Pars first SPL goal from open play since 10th December, also against Celtic, was an absolute beauty. The Liverpool youngster bamboozled O`Dea and Naylor with his trademark shuffle before looping a shot into the top left corner.
Dunfermline finished strongly with Hammill again breaking through the Celtic midfield but he chose to shoot when a lay off to Young might have returned better.
The Celtic victory might well be expressed as a `stroll` by the west coast media but it wasn`t until 14 minutes from time that Stephen Kenny`s side were killed off. With former Par Colin Nish doing his old team favours with a double for Kilmarnock against St Mirren, the Pars can approach next Saturday`s show down with confidence.
CELTIC: Artur Boruc; Paul Telfer, Steven Pressley, Stephen McManus ( Darren O`Dea 68), Lee Naylor; Shunsuke Nakamura, Evander Sno, Thomas Gravesen, Aiden McGeady; Craig Beattie ( Jan Vennegoor of Hesselink 63), Kenny Miller ( Derek Riordan 80)
SUBS: Mark Brown, Neil Lennon, Jiri Jarosik, Jean-Joel Perrier Doumbe.
SCORER: Miller (4), Vennegoor of Hesselink (76)
YELLOW CARD: Naylor (44)
DUNFERMLINE: Dorus de Vries; Darren Young, Phil McGuire, Scott Wilson (c), Scott Morrison; Adam Hammill, Jamie McCunnie ( Gary Mason 72), Stephen Simmons, Stephen Glass, Owen Morrison ( Tam McManus 61); Jim Hamilton ( Stevie Crawford 77)
SUBS: Roddy McKenzie (GK), Souleymane Bamba, Iain Williamson, Greg Ross.
YELLOW CARD: Young (59), Mason (77), Simmons (85)
SCORER: Hammill (87)

WEATHER: Changeable 9ºC
NEXT MATCH: (home) v St Mirren, SPL Saturday 10th March 2007, kick off 3.00pm
Tam McManus Post Celtic
Third Hall of Fame 03/03/07
Stephen Kenny at Hall of Fame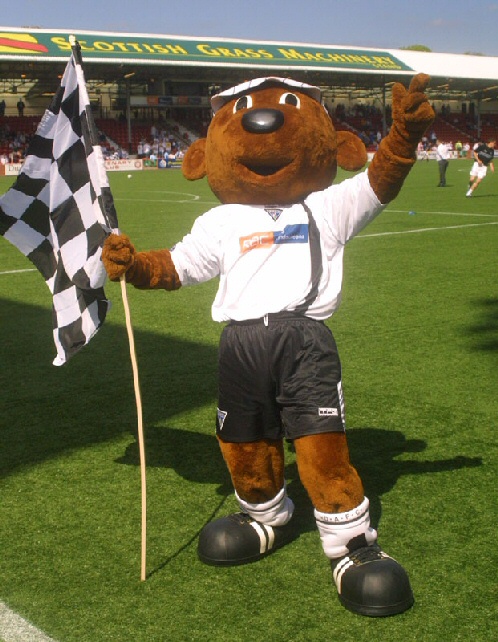 Sammy says thanks very much for visiting our web site where we have lots of news for young Pars fans.