SPL v St Mirren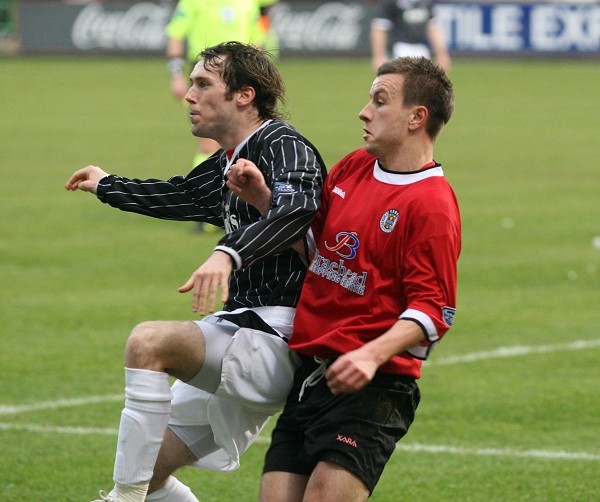 DUNFERMLINE 0 ST MIRREN 0 Date: 10/03/07

Fixture: BOS SPL Premier League

Attendance: 7149 Kick off 15.00

Referee: Charlie Richmond
For this important foot of the table clash Dunfermline made four changes from the team that lost narrowly at Celtic Park. Stevie Crawford, Jim O`Brien, Gary Mason and Greg Ross all returned; Darren Young, Owen Morrison, Jamie McCunnie and Scott Morrison all made way. St Mirren brought back Hugh Murray and David van Zanten so that meant that Garry Brady and John Sutton were relegated to the bench.
Every season has a match that can be looked back upon as being crucial. In 1996 it was at Tannadice, and in 2005 it was there again. Last season it was the home match against Livingston and this season it has been likely for some time to be this encounter between Dunfermline in 12th place against St Mirren in 11th. Fans from both clubs turned out in their numbers and the home ones were hoping that their team`s cup form could be rediscovered in this make or break match.
Crawford and Hamilton started the match with a considerable din coming from both from all sides. Gary Mason had a scooped shot that Smith held after just 60 seconds and then held an O`Brien free kick in from the left after Hammill had been grounded.
St Mirren took the game to the McCathie end winning a fourth minute free kick 20 yards out and then after Gary Mason had charged down Kirk Broadfoot`s attempt, two corners in quick succession.
The Pars defence dwelt as Stewart Kean cut a cross back from the right byeline in eight minutes but after what felt eventually Ross cleared. Adam Hammill had the crowd`s expectations rising as he broke through in the left channel but his final delivery into the left side of the penalty box was too strong for Crawford to catch.
Scott Wilson chased the ball back in 17th minute and his touch to Stephen Glass on the left touchline was then threaded through Crawford to send Simmons away down the left but David van Zanten`s tackle stopped all that. No yellow card and Jim O`Brien failed to get any elevation on� the free kick� so nothing came from the setpiece. Three minutes later Hamilton had a header at goal from a Wilson long ball but again Chris Smith was not taxed to hold cleanly.
The game was definitely being played in full recognition that a Dunfermline victory was paramount. Challenges were fierce and Phil McGuire was the first to require treatment in 22nd minute. Physio Paul Atkinson, Doctor Gerry Gillespie and the stretcher party went on and the substitution of Sol Bamba was put on hold as a very shaken McGuire was ushered off. Four minutes after the clash the central defender came back on.
The 28th minute saw Dunfermline going forward and exerting some very welcome pressure on St Mirren. Greg Ross`s through ball was headed on by Hamilton into the path of Crawford but the striker had to head back out from the goalmouth and all that could be gained was a corner on the right. The defence came out on top and O`Brien`s long range effort was easily taken by Smith.
Next Mason broke through on the left and another corner resulted but this time with a real crowd of players inside the Saints six yard box, O`Brien`s delivery from the left hit the sidenetting. There was more hope in 33 minutes when Simmons found Hamilton on the right but the big man`s shot curled outside the far post from 20 yards.
Three minutes later O`Brien and Mason combined to set up Ross with a cross from the right that Crawford met with a powerful downwards header 8 yards out but the ball ended up well to the right of target. There was a clash involving Jim Hamilton and John Potter on the left side of the visitors box and� Paul Lawson� got into the action as arms flew. Hamilton and David van Zanten, probably as a case of mistaken identity, were yellow carded and then after the re-start Adam Hammill also saw yellow as the competitive nature of the game continued until the interval.
A very competitive opening 45 minutes in which Dorus de Vries had nothing to save while at the other end Dunfermline had given Chris Smith slightly more to do but nothing that severely tested him.
Half Time: Dunfermline 0 St Mirren 0
Combat continued in the second half with st Mirren collecting two yellow cards in the opening five minutes and the Pars looking dangerous after a Glass free kick from the right was missed by Smith as he came out to challenge with Hamilton. The chance fell to Scott Wilson but he was blocked out and when he squared the ball back in from the left side of the six yard box the defence swept the ball clear.
In 55 minutes the ball got trapped between Simmons and Mason but the latter got the pass in that saw Stevie Crawford break in on the right side of the St Mirren box to win a corner. Pressure was maintained deep inside the St Mirren half but Hammill`s 25 yard shot that fell wide left was all that came from it.
O`Brien provided a through ball that was well defended deep inside his box by Murray to stop Simmons. Next Smith spilled a Hammill cross but it was O`Brien`s cross from the right that looked like it had put in Hamilton. The keeper blocked Hammy`s six yard drive and then the follow up from Crawford at the far post. The ball broke for Hammill but he blasted his shot narrowly wide left and high from close in. Stephen Kenny sent on Jim McIntyre and Mark Burchill for Hamilton and Crawford.
At the midway stage in the half Ian Maxwell`s cross from the right found the head of Broadfoot causing de Vries to pull off a fantastic left handed safe at full stretch. St Mirren then had the chance to pressurise the Pars, Brittain firing inches wide and then Scott Wilson turning a fierce van Zanten cross behind at his near post.
O`Brien broke on the counterattack but St Mirren cut out the cross to McIntyre at the far post. The atmosphere was electric as tension mounted and nerves tingled. McGuire collected a 75th minute yellow card as both sets of fans urged their teams on. Owen Morrison was thrown on for Greg Ross and O`Brien sat a little deeper but it was the on loan Celt who sent in the next chance that might have seen McIntyre capitalise on another Smith spill but rather unluckily he hadn`t followed up.
An 82nd minute free kick 25 yards out presented the Pars with a great opportunity. Stephen Glass drove through the St Mirren wall and the deflection on the ball sent it heading for the bottom left but Smith produced a miraculous save to turn the ball round his left hand post.
From the corner McGuire`s header was blocked and then Hammill too was denied. Morrison tantalised the visiting defence but his final choice to thread the ball into the path of Hammill was read by the opposition. As the minutes slipped away everything was thrown forward and Smith held a Hammill free kick in a crowded penalty box.
The elation from the announcement of four additional minutes was all from the home support. There might have been a 91st minute St Mirren penalty when a robust challenge thwarted a challenge. Breaks on the counterattack were possible for both sides but St Mirren were happy to hold out for a point and when two Pars players went for the same final chance Dunfermline hopes were finished. That might just be that, certainly that was the way the Paisley visitors saw it as they left East End Park chanting going down, going down.
DUNFERMLINE: Dorus de Vries; Greg Ross ( Owen Morrison 77), Phil McGuire, Scott Wilson (c), Stephen Glass; Jim O`Brien, Stephen Simmons, Adam Hammill; Jim Hamilton ( Jim McIntyre 66), Stevie Crawford ( Mark Burchill 66).
SUBS: Roddy McKenzie (GK), Scott Muirhead, Souleymane Bamba, Jamie McCunnie.
YELLOW CARD: Wilson (41), Hamilton (45), Hammill (45+2), McGuire (75), Mason (88)
ST MIRREN: Chris Smith; David van Zanten, John Potter, Kirk Broadfoot, Ian Maxwell; Stephen O`Donnell ( Mark Corcorran 61), Hugh Murray, Paul Lawson ( Craig Molloy 88), Richard Brittain, Alan Reid; Stewart Kean ( John Sutton 93)
SUBS: Garry Brady, Andy Millen, Eddie Malone, Craig Hinchcliffe (GK)
YELLOW CARD: van Zanten (45), Broadfoot (47), Brittain (49), Potter (89)
REFEREE: Charlie Richmond
WEATHER: Windy, Wet 11ºC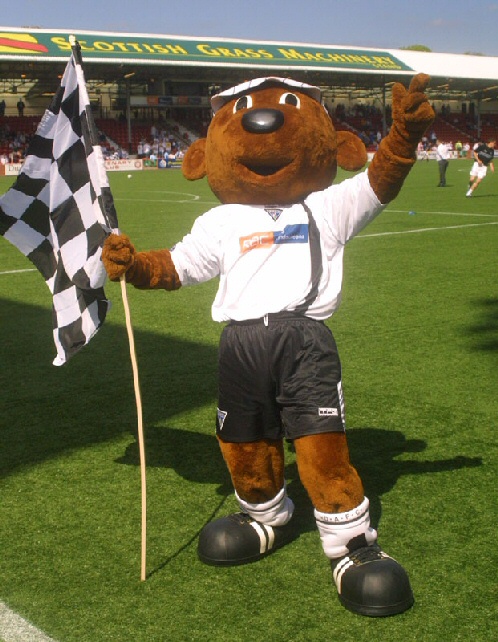 Sammy says thanks very much for visiting our web site where we have lots of news for young Pars fans.