SPL v Celtic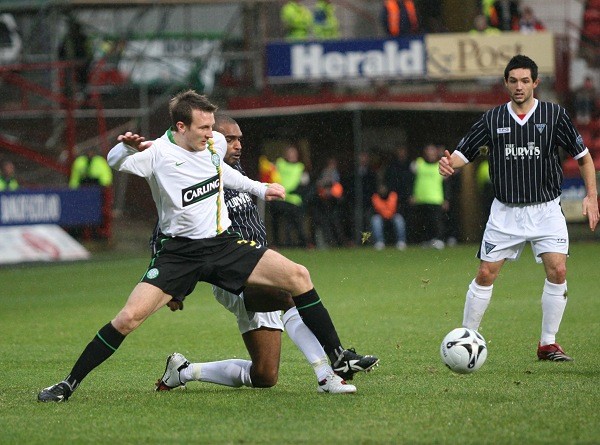 DUNFERMLINE 1 CELTIC 2 Date: 10/12/06

Fixture: BOS SPL Premier League

Attendance: 7058 Kick off 14.00

Referee: Craig Thomson
Dunfermline Manager Stephen Kenny brought in Aaron Labonte and left out Owen Morrison for this Sunday fixture. Looking forward the presence of Mark Burchill and Phil McGuire on the bench raised the Pars hopes for a revival sooner or later.
Celtic made three changes preferring Mark Wilson, Maciej Zurawski and Darren O`Dea in place of Paul Telfer, Stephen McManus and Thomas Gravesen as they kicked off attacking the goal in front of a Norrie McCathie Stand seating only a third of that possible.
A hairy moment in the fifth minute ended up with Greg Shields cutting out de Vries as he came out for a long ball. Celtic accepted the corner on the left and Scott Muirhead got that away but Shields hurt his side as he collided with post. The Pars captain needed treatment from Paul Atkinson and was back on to stop Kenny Miller`s advance into the box in eighth minute.
Miller and Zurawski teased the Pars defence but it was Shunsuke Nakamura who almost broke down the Fife defence. His driven shot from the right side of the box was touched away by de Vries and Scott Wilson stepped in to blast clear before any opponent could react.
For a lengthy period there was stalemate in midfield. Labonte did well to intercept a pass for Zurawski but his interchange with Greg Ross needed an olympic sprint to collect. Dunfermline were beginning to destroy the Celtic passing play and the runaway league leaders were being nicely contained.
At the midway stage in the first half Gary Mason blocked out an Aiden McGeady shot and then two minutes later the Celtic no.46 fed a neat ball to the right that Maciej Zurawski struck well but Scott Wilson was his equal as he slid in to block.
Dunfermline`s best chance of the game so far came in 25th minute. A delivery in from the right found Stevie Crawford in space 16 yards out to the left of centre of the Celtic box but he skied the shot and Artur Boruc still did not have a save to make.
The home defence was given a breather as Celtic were restricted to their own half and there was more hope as Crawford laid the ball back for Mason. The midfielder then sent Freddie Daquin down the left side from where he checked and whipped over a right footed cross that was just too high for Crawford to convert.
Celtic had two quick chances that could easily have created the opening goal but on both occasions the far side linesman had raised his flag for offside. They came extremely close in 36th minute when Neil Lennon accepted a wayward pass from Scott Morrison to Stephen Simmons. Lennon slipped Kenny Miller in on the right side of the box and de Vries tipped the shot over his crossbar.
Two corners ensued and from the second Bobo Baldae found O`Dea but fortunately his effort went wide of the right post. As half time approached Celtic piled on the pressure and there was some frightening stuff as the ball was pushed around the Pars penalty box.
Half Time: Dunfermline 0 Celtic 0
Mason and Ross got the match underway with neither side making any half time changes. Neil Lennon had a 25 yard shot at goal after 50 seconds but that was blocked out. Greg Ross prodded a pass into the left side of the Celtic box but Boruc was out to collect.
It was the Polish keeper who then set up a goal for Aiden McGEADY. His long kick out was assisted by the wind and Kenny Miller collected deep down the left to cut back for the Republic of Ireland internationalist to work the ball on to his right foot and drive low past de Vries from 22 yards.
In 58 minutes Nakamura sent over a free kick from the right touchline and Balde arrived at the far post to force a header that went wildly over the top from six yards.Three minutes later Nakamura sent the ball out right for Miller and when he sent in his cross Zurawski really should have scored. Apparently surprised at the quality of the delivery Zurawski froze and de Vries collected.
Scott Muirhead had half a chance at the other end but blasted well wide to right of target from the left side of the Celtic box. As the game entered the fourth quarter Freddie Daquin was late with his tackle on Lee Naylor and Nakamura took the free kick 26 yards out level with the right perimeter of the Pars box. The ball was defended from the setpiece but Lennon chipped the return into the centre of the penalty box where Maciej ZURAWSKI turned and smashed the ball home.
As rain continued to pelt down both teams made subsistutions with Burchill, McGuire and Owen Morrison coming on for Dunfermline and Derek Riordan and Thomas Gravesen entering play for Celtic. The visitors looked very content with their two goal lead and offered little to the more eagre Fife team.
Seven minutes from the end there was uproar from the home support as Gravesen and O`Dea clashed inside the Celtic penalty box and play was stopped as the Pars attacked. The dropped ball did Dunfermline no favours but Steve Kenny`s side were fighting for everything in the time it took to restore the opposition to eleven men.
Stephen SIMMONS touched in a consolation goal in the second minute of added time but by that time there was no hope of taking any points from this game.
All Athletic fans wonder when the side might start to show the effects of all the changes in preparation and tactics that Steve Kenny is enacting. It could be that despite this 2-1 home defeat the signs are beginning to show. This was a much better DA performance, much more gutsy with everyone working hard for the cause. The next three games might just be different.
DUNFERMLINE: Dorus de Vries; Aaron Labonte, Greg Shields (c), Scott Wilson, Scott Morrison (Phil McGuire 73); Gary Mason; Frederic Daquin (Mark Burchill 73), Greg Ross, Stephen Simmons, Scott Muirhead (Owen Morrison 77); Stevie Crawford
SUBS NOT USED: Roddy McKenzie (GK), Calum Woods, Iain Williamson, Jim Hamilton.
SCORER: Simmons (92)
YELLOW CARD: Wilson (39)
CELTIC: Artur Borac; Mark Wilson, Bobo Balde, Darren O`Dea, Lee Naylor; Shunsuke Nakamura (Derek Riordan 75), Neil Lennon, Maciej Zurawski (Thomas Gravesen 75), Aiden McGeady; Jiri Jarosik (Evander Sno 88); Kenny Miller
SUBS NOT USED: David Marshall, Stephen Pearson, Jim O`Brien, Paul Telfer
SCORER: McGeady (49), Zurawski (68)
WEATHER: Swirling windy, rain 10ºC
NEXT MATCH: (away) SPL v St Mirren Saturday 16th December 2006, Kick off 3.00pm
TICKET INFO FOR ST MIRREN AWAY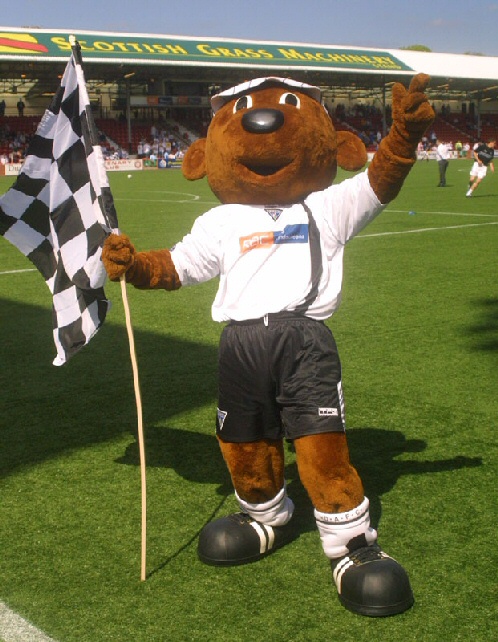 Sammy says thanks very much for visiting our web site where we have lots of news for young Pars fans.