SPL v Aberdeen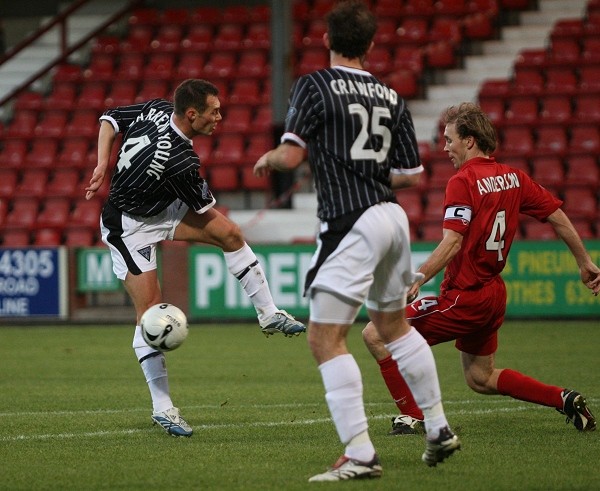 DUNFERMLINE 0 ABERDEEN 3 25/11/06

Fixture: BOS SPL Premier League

Attendance: 6501 Kick off 15.00

Referee: Mike Tumilty
Stephen Kenny`s first selection saw Freddie Daquin and Scott Muirhead brought into the starting line up at the expense of Stephen Simmons and Jim Hamilton. Andrew Considine and Darren Mackie came into the Aberdeen side in place of Jamie Smith and Stuart Lovell. Four ex Dons in the Pars line up and three former Dons in Dunfermline`s, Aberdeen started 6-5 favourites.
We all hope that the tune will change under the new Manager; one certainly did with The Derry City theme music "Teenage Kicks" by the Undertones played immediately before "Into the Valley". What a kick off though as Chris Clark and Lee Miller got the game underway by passing the ball back for Scott Severin to hammer the ball at the Pars goal. The shot from inside the Dons half took Dorus de Vries by surprise and he collided with the left goal post as he clutched the on target shot.
With Daquin and Crawford upfront for the Pars it was the fifth minute when Russell Anderson`s short pass back had Daquin chasing in 25 yards out but Michael Hart came cross to mop up. Next Freddie burst up the left but his shot from inside the box was the wrong choice and the ball hit the sidenetting.
In eighth minute Daquin played a fine ball in from the right side and Stevie Crawford laid it back for Aaron Labonte to drill a good shot in but Jamie Langfield held. The former Pars keeper then launched a long ball that Mackie ran on to. There was panic as the Aberdeen striker slipped clear but he was forced to his right by the approaching de Vries and Scott Morrison intercepted.
Gary Dempsey should have done much better when Chris Clark`s delivery in from the right cleared all the defenders on the 18 yard line. The Irishman was clear and unmarked but his looped shot lacked pace and direction but Clark was able to head on target and it looked black for the home side until de Vries pulled off a fabulous diving save.
Scott Muirhead had two chances in 18th minute. The first running on to a through ball he drove at goal with his right foot from 20 yards and Langfield was adjudged to have tipped the ball over the bar for a corner. Scott Morrison took this one swinging it over from the right. Muirhead met the ball on the far side of the six yard box but this time he was wide with his favoured left foot.
A 27th minute understanding between de Vries and Wilson handed Aberdeen a corner on the right and they almost paid dearly as Barry Nic`s cross was headed on to the roof of the net by Anderson. Play was moving swiftly from end to end and immediately Young had a shot blocked by Foster after Muirhead`s cross had been laid off by Owen Morrison.
Dunfermline got bogged down a bit and in 36 minutes Labonte did well to charge down a good Dempsey chance. Severin got his head on a Nicholson free kick from midway inside the Pars half but de Vries gathered as the ball headed wide of his left hand post.
With three minutes to the break Crawford sent Daquin into the top right corner and he returned a nice low cross that was just in the wrong area for Crawford and Muirhead. The last chance of the half saw Greg Shields up for a Scott Morrison free kick but the Pars captain headed well wide.
Half Time: Dunfermline 0 Aberdeen 0
The home side kicked off in the second half attacking the town end but it was Aberdeen who were in with a chance after just one minute but when Clark latched on to a Miller ball, Greg Shields put in a really good defensive challenge to prevent the goal. Freddie Daquin continued to look dangerous with his rapid breaks and in 52 minutes Aberdeen were under great pressure when the Frenchman checked on the right and found Crawford but Stevie could not get his shot on target.
Two minutes later what looked like a fairly harmless ball was fluffed by Shields on the edge of his D and Lee MILLER had time to pick his spot to beat de Vries with a right footed shot from the top of the box. Nicholson`s lofted ball in from the right was nicely taken by de Vries as Miller rushed in.
The Pars struggled a bit to get going but two corners gave the home defence a rest and Freddie Daquin was unlucky to head a Owen Morrison chip wide left. Aberdeen had plenty men back and it was difficult to see a way through. First tactical substitution introduced Jim Hamilton for Scott Muirhead and the sub immediately got a connection for a shot but that was blocked.
Stephen Simmons was the next sub as Dunfermline changed it to three at the back. Owen Morrison drove wide left of the Aberdeen goal as the Dons looked happy to hold on for a single goal victory. This was helped by some wayward crosses from Daquin.
Seven minutes from time Hamilton had to force Langfield to pick up the ball and punt it down the middle. Scott Wilson misread the ball and appeared to let it run for his keeper but Darren MACKIE nipped in to score number two. Worse followed as Dunfermline pushed up at a free kick right on the edge of the Aberdeen box. Owen Morrison fed the ball to his left for Young but he failed to get in a shot instead choosing a lay off towards Daquin to his left. Aberdeen intercepted and hit on the break.  When MACKIE picked up on the pass and faced with no defence ahead of him, he ran from deep inside his own half to tuck the ball passed de Vries.
The defeat was sad for Dunfermline and coupled with Motherwell`s 4-2 win over Falkirk it was a bad day for Steve Kenny`s men. The new Manager tried hard to push his team forward and change the fortunes after Aberdeen had scored but things went badly wrong for him. Maybe he doesn`t have all the luck of the Irish!
DUNFERMLINE: Dorus de Vries; Aaron Labonte (Stephen Simmons 77), Greg Shields (c), Scott Wilson, Scott Morrison; Owen Morrison, Darren Young (Greg Ross 88), Gary Mason, Scott Muirhead (Jim Hamilton 69); Frederic Daquin, Stevie Crawford
SUBS: Greg Paterson (GK), Calum Woods, Souleymane Bamba, Iain Williamson
YELLOW CARD: Wilson (23), Scott Morrison (51)
ABERDEEN: Jamie Langfield; Michael Hart, Russell Anderson, Scott Severin, Richard Foster, Barry Nicholson, Andrew Considine, Gary Dempsey (Karin Touzani 85) , Chris Clark, Lee Miller (Chris Maguire 88), Darren Mackie.
SUBS NOT USED: Derek Soutar, Jamie Winter, Daniel Smith, David Donald, Dyron Daal
SCORER: Miller (54), Mackie (83, 86)
REFEREE: Mike Tumilty
WEATHER: Dull 9ºC
NEXT MATCH: (away) SPL v Kilmarnock, Saturday 2nd December 2006, kick off 3.00pm
Â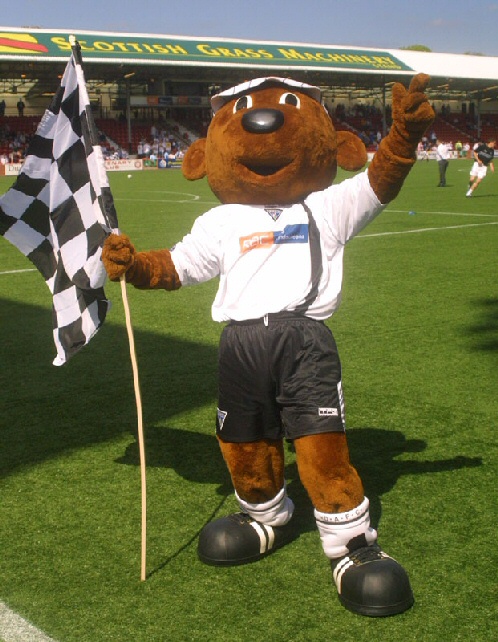 Sammy says thanks very much for visiting our web site where we have lots of news for young Pars fans.