SPL Dundee United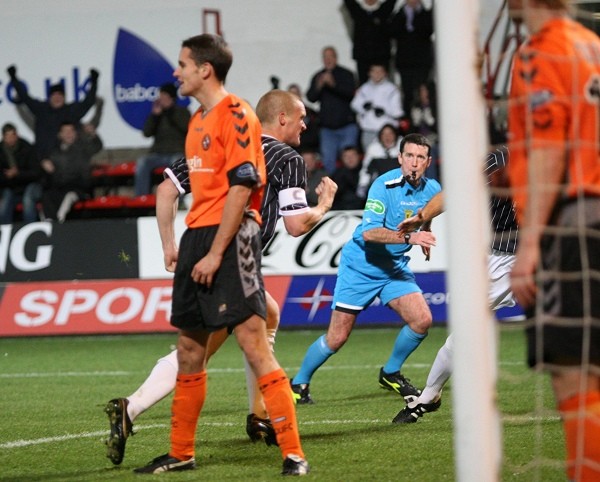 DUNFERMLINE 2 DUNDEE UNITED 1 Date: 18/11/06

Fixture: BOS SPL Premier League

Attendance: 6129 Kick off 15.00

Referee: Alan Freeland
Steve Kenny the new Dunfermline manager was introduced to the crowd pre match. The fans certainly reacted positively but it remained to be seen just how the players would react.
Dunfermline brought back Darren Young and Scott Wilson for this vital match against Dundee United. Facing a potential goalkeeping crisis Dorus de Vries was fit to take the place of Roddy McKenzie and keep Greg Paterson on the bench.
Dundee United were unchanged as Stevie Crawford and Stephen Simmons got the game underway attacking Derek Stillie`s goal at the east end. The opening play was promising with Owen Morrison sending in a great ball to force David McCracken to head clear only to allow Simmons a shot, albeit wide left all within the first 45 seconds.
After a period of United possession, the first corner of the afternoon came their way in the 10th minute but the defence dealt with the twice crossed ball from Barry Robson. Noel Hunt who was receiving a `warm` welcome from the home support and when he released David Robertson there was more danger but again the defence came out on top. Two minutes later Hunt was up to head yet another cross wide of de Vries`s right hand post.
Play continued in the Pars half and a bouncing ball reached Craig Conway on the left side of the penalty area. He cut inside and sent a forceful effort into the McCathie Stand. Robson sent in a 35 yard shot in 18 minutes but de Vries was perfectly placed to knock down and catch the ball.
A Darren Young challenge on Robson gave United a free kick on the right 22 yards out but thankfully Robson drove the ball through the box and out wide left as a posse of his team mates rushed in. Mark Kerr was allowed to belt in a 20 yard effort as Simmons and Mason left it for one another making Greg Shields block out with a very good intervention on the net bound ball.
Play was stopped in 31st minute for a clash of heads between Stephen Simmons and Christian Kalvanes but both were OK although Simmons must have been reflecting on the head knock that caused his substitution and loss of memory in the first meeting of these teams at Tannadice in August.
From a United corner on the left was not totally cleared and Stuart Duff was given loads of time to swing in an inviting ball that Hunt leapt to head from 8 yards out but thankfully wide left.
Five minutes from the break the Pars nearly got the break in 40th minute as Crawford cut in from the left and Simmons was picking his spot as McCracken nicked it off him but as the ball broke Darren Young sent in a shot from the edge of the box but was wide to right of goal.
The game got heated as Crawford`s quickly taken free kick was played off a United player standing in too close but Alan Freeland waved play on as the visitors broke quickly. Scott Wilson did well to thwart the danger even though the visitors were looking for a penalty as Dorus de Vries clearly took out Barry Robson. With the home fans still on their feet protesting Alan Freeland might have felt like he was in the centre of a cauldron as the ruptions continued from the East Stand.
This all fired up Dunfermline nicely with Gary Mason sticking to the ball to eventually square to Simmons but his shot still failed to give Stillie anything to save.
Dunfermline had little to show for their early promise and late flurry yet Craig Levein`s side had the bulk of the first half play but no goals either. Maybe some half time words in an Irish accent would alter the second.
Half Time: Dunfermline 0 Dundee United 0
Owen Morrison was switched to the right side of midfield, Gary Mason resorted to his more accustomed role central left midfield and Darren Young deployed left. Unfortunately it was United who made the quick difference. Craig Conway caused all the problems looping in balls from the left.
In 51st minute Hunt was up to attempt a header from Conway`s cross after he had been sent away by Robertson. The former Pars favourite made a real pigs ear of the chance and de Vries watched the ball drop wide of his left post. There was a different ending in the next minute. Another Conway cross cleared all defenders and the outrushing de Vries to leave Barry ROBSON with a simple chance that he headed home.
Play continued towards de Vries and Conway flashed another ball in front of the keeper but out of play on the right. A double substitution on the hour introduced Daquin and Muirhead as the Pars attempted to stem United flooding towards the Pars goal. Derek Stillie was immediately called upon to make a save from Crawford and the home fans rallied to get behind their team.
It was United`s sub, Collin Samuel, who should have made the difference in 69 minutes being sent into the right side of the box by Robson but possibly because he was not up to the pace of the match he failed miserably to chest it down and burst the net.
Derek Stillie did his best to help his old club with some timid goalkeeper, flaffing away when he might have held. Craig Robertson was communicating with his new coach sitting in the stand, no further substitution but Craig was egging his team to go forward. Freddie Daquin obliged racing up the right and winning a corner. Scott Muirhead pinged the ball to the far side of the six yard box where Jim Hamilton nodded it down to Greg SHIELDS who thrashed in a very welcome equaliser.
There was 75 minutes on the clock and having taken the lead the impetus should have been in the Fifers control but Young`s tackle on Samuel awarded the visitors with a free kick on the edge of the area. David Goodwillie came on for Conway and it was the substitute that Hamilton denied with a diving header.
In the 83rd minute Pars pressure put in Crawford for a shot that was blocked and then Scott Muirhead collected and fired on target only for Stillie to parry round the post. The corner from Muirhead dropped at the feet of Greg Ross, who had come on for Hammy, but it was Daquin who took the chance to shoot but again the defence blocked it out for a corner.
Both sides pushed hard, United might have scored through Samuel but it was the home fans who were to be joyful in 88th minute when Gary MASON slammed in the winner. Crawford made the pacy break up the right, when he reached the byeline he cut back and Freddie Daquin back heeled it through him to give `Mace` a clear cut chance that he was not going to pass over.
The three points take Dunfermline on to 12 points level with Motherwell whose despite their goal difference taking a dent with their 6-1 home defeat from Hibs are still one goal better off.
A new era has dawned.
DUNFERMLINE: Dorus de Vries; Aaron Labonte, Greg Shields (c), Scott Wilson, Scott Morrison; Gary Mason, Darren Young, Stephen Simmons (Frederic Daquin 60), Owen Morrison ( Scott Muirhead 60); Jim Hamilton (Greg Ross 82), Stevie Crawford
SUBS: Greg Paterson (GK), Calum Woods, Souleymane Bamba, Iain Williamson
SCORER: Shields (75), Mason (88)
YELLOW CARD: Shields (87)
DUNDEE UNITED: Derek Stillie; Lee Mair, Garry Kenneth, David McCracken (Greg Cameron 91), Christian Kalvanes, Mark Kerr, Craig Conway (David Goodwillie 80), Stuart Duff, Barry Robson, Noel Hunt (Collin Samuel 66), David Robertson.
SUBS: Euan McLean, Alan Archibald, David Proctor, Grant Smith
SCORER: Robson (52)
REFEREE: Alan Freeland
WEATHER: Bright, still 7ºC
NEXT MATCH: SPL (home) v Aberdeen, kick off 3.00pm Saturday 25th November 2005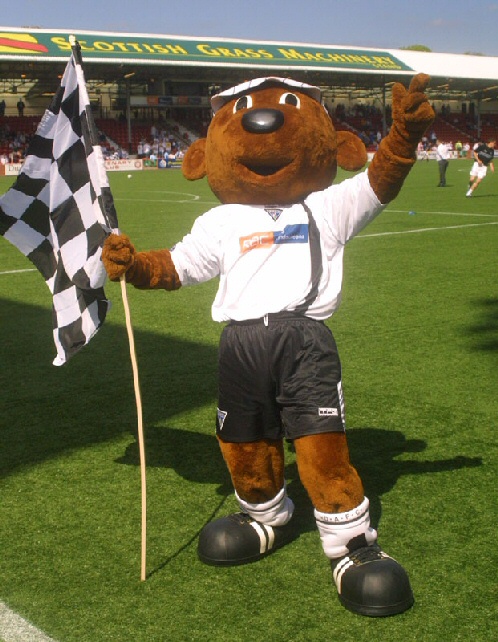 Sammy says thanks very much for visiting our web site where we have lots of news for young Pars fans.