SPL v Rangers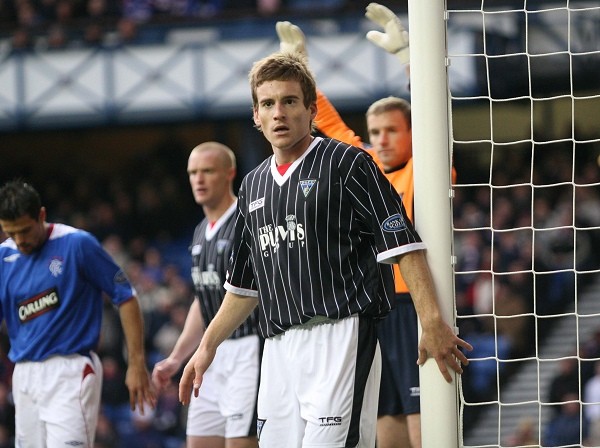 RANGERS 2 DUNFERMLINE 0 Date: 11/11/06

Fixture: BOS SPL Premier League

Attendance: 48618 Kick off 15.00

Referee: Steve Conroy
"We should have won the game, that`s clear, but we made mistakes at the back and it proved costly. I understand that the supporters share these frustrations and it is vital that we show to the fans that we will get better. I feel that we will. I have confidence in this group of players and I feel that they will show that they can be a good team... "
It might have been Craig Robertson`s introduction to the new Dunfermline Manager but these were the programme notes of the troubled Rangers boss, Paul Le Guen.
Quite possibly Rangers looked forward to, foot of the table, Pars visit less than the visitors. Another banana skin in their fruit cocktail of unhealthy results and the Ibrox board might be experiencing the same procedures that John Yorkston and his fellow directors have been following since Jim Leishman returned to his post as Director of Football.
While the new Dunfermline boss, Stephen Kenny does not take over until Saturday 18th November for the home match v Dundee United, already there was an incentive for those wearing the black and white to stake a claim for a start in the new managerial era. Unfortunately as has become the norm, the Pars injury list was well filled. No Darren Young, Andy Tod, Phil McGuire or Mark Burchill for the trip to Ibrox and although you might have expected tactical changes after the previous Saturday`s reversal at home to Falkirk, the changes were more to do with availability for selection rather than taxing Craig Robertson`s choices.
Rangers made five changes from the side that started in their final appearance in this season`s CIS Insurance Cup; Barry Ferguson, Dado Prso, Karl Svensson, Charlie Adam and Lee Martin came in to replace Thomas Buffel, Sasa Papac, Gavin Rae, Kris Boyd and Filip Sebo.
Stephen Simmons and Owen Morrison got the match underway with Dunfermline playing towards Copeland Road Stand end, with a strong wind on their backs. Rangers were first to create an opportunity with Lee Martin being sent up the left wing by Charlie Adam. He evaded the challenge of Aaron Labonte but Sol Bamba came in with a telling tackle on the byeline just as Martin was ready to set up his strikers with a sitter.
In 8th minute Prso laid back for Adam to belt a shot at goal from 25 yards but Simmons head interupted the trajectory and deflected the ball wide for a corner. Simmons next involvement was on the edge of the Rangers box, switching a Hamilton cross to Owen Morrison inside the D. Unfortunately the Irishman decided to take a touch and then despatched the great chance over the crossbar.
Scott Morrison produced a brave diving header to divert a Steven Smith cross wide of the left post. Brave because it was set up for a classic own goal but the ex Don made good judgement. When Roddy McKenzie went up in 14th minute to met Novo`s ball in from the right, the Pars keeper prevented Charlie Adams header going into his net but lay injured. There were a few anxious moments pondering whether 17 year old ex Ger Greg Paterson would be making his SPL debut. After a lengthy period of treatment Roddy was able to continue.
With 19 minutes on the clock Martin set up Smith again but when the ball came over it was a Dunfermline head that got to it first and from the ensuing corner Svensson headed narrowly wide left. Prso sent a headed effort over the bar and McKenzie was nicely out to pluck a free kick in from the right out of the air. Further pressure was placed on the Pars defence when Scott Morrison was light with his pass back but McKenzie recovered and then did enough to limit Rangers to a corner that Ferguson wasted.
Simmons slid in to block a good chance on the half hour as a real scramble failed to yield anything for Ferguson or Prso. The best chance then came the Fifers way as the ball broke off Bamba for Owen Morrison to break up the right. Two men closed in on him and as he released the ball to Crawford, the offside decision was a bit harsh. Bamba was dominant in defence and Jim Hamilton turned a dangerous ball away from Prso after Clement had picked him out on the right side of the Pars box.
Half time was approaching and for Pars fans it felt that the longer Rangers were kept at bay the better. The home support were desperate for success and while this failed to materialise the more the pressure built on Paul Le Guen and his selection.
Half Time: Rangers 0 Dunfermline 0
Roddy McKenzie was out long before the teams with goalkeeping coach Stevie Woods obviously making sure that the Pars keeper was fit to continue. Kris Boyd was a half time substitute for the Gers who resumed their territorial advantage over Dunfermline without yet creating any threat to McKenzie`s shut out.
There might have been a home penalty when Hutton`s effort appeared to come off Jim Hamilton`s hand and then moments later Ferguson`s cross was headed inches wide off Charlie Adam. Dunfermline were under the cosh and another Adam corner sailed over the six yard box and behind off Novo.
Ten minutes into the half Steven Smith looked to have prevented the progress of Owen Morrison with the use of an elbow. The Rangers player was shown yellow and then very quickly Simmons found himself seeing the same card.
Crawford tested Allan McGregor with a 59th minute effort, breaking with Morrison to his right but rocketing a good connection that the former Pars keeper had to beat down. Play was swiftly back at the other end thanks to a speedy interaction from Hutton to Prso to Novo. The latter`s cross looked certain to be converted by Ferguson but McKenzie pulled off a terrific save to keep the Gers out. That al changed in 61st minute.
Dado Prso flicked down to Kris BOYD in the penalty box and the striker turned Bamba to send the shot into the corner of the net. Rangers might have added to that just four minutes later but Adam`s free kick was headed just over by Prso.
Dunfermline were not yet out of this match with several chances coming their way as Hamilton was put up front alongside Crawford. In 67 minutes Scott Morrison gathered from a corner and fired a diagonal ball into the Rangers box. The ball escaped straight through and out to the right of goal. Had Simmons or Bamba extended a boot then he ball might well have ended up in the net.
Two minutes later Owen Morrison took the ball to the byeline to send a ball over from the left and Gary Mason was given a shooting chance from 20 yards. He struck it well but the shot was deflected wide left.
Rangers should have notched number two in 71 minutes when Novo managed to head over from under the bar on the right. Then McKenzie saved really well from Prso as Rangers burst forward and although Boyd netted he was in an offside position.
Goal number two did duly arrive in 77 minutes when Prso played in SMITH on the left side of the area. The Rangers man smacked in his first ever goal for the club with a low drive that appeared to give McKenzie no chance.
There was a long range effort from Hamilton but it was Rangers who looked more likely to score. Bamba did well to head away when Ferguson looked like netting but by this time Robbo`s men were well beat.
With all three subs committed the Pars had to finish the game with only ten men after an injury to Greg Shields (crushed ribs) in 91st minute. The 2-0 defeat coupled with a 1-0 victory for Dundee United over Kilmarnock courtesy of a Noel Hunt goal, meant that when Stephen Kenny arrives he will take over a side three points adrift at the foot of the table.
RANGERS: Allan McGregor; Alan Hutton, Brahim Hemdani, Karl Svensson, Steven Smith; Jeremy Clement, Barry Ferguson (c), Charlie Adam ; Nacho Novo, Dado Prso, Lee Martin (Kris Boyd HT)
SUBS: Stefan Klos (GK), Sasa Papac, Gavin Rae, Filip Sebo, Antoine Ponroy
SCORER: Boyd (61), Smith (77)
YELLOW CARD: Smith (55)
DUNFERMLINE: Roddy McKenzie; Aaron Labonte, Greg Shields (c), Souleymane Bamba, Scott Morrrison (Calum Woods 77); Greg Ross, Stephen Simmons, Gary Mason, Owen Morrison (Frederic Daquin 83); Jim Hamilton, Stevie Crawford (Iain Williamson 91)
SUBS: Greg Paterson (GK), Scott Muirhead, Nick Phinn, Davie Muir
YELLOW CARD: Simmons (57), Bamba (73)
REFEREE: Steve Conroy
WEATHER: Changeable, Blustery 7ºC

Rangers Official Match Report
Â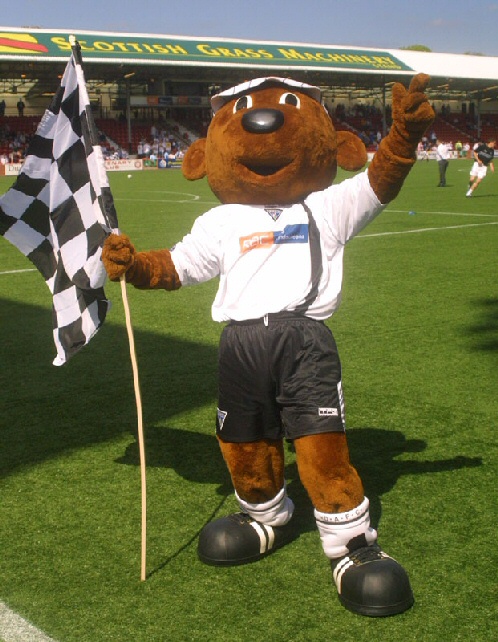 Sammy says thanks very much for visiting our web site where we have lots of news for young Pars fans.