SPL v Hibernian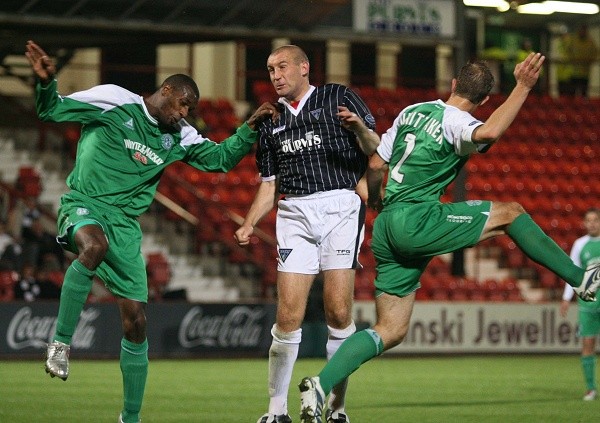 DUNFERMLINE 0 HIBERNIAN 4 Date: 21/10/06/

Fixture: BOS SPL Premier League, Kick off 19.45

Attendance: 6057
Referee Mike McCurry

Pars fans might have been forgiven if the Bluebell Polka had made way for Boomtown Rats favourite `I Don`t Like Mondays` after this very poor performance in front of a national TV audience.
This game was to be Dunfermline`s chance to show that their recently improved home form, with wins against St Mirren and Kilmarnock, could be sustained in front of the TV cameras for the first ever SPL Monday night live match.For Hibs caretaker manager Mark Proctor, it would provide an opportunity for him to stake his claim to be awarded the job vacated by Tony Mowbray on a permanent basis.
Dunfermline were forced to make a change to their starting line up after Scott Wilson failed to recover from injury in time.Sol Bamba took his place and Freddie Daquin dropped to the bench to accommodate the returning Mark Burchill. Scott Muirhead, a starter against Motherwell, failed to make the squad and was replaced in the starting line up by Greg Ross.
Hibs were able to field the same starting line up that so nearly defeated Hearts last week, with goalkeeper Zbigniew Malkowski retaining his starting place despite his blunders in the Edinburgh derby. Before kick off, both teams received a generous round of applause as they showed racism the red card, but that was very nearly all the clapping that the Pars won all night.
From the start, the Hibs midfield showed that they intended to boss this game. The first real chance of the game fell to Chris Killen but he was ruled offside as he planted the ball in the net after 7 minutes. Dunfermline though went straight up the park and thanks to a fine ball from Greg Ross, Mark Burchill got ahead of the Hibs defence only to find Malkowski survive despite his clearance being charged down by the onrushing Burchill.
Ivan Sproule was finding space on the right for Hibs but good defensive work by Labonte, ensured that nothing was to come of these early runs. A Brown pass in the 12th minute brought Sproule into the game again and Bamba was happy to clear for a corner.As Dunfermline sat deep and failed to clear, the ball was returned for giant centre half Rob Jones to bullet his header from four yards, only to see de Vries pull off a wonder save and turn the ball round the post for a corner. Dunfermline still couldn`t get the ball away and Killen volleyed over when he should have done better after he was clear from 8 yards out.
As the first half reached the midway stage, Sproule was beginning to play a more prominent role and a low drive across the goal from the right was only just missed by Michael Stewart.
In the 21st minute, Jim Hamilton was fouled on the halfway line.Greg Shields floated in a high free kick which was missed by the Hibs defence at the back post. Mark Burchill was first to retrieve and his angled near post shot almost caught the big Hibs keeper out as he spilled the effort to give the Pars their first corner of the game. Then two minutes later Mark Burchill`s run was brought to an abrupt halt as he appeared to be upended just inside the box by Malkowski. Despite strong penalty claims from Pars players and fans, referee Mike McCurry was having none of it and waved play on.
Ivan Sproule`s speed was now beginning to hurt the Pars defence and in the 28th minute his shot was brilliantly saved by de Vries. On the other flank, Merouane Zemmama was also causing problems and he too was only stopped by another de Vries save in 32 minutes.
Dunfermline were finding it hard to string together any meaningful moves but they did have a rare pop at goal two minutes later as an angled Gary Mason shot from 30 yards skimmed the netting on its way over the bar.
Greg Ross became the first name in the book in 35 minutes after he tussled with Scott Brown as the Hibs midfielder looked as if he might lead a breakaway on the Pars goal.
Just as Dunfermline appeared to be getting to half time with their goal intact, Hibs took the lead in 43 minutes.Killen collected the ball thirty yards from goal and as Bamba failed to deal with the threat, he sent a through ball into the Pars box. The speedy Ivan SPROULE got there first to chip de Vries from ten yards and to give Hibs the lead that their overall play had merited.
Pars manager Jim Leishman made a change at the interval, altering the formation and bringing in a wide player Freddie Daquin for midfielder Greg Ross. Freddie was promptly into a run but a mistake by Mason allowed Hibs to break quickly.Thankfully Sol Bamba was there to make the saving tackle.
Hibs were now really in control and Sproule, no doubt buoyed by his goal, started to run riot as Aaron Labonte struggled to contain his play down Hibs right. Stewart sent in a curling shot that came off the crossbar and it only seemed to be a matter of time before Hibs would score again.Instead, however, Dunfermline briefly rallied and after a great run from Labonte, he centred for Mason to try his luck from 25 yards. His shot was hit with power but Malkowski was able to get across and push the ball out for a Dunfermline corner.In another penalty box incident referee McCurry yet again turned down Pars` penalty claims, as the ball seemed to cannon off a Hibs defender`s hand.
But that was to be the last chance Dunfermline were to produce and in 62 minutes Hibs increased their lead.Once again it was that man Sproule who caused the damage with another mazy run. The ball came to Chris KILLEN and although Greg Shields attempted a goal line headed clearance his shot ended up in the net.
From there on Dunfermline seemed to lose whatever heart they had and Hibs simply dominated the rest of the match.They seemed to be able to hold the ball at will and Dunfermline couldn`t get forward beyond the halfway line with a succession of misplaced passes.The home fans lost their patience too and no doubt the sporadic booing did little for the players` confidence. But there is no doubt that Dunfermline were outclassed by a very good Hibs side, and Dunfermline had Dorus de Vries to thank that the defeat was not even more emphatic.
Jim Leishman did try to change things by bringing on two more substitutes, McCunnie for Woods in 73 minutes and Owen Morrison for Burchill in 78 minutes, but none of this succeeded in stemming the tide.Instead, and it has to be said after more heroics from de Vries, substitute Abdessalam BENJELLOUN scored the goal of the night as he cut inside from the right to hit an emphatic drive past the Pars keeper in the last minute of normal time. And then, as if to rub in their superiority, KILLEN had the easiest job to score number four as he headed home unchallenged in injury time from the final corner of the game.
Without doubt Dunfermline missed the presence of Scott Wilson and Phil McGuire in the heart of defence, but even they would have struggled to keep this fast and impressive Hibs team at bay. It`s back to the drawing board for beleaguered Pars manager Jim Leishman in time for another tricky encounter at Tynecastle this weekend.
DUNFERMLINE: Dorus de Vries; Calum Woods (Jamie McCunnie 73), Greg Shields, Souleymane Bamba, Aaron Labonte; Greg Ross (Freddie Daquin HT), Gary Mason, Darren Young, Mark Burchill (Owen Morrison 78), Stevie Crawford, Jim Hamilton.
SUBS NOT USED: Roddy McKenzie, Stephen Simmons, Andy Tod, Iain Williamson
YELLOW CARD: Ross (35).
HIBERNIAN: Zig Malkowski; Steven Whittaker, Shelton Martis, Rob Jones, David Murphy (Stephen Glass 54), Ivan Sproule (Abdessalam Benjelloun 80), Michael Stewart, Kevin Thomson, Merouane Zemmama, Chris Killen, Scott Brown (Jay Shields 90).
SUBS NOT USED: Andrew McNeil, Hogg, Steven Fletcher, Dean Shiels.
SCORERS: Sproule (44), Killen (62), Benjelloun (89), Killen (90)
REFEREE: Mike McCurry.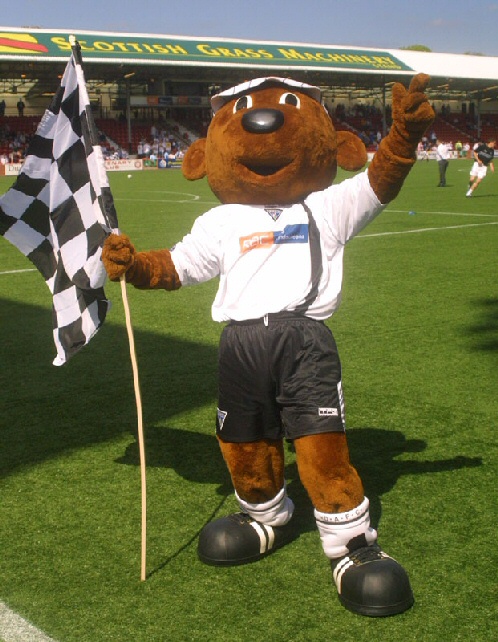 Sammy says thanks very much for visiting our web site where we have lots of news for young Pars fans.