CIS Insurance Cup v Ayr United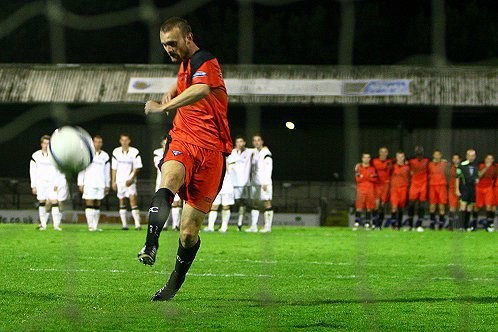 AYR UNITED 0 DUNFERMLINE 0 Date: 22/08/06

Fixture: CIS Insurance Cup Second Round

Attendance: 1507, Kick Off: 19:45

Referee: Craig Thomson, Weather: Overcast 17ºC

Scott Muirhead, Mark Burchill, Aaron Labonte and Stephen Simmons joined the sidelined Pars but Darren Young and Greg Ross were in for their first starts of the season. Owen Morrison and Dorus de Vries, for the rested McKenzie, completed the changes - four from the side that kicked off at Tannadice.
Eleven years ago to the night Dunfermline needed an extra time winner from Marc Millar to ease past Ayr United in the Challenge Cup. This CIS Insurance Cup tie was the home side`s sixth game in 17 days but it was the depleted Pars side that would be seeking an early settlement. The home side kicked off attacking the town end but were soon on the defensive as Morrison and Young did their best to exert the early pressure.
On eight minutes Jerome Vareille turned back the ball for Raymond Logan to make the first shot on target of the evening but De Vries easily held the low drive from the edge of the box. Dunfermline were playing it patiently and with the exception of a long ball from de Vries nodded on from Tod into the Ayr box there was not much to trouble keeper Mark McGeown.
A 20th minute free kick was sent over from the right touchline by Young but Scott Wilson could not control it as it fell at his feet 15 yards out and Ayr cleared. Five minutes later Calum Woods powered in Dunfermline`s first decent attempt of the night after the ball was swung over from the right by Morrison and fed on by Ross for the Englishman to smack from 20 yards but unfortunately on to the crossbar and over the top.
Young and Tod tried to get in a shot from a Pars free kick in 31 minutes but it was Souleymane Bamba who got the chance to shoot but he was narrowly wide of the right post from 18 yards. When Gary Mason conceded a 38th minute free kick some 30 yards out Chris Strain curled in a good delivery that de Vries had to be alert to stop as Chris Robertson diverted the ball on target.
Two minutes from the interval Woods got down the left to cross deep into the six yard area but Toddy`s header went straight to McGeown. Dunfermline finished the half in Ayr territory but it was far from an impressive first half showing. Not too exciting then in the opening 45, just two corners both for Ayr while Robert Connor`s 3-3-3-1 formation seemed to frustrate the Fifers efforts with de Vries was the busier of the stoppers.
Half Time: Ayr United 0 Dunfermline 0
There was a bit more a Cup tie feel on the resumption with Greg Ross picking out Andy Tod from the kick off and causing a shaky moment for the opposing defence. In 49 minutes a Phill McGuire effort from distance was turned around his left hand post by McGeown and from the corner kick, Morrison picked out Tod 15 yards out and the Ayr keeper had to pull off another save.
Wilson headed a Strain lob into the box out for a corner on the right but when de Vries came out to clutch it was Dunfermline who ended up with the opportunity. The Dutch keeper`s throw sent Morrison up the left but Tod could not get enough on the ball to test the keeper.
De Vries was back in serious action in 65 minutes when Bamba could not halt Vareille`s break through the middle and the keeper punched the bal away some 16 yards out of his goals. The clearance fell for Strain and faced with an open goal he lashed his effort on to the crossbar and out.
Leishman brought on Calum Smith for his debut and then Craig Wilson but it was Ayr who were beginning to sense that they could cause an upset. When McGuire was yellow carded for a tackle 25 yards out Strain was afforded another crack at goal but again de Vries held well.
There was some light relief came when shots from Smith and Mason kept the play well away from de Vries. Ayr were caught out in the Dunfermline half in 80th minute but Craig Wilson`s run to lay off to Morrison ended with the Irishman`s shot being blocked on the top of the Ayr box.
Both sides looked eager to avoid extra time, Morrison fired narrowly wide and then when Ayr pumped the ball into the Pars penalty area Bamba leaned right over substitute Wardlaw flattening him as he headed the ball away. Referee Thomson pointed to the spot and with four minutes remaining the Pars hopes of another CIS Cup run looked doomed. Ryan Caddis stepped up for the penalty and sent his effort right. Fortunately Dorus de Vries went the right way and parried the shot with his defence closing in to blast the ball away.
Full Time: Ayr United 0 Dunfermline 0
Phil McGuire made McGeown save a low drive in 96 minutes while three minutes later Paul Weaver sent the low low but wide of the Pars right post. Ayr were by no means out of this match and were giving as good as they got. Half time in extra time came without a goal and after a water break the teams changed ends and started again.
A deadlock breaker was offered in the first minute of the second extra period when Bamba fouled Wardlaw 25 yards out but David Lowing despatched the free kick over the four man wall and the crossbar. There was a let off after a Caddis-Vareille move set up Dunn for a fierce ball across the six yard box but with Wardlaw racing in the ball whizzed through and out on the right.
Both sides looked extremely tired as the game entered the final five minutes and little looked like preventing the penalty shoot out although it did require another good save from de Vries as Varielle stabbed in an effort from twelve yards. Ayr finished strongly forcing a corner down on the right with just 90 seconds remaining and there was some frantic scrambling to clear the danger.
After Extra Time: Ayr United 0 Dunfermline 0
Dunfermline won 7-6 on penalties with Scott Wilson scoring the decisive penalty. They were a nervous affair:-
Penalty 1 - Jerome Vareille low left, 1-0 to Ayr
Penalty 2 - Darren Young, high middle, 1-1



Penalty 3 - Paul Weaver, hit right goalpost 1-1
Penalty 4 - Calum Woods, hit right saved by keeper. 1-1


Penalty 5 - David Dunn, Low left 2-1
Penalty 6 - Phil McGuire, rocket right 2-2


Penalty 7 - Chris Robertson, low left 3-2
Penalty 8 - Owen Morrison, high left 3-3


Penalty 9 - Ryan Caddis, low right, Dorus de Vries saved 3-3
Penalty 10- Gary Mason, right footed to left, off the crossbar and over 3-3


Penalty 11 - Eddie Forrest, middle left 4-3
Penalty 12- Craig Wilson, left keeper touched but failed to stop 4-4


Penalty 13 - Mark Casey, low left 5-4
Penalty 14 - Andy Tod, high left 5-5


Penalty 15 - David Lowing, left footed to middle left 6-5
Penalty 16 - Calum Smith, confidently low right 6-6


Penalty 17 - Craig Pettigrew, hit crossbar and over 6-6
Penalty 18 - Scott Wilson, centre right 7-6

Full credit to Craig Wilson, Andy Tod and Calum Smith, all of whom converted penalties in the sudden death shoot out when they had to score to keep Dunfermline in the Cup.
DUNFERMLINE: 3-5-2: Dorus de Vries; Scott Wilson, Phil McGuire, Soulemayne Bamba; Greg Ross (Craig Wilson 70), DarrenYoung, Jamie McCunnie (Calum Smith 65), Gary Mason, Calum Woods; Andy Tod (c), Owen Morrison


SUBS NOT USED: Roddy McKenzie, Iain Campbell, Nick Phinn


STRIP: All Red Away strip


YELLOW CARDS: McCunnie (61), McGuire (69), De Vries (86), Bamba (103), Woods (111)



AYR UNITED: Mark McGeown; Martyn Campbell (Craig Pettigrew 50), Eddie Forrest, Chris Robertson, David Lowing; Chris Strain (David Dunn FT), Mark Casey, Paul Weaver, Raymond Logan (Gareth Wardlaw 72), Ryan Caddis; Jerome Vareille,

SUBS NOT USED: Gavin Friels, Darren Johnson (GK)

YELLOW CARD: Robertson (53)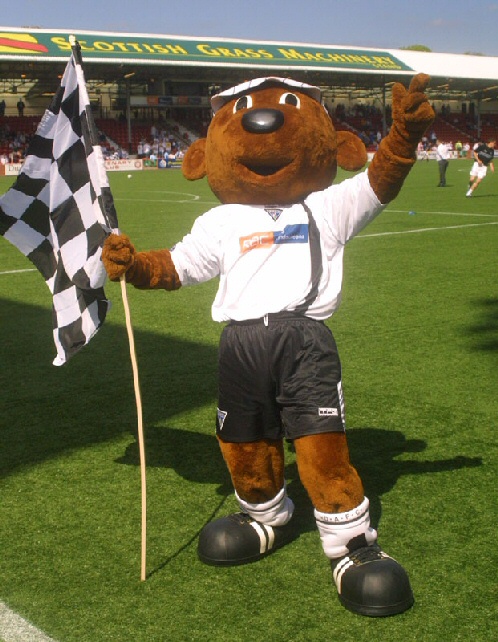 Sammy says thanks very much for visiting our web site where we have lots of news for young Pars fans.