Pre Season Friendly v Carlisle United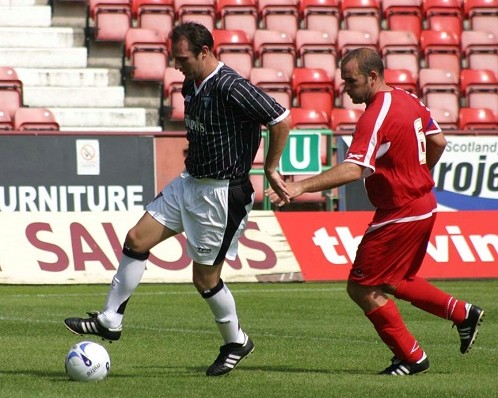 DUNFERMLINE 0 CARLISLE 2 Date: 22/07/06

Fixture: Pre Season Friendly

Attendance: 1067, Kick Off: 14:00

Referee: Mike Tumilty Weather: Sunny 21ºC

The starting eleven was quite a different looking Dunfermline team with only Craig Wilson, Gary Mason and Aaron Labonte having been more than a season at the club. Noel Whelan was the trialist listed for the Pars. Jim Leishman left Greg Shields, Stephen Simmons and Owen Morrison on the bench with Craig Wilson, Souleymayne Bamba and Jamie McCunnie getting a start as Burchill and Daquin got the game underway in bright sunshine with the Pars attacking the McCathie Stand end.
First pressure came when a Calum Woods cross into the Carlisle box was headed behind for a fifth minute corner on the right and Muirhead`s delivery arrived for Bamba to rise but head over the crossbar. Muirhead had another chance to provide danger from a free kick just 25 yards out but his prod right deceived not only the opposing defence but also Craig Wilson, for whom the ball was intended.
Wilson was down his wing in 15 minutes however to send in an inviting ball that Mark Burchill tested Kieran Westwood. The strikers well taken header was turned around his left hand post by the yellow shirted keeper. Owen Morrison was an early sub entering the fray in 20 minutes as Scott Muirhead limped off.
McCunnie got a shot on target three minutes later after good build up play by Burchill on the left, while at the other end Gary Mason pinched the ball off Adam Murray as he was about to release a shot at McKenzie. Calum Woods tested Westwood with a 35 yard pile driver before a free kick on the edge of the box for a crude tackle on Wilson allowed Mason to roll the ball into the path of Burchill for a powerful drive at goal but the attempt was blocked out by the Carlisle`s wall.
The best shot of the game so far came in 27 minutes when Morrison swung over a ball that Daquin just couldn`t get enough on but Wilson cut back for Bamba to melt from the edge of the box but unfortunately straight into Westwood`s arms. On the half hour Carlisle`s Kevin Gall should have produced something for McKenzie to save but he mishit Bridges` ball across the penalty box from the left.
It looked like Dunfermline were going to score in 37 minutes when Burchill`s pass left for Morrison was clipped by defender Paul Arnison into the Northern Ireland man`s direction. Owen tried a delicate left footed chip from 15 yards that sneaked agonisingly outside the far post.
Four minutes from the break Owen Morrison took on Arnison down the left beating him twice before crossing to win a corner. Next a Daquin cut back for Jamie McCunnie was walloped a fine shot from 25 yard against the visitors right post with Westwood beaten. Indeed he was lucky not to have the ball rebound back off him into the net.
Not a bad first half performance from the Pars, much more promise there so more of the same please in the second half.
Half Time: Dunfermline 0 Carlisle 0
Iain Campbell was a half time sub for Aaron Labonte, Calum Woods crossing to play right back. Carlisle were quicker out of the blocks in the second half and Dunfermline took a wee while to rediscover their positive first half play. The visitors kept play in the Pars half for much of the opening ten minutes with Woods heading clear a couple of dangerous balls into the box.
On 56 minutes Burchill was sent through on goal and he tumbled as he went past Peter Murphy, no whistle so Mark got up and tried again. The ball broke to Daquin in the centre of the box but two defenders denied him a shot and a glorious opportunity had been passed off. Burchill was left in disbelief with his hands on his head.
Carlisle battled hard to get into the match and Bamba pulled back his man inside the box but even the 174 travelling supporters put up much of an appeal. Gary Hawley and Michael Bridges searched for a route through the Dunfermline defence and on 63 minutes Paul Murray raced down the left and centred a ball that Kevin GALL lifted into the net from 10 yards.
The visitors then brought on former Pars trialist Neale McDermott for Adam Murray and within four minutes the lead had been increased. Kevin GALL chose to shoot from all of 30 yards and the ball soared beyond McKenzie into the top right corner. Cruel stuff since the Pars did not deserve to be two down with even the Carlisle supporters chant of "Are you Scotland in disguise?" confirming the disastrous four minutes. Dunfermline changed things with the introduction of Stephen Simmons and 31 year old trialist Noel Whelan.
With 76 minutes on the clock Morrison played the ball wide for Wilson and he in turn despatched over a good ball into the six yard box that was headed behind to prevent Whelan opening the Pars account. Next minute Whelan supplied a useful cross in from the right that Calum Smith came very close to connecting with as he rose six yards out. Simmons has a screaming effort from 30 yards in 81 minutes but he was well wide right of goal.
In the end the Football League Two champions left with what looked like an easy victory from their first ever visit to East End Park. The scoreline may just have been warranted on their second half performance but Dunfermline Athletic in this match looked to be much improved in their third friendly in a week.
Dunfermline: Roddy McKenzie; Aaron Labonte (Iain Campbell HT), Souleymane Bamba, Phil McGuire (Greg Shields 72), Calum Woods; Craig Wilson, Jamie McCunnie (Stephen Simmons 68), Gary Mason, Scott Muirhead (Owen Morrison 20); Mark Burchill (Calum Smith 75), Freddie Daquin (Trialist 68)


Dunfermline Subs: Bryn Halliwell, Nick Phinn, Alan McDonough


Dunfermline Strip: Home black and white shirts with white shorts






Carlisle: Kieran Westwood; Paul Arnison, Kevin Gray, Peter Murphy, Zigor Aranalde (Rod Edwards 70), Chris Lumsdon (Chris Billy 84), Paul Murray (Simon Hackney 81), Adam Murray (Neale McDermott 63), Kevin Gall, Karl Hawley, Michael Bridges (Derek Holmes 83)


Carlisle Subs: Anthony Williams


Carlisle Goal Scorers: Gall (63, 67)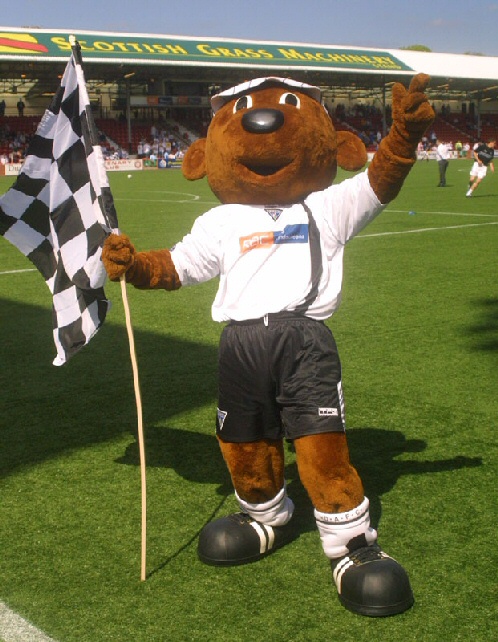 Sammy says thanks very much for visiting our web site where we have lots of news for young Pars fans.