Pre Season Friendly v Gretna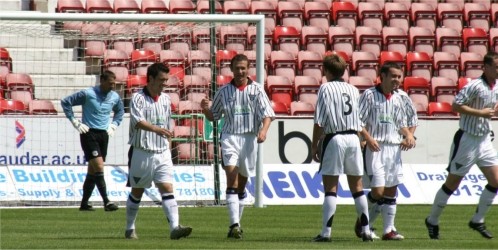 DUNFERMLINE 1 GRETNA 3 Date: 15/07/06

Fixture: Pre Season Friendly

Attendance: 1032, Kick Off: 14:00

Referee: Crawford Allan, Weather: Sunny 23C

Gretna made one change from the team that faced Hearts in the Scottish Cup Final just two months ago. Former Par Davie Nicholls dropped to the bench to be replaced by Jamie McQuilken.

Dunfermline have Greg Shields and Scott Wilson available to start their first games of the season. New signing Jim McIntyre started upfront beside Mark Burchill and Owen Morrison, under the trialist tag, starts again following his two games in Holland. Keeper for the first half was Dutch trialist Dorus De Vries and freshly signed Roddy McKenzie sat on the bench for the first half.
The Pars took up a 4-3-3 formation as they attacked the empty East Stand end and in the fourth minute Owen Morrison latched on to a nice through ball from Burchill that required some resolute defending as the Irishman jinked his way in from the left side of the Gretna box.
A mis-struck pass from Chris Innes gifted Dunfermline a great chance in the fifth minute that Jim McIntyre accepted 25 yards out. Having advanced to the edge of the box he then back heeled the ball for Mark Burchill to strike. Alan Main stopped the shot but the ball broke nicely for Jim McIntyre. This time the ball was cleared off the line by defender Mark Birch but rebounded off his keeper MAIN and back into the net.
All smiles as Pars accept a comedy club goal
James Grady tried to notch a quick equaliser but his shot was narrowly wide of the left goalpost. Play was quickly returned to the Gretna end with Daquin and Burchill combining to tee up a chance for Morrison but his powered shot from 15 yards was blocked out.
The Pars lead was short lived as after 11 minutes Kenny DEUCHAR proved unstoppable leaving Iain Campbell in his wake to slot in at an angle from 8 yards. The shot gave De Vries little chance and Gretna were back in the game. Daquin had a nice try in 19th minute, chesting down a Nick Phinn cross but he was too high with his shot.
Kenny Deuchars opening Gretna`s account
The match continued to flow from end to end with Deuchar and Tosh cutting a route through the Pars defence to give Grady another pop at goal. De Vries parried the well hit shot and Grady lobbed the return on to the roof of the net. At the half way stage in the first half Daquin made ground up the right before delivering a great ball into the six yard box. The bounce took the ball over Burchill but McIntyre was there to loop a shot on target that was headed behind for a corner.
Ten minutes from half time Gretna rattled the Pars crossbar with a screamer of a shot from Ryan McGuffie. John O`Neil broke through the left channel to feed the ball out wide for Gavin Skelton. With nobody challenging him he advanced to the byeline to send over a dangerous ball that eventually went behind off the woodwork. Gretna had territorial advantage, Deuchar and Tosh were the main threat but Grady was the one who tested De Vries forcing him to pluck out a nice shot from 20 yards that was destined for the top right corner.
Steven Tosh sent over another ball from the right that Grady drilled just wide of De Vries` left hand post. Gretna finished the half well forcing a corner and generally pinning Dunfermline back.
Half Time: Dunfermline 1 Gretna 1
Left: Owen Morrison and right Jim McIntyre

Gretna got the second half underway with no fewer than six substitutes being used. David Mathieson took over from Alan Main in goals with Davie Nicholls, Neil McFarlane, Alan Jenkins, Brendan McGill and Martin Canning replacing Birch, Innes, Tosh, O`Neil and Grady. In complete contrast Craig Robertson went with the same personnel.
Goalkeeper trialist Dorus De Vries and Jim McIntyre
In the ninth minute of the half Skelton pushed the ball into the right side of the Pars penalty box, De Vries came diving out and Kenny Deuchar tumbled over the horizontal Dutchman. A soft penalty by anyone`s reading but Ryan McGUFFIE whose last penalty was in the Hampden Cup Final placed the spot kick low to the keeper`s left to make it 2-1.
One minute later in the 56th minute McGuffie came close to increasing the borderers lead, rolling the ball just outside the left post from an acute angle on the right. The Gretna third was not long off however. Craig Robertson withdrew his two central defenders to bring on Andy Tod and Craig Wilson and before the team had time to adjust Gretna were causing all sorts of problems. Deuchar was put through the middle and de Vries had to be out to divert the strikers effort wide for a corner on the right.
From the resulting corner Canning rose to head on target and DEUCHAR flicked on with a back header that went in off the underside of the crossbar. 3-1 to the visitors then after 63 minutes.
Gretna`s third goal

Scott Muirhead and young Calum Smith came on for Jim McIntyre and Owen Morrison for the final quarter of the game. In 75 minutes De Vries had to stop a McGill effort after the half time sub got through to release a shot from the edge of the box while at the other end David Mathieson was rarely tested, his role being limited to gathering over hit balls. It wasn`t until 87 minutes that Mathieson was seriously deployed when Daquin sent Smith in on the right side of the Gretna box. De Vries saved another Gretna shot from Alan Jenkins but the match was to end in defeat.
Left: Steven Simmons in a defensive role and debut boy Davie Muir (right)
Dunfermline can take some positives from this defeat. Greg Shields, Scott Wilson and Scott Muirhead all were fit to feature; Freddie Daquin continues to look sharp and dangerous. McIntyre and Burchill have the signs of becoming a partnership and De Vries is a commanding keeper although had the odd shaky moment. Probaby the best bonus other than getting up to match fitness was that Dunfermline appeared to finish the game without adding to their injury list.
Dunfermline: Dorus De Vries; Jamie McCunnie, Greg Shields (Craig Wilson 58), Scott Wilson (Andy Tod 58), Iain Campbell; Freddie Daquin, Stephen Simmons, Owen Morrison (Scott Muirhead 68); Mark Burchill (David Muir 80), Jim McIntyre (Calum Smith 68)


Dunfermline Subs: Roddy McKenzie, Clark Kay, Neil Fenwick


Dunfermline Strip: Home White and Black 2005-06


Dunfermline Goal Scorers: Main (5 og)





Gretna: Alan Main (David Mathieson HT); Mark Birch (Jenkins HT), Chris Innes (Canning HT), Derek Townsley, Jamie McQuilken; Steven Tosh (McGill HT), Ryan McGuffie, John O`Neil (David Nicholls HT), Gavin Skelton; Kenny Deuchar, James Grady (Neil McFarlane HT)



Gretna Goal Scorers: Deuchar (11, 63), McGuffie (55 pen)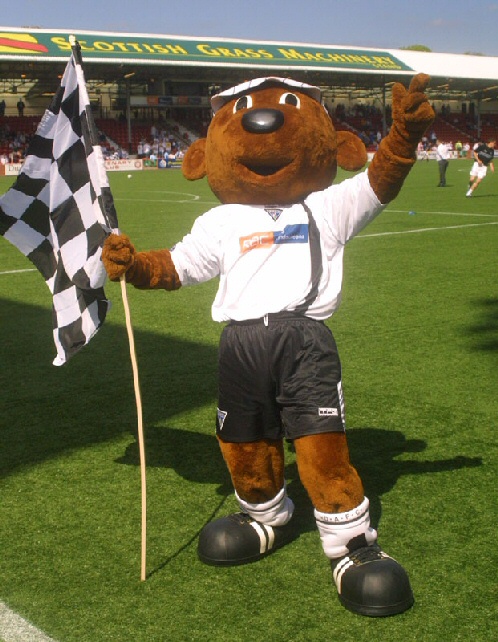 Sammy says thanks very much for visiting our web site where we have lots of news for young Pars fans.