Pre Season Friendly v Rizespor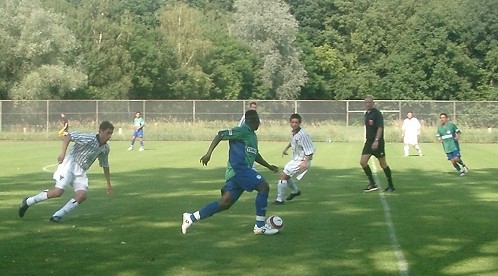 DUNFERMLINE 1 RIZESPOR 2

Date: 10/07/06

Fixture: Dutch Tour Friendly

Venue: Sportpark Lonapark, Loenen

Kick Off: 5.00pm

Referee: Henk de Man

Weather Sunny 25°C
Dunfermline`s second match on their pre season tour to Holland brought them up against tough Turkish opposition, Rizespor, at Lonapark, Loenen near Apeldoorn on Monday afternoon. The injury wrecked team virtually selected itself as Leishman was left with only fifteen fit players. A thigh strain to Scott Morrison and severe blistering to Iain Campbell restricted the choice. New signing Phil McGuire was not fit enough to play and Scott Thomson is now likely to require an operation on his achilles.

As if injuries did not inflict enough problems their opponents from the Black Sea coast got off to the best possible of starts scoring in 55 seconds. Eray cut a path through the Pars midfield before sending the ball wide left for Cembaki to deliver a high ball to the far post where CIRI rose to head past Halliwell.
Dunfermline got their composure and in nine minutes trialist Neale McDermott forced play forward threading the ball wide to the right corner flag from where Freddie Daquin returned it into the path of the Englishman but his centre was lucked out of the air by Atilla. The tourists kept up the pressure but the nearest they came was from an Owen Morrison blast that soared over the crossbar into the adjoining tennis court.
In 26th minute BASHIR struck a powerful shot from 40 yards. The right footed shot was telegraphed and one might have expected Halliwell to have at least moved before the ball hit the net. Dunfermline`s reply was a Stephen Simmons effort that deflected over the crossbar and their appeared to be hope of a recovery as Burchill and Daquin seemed to show signs of gelling.
The Turks had two penalty claims before the break but the appropriately named ref - Mr De Man - waved both appeals away. In 41 minutes Bashir`s pass into the box was perfect for Cire but he was squeezed out and sent tumbling as two defenders came together. Henk De Man signalled that Pars had taken the ball. Next a shot came off Aaron Labonte`s arm and Rizespor continued to be out of luck as Halliwell did well to hold a Cire drive.
Possession in the first half was all to easily lost and the opposition made it very hard for the chasing Pars players in the 25°C heat.
Half Time: Dunfermline 0 Rizespor 2

Trialist keeper Dorus De Vries (left), Nick Phinn and Robbie Foy (right)
Signing prospect Dorus De Vries took over from Halliwell between the sticks and with Craig Wilson already on for the back injured Mason, Nick Phinn was the only other half time sub for the Pars as he replaced Simmons. De Vries had a great save just four minutes into the second period, turning a free kick from the left side around his right hand post. Having successfully defended the corner, Dunfermline won one of their own without causing the Turkish defence any problems though.
De Vries had a series of good stops that kept the game alive and his opposite number also had to be out sharpish to thwart Burchill as he ran on to a Morrison through ball. Just after the midway point of the half one of the many Rizespor subs missed a sitter, shooting the ball wide of the right post from close in.
Twelve minutes from time Dunfermline struck back in style, Morrison taking a fine Burchill lay off, stepping inside a defender before despatching a cracking shot into the top right corner of the net from 20 yards. In the 87th minute Dunfermline could have snatched an equaliser. Morrison was fouled and he took the free kick himself from 30 yards out. Andy Tod powered a header on target but the keeper parried and the luckless Burchill sent the chance on the wrong side of the left goalpost.
A single goal defeat was a good result especially given the disastrous opening minute. The Turkish side had only two players who played the full 90 minutes and Dunfermline used all of their available subs, some even before preferred. The tiring Fifers finished strongly and hopefully when they have recovered from the week`s exertions the players will be up for the season ahead. New faces De Vries and Morrison must have impressed the management. John Hardiker in defence had a quiet game and Neale McDermott faded after making a huge first half effort.
Leish stressed that this match was merely a fitness exercise for the main event on 29th July and if there had been a Man of the Match award the thirteen Pars fans would surely have given it to Aaron Labonte.
DUNFERMLINE: Bryn Halliwell (Dorus de Vries HT); Jamie McCunnie, Aaron Labonte, Andy Tod, John Hardiker; Neale McDermott, Stephen Simmons (Nick Phinn HT), Gary Mason (Craig Wilson 28), Owen Morrison; Freddie Daquin (Robbie Foy 78), Mark Burchill
SCORER: Morrison (78)
RIZESPOR: Atilla; Bashir, Alleyson, Emrah, Victoria, Hasan, Eray, Cembaki, Ergin, Cire, Goyhan
SCORERS: Cire (1), Bashir (26)
REFEREE: Henk de Man (Deventer)
WEATHER: Hot and Sunny 25°C

Sidelined Pars Scott Morrison, Calum Woods, Scott Thomson, Iain Campbell and goalkeeper Sean Murdoch with Jack de Gier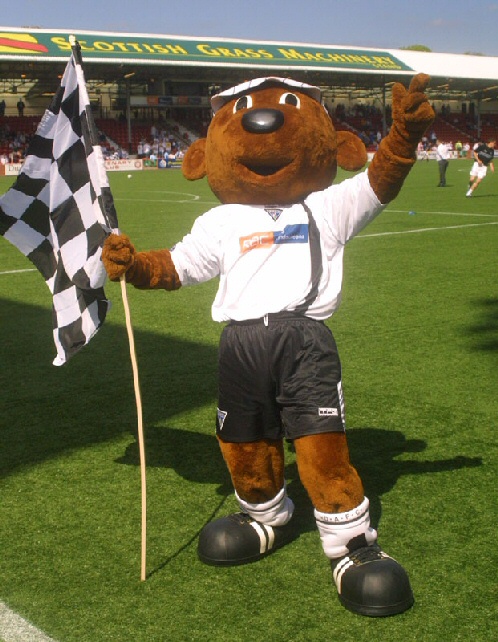 Sammy says thanks very much for visiting our web site where we have lots of news for young Pars fans.