SPL v Dundee United
DUNFERMLINE 3 DUNDEE UNITED 1 Date: 10/02/01
It`s a funny old game it has been said but after a season and a half of wanting Dunfermline to lose, here was a match that every St Mirren supporter wanted Dunfermline to win.









Dundee United started the match only one point behind the Buddies and a draw would be good enough to lift them off the bottom of the league. There was little doubting their pursuit of points in this match. Dunfermline on the other hand badly needed three points for a win to assist their challenge for a top six place.




Ian Ferguson was back in the team, Steve Hampshire started up front with Stevie Crawford and David Moss and Lee Bullen were back on the bench. No sign this match of Stewart Petrie and Gary Mason.



For the second consecutive match against Dundee United Dunfermline were forced to introduce substitute Lee Bullen in the opening minutes. In November Lee replaced Ian Ferguson and on this occasion it was Michel Doesburg who had to go off after a clash of heads with Hugh Davidson after only 45 seconds.



The first half was a fairly tame affair which Dunfermline struggled to control the play. Dundee United had more of the ball but created few chances. Five minutes into the game Derek Lilley shot over a cross from the right that Marco Ruitenbeek saved. Eight minutes later Jason Dair provided Dunfermline`s first chance but Crawford headed wide right.



United moved back towards the Dunfermline goal at the McCathie Stand end. Another Lilley cross this time from far left was safely and cooly clutched by Ruitenbeek as it headed netbound. Dair next placed a great ball into the United penalty area for Barry Nicholson but the only outcome was a throw-in.



Lee Bullen was winning a number of good challenges in the air and in the 27th minute he had one from a Dair cross that almost bothered the keeper. Instead it fell to Hampshire whose shot went wide to the left of Gallacher`s goal.



Charlie Miller did well one minute later to send Lilley in on goal but he shot straight at Ruitenbeek. Jamie Buchan`s shot from a Miller free kick went straight at Ruitenbeek and if the half had ever ignited it certainly half fizzled out with Easton collecting a yellow card for tripping Hampshire and Youssef Rossi being booked after two minutes of added time for a shoulder charge on Lilley.



SECOND HALF



Two minutes after the half time break Dunfermline won their first corner of the match. Nicholson`s corner was touched on by Skerla, Thomson and Hampshire before Fergie blasted a 25 yarder at Paul Gallacher. The commentators were unanimously suggesting that this match needed a goal when the player who only the previous day was telling us that he fancied his chances as a striker opened the account.



Crawford passed a neat ball out left towards Lee Bullen and Steve HAMPSHIRE. Steve travelled into the penalty box with two men closing him down. He tapped the ball forward maybe just a shade too far and it looked as though he might have missed the chance of a shot when he found an opening and slotted it into the far right of the net.



Steve`s first goal since 22nd January last year and the best possible way to way to enhance his future as a striker.The game came to life and only six minutes had passed before the Arabs were level. The Dunfermline players were disputing Referee Tom Brown`s decision to award the visitors a corner after it was deemed that someone deflected a Miller shot wide to the left of the Pars goal.



When the corner came over from the north east corner of the ground Derek Lilley rose to head in the equaliser. Play again swung back to the town end and another Dair cross from the bye line was turned behind for a corner as Crawford threatened to net. Five minutes later with 62 minutes on the clock Scott Thomson and Stevie Crawford united to give Hampshire another chance but he failed to get a shot in.



Next there was a fright for the Pars as a Ferguson pass was intercepted by Lilley and the break was broken down with Ruitenbeek cutting out a Craig Easton cross from the right.



David Moss had come on for Nicholson and Marinus Dijkhuizen for Hampshire. Suddenly the Pars had a greater aerial threat but remarkably the feet of the two lofty subs brought about Dunfermline`s second goal.Lee Bullen had been sending in dangerous crosses; Scott Thomson got on the end of one which Gallacher saved but in the 82nd minute a Bully cross from the right allowed Mossy a shot on target. The keeper again did well to stop the shot but when the ball broke out DIJKHUIZEN was on hand to net from close in.



Three minutes more and United were buried. Bullen again with a good ball from the left into the goalmouth and David MOSS won the race to turn the ball into the goal.



A good result that takes Dunfermline back into the top six because of Aberdeen`s win at Motherwell. The two goal victory slightly flattering the Pars but at this stage in the season three points are very acceptable all the same. Must have been the support of all those people in Paisley!



Lee Bullen had a wonderful game and although he often fully warrants the Man of the Match award Marco Ruitenbeek can be a little fortunate to receive match sponsors` The Associates" award ahead of Lee.



Only snag with Tuesday cup replay on the horizon is the list of injuries that the Team Manager reeled off after the match: - Ferguson (ankle), Doesburg (concussion), Crawford, Dair, Hampshire and Bullen. Injuries will be assessed when the players turn up for treatment on Sunday.



DUNFERMLINE: 3-5-2: Ruitenbeek; Skinner, Skerla, Rossi; Doesburg (Bullen 3), Nicholson (Moss 64), Ferguson, Thomson, Dair; Hampshire (Dijkhuizen 71), Crawford
Subs: Thomson (GK), Boyle.




Scorers: Hampshire (49), Dijkhuizen (82), Moss (85).

Yellow Card: Rossi (45)

Strip: Home Black and White




League position 6th




DUNDEE UNITED: Gallacher; Griffin, De Vos, Laughlan, Davidson (Aljofree 67); McCunnie, Miller, Easton, Buchan; Lilley (Naveda 86), Hamilton (Thompson 84).
Subs: Onstad, McCracken




Yellow Cards: Easton (43), Laughlan (50), De Vos (78), McCunnie (80)

Strip: Home Tangerine




League position 12th




Attendance: 5180 (1380 away)

Referee: Tom Brown

Weather: Cold with rain, heavy at times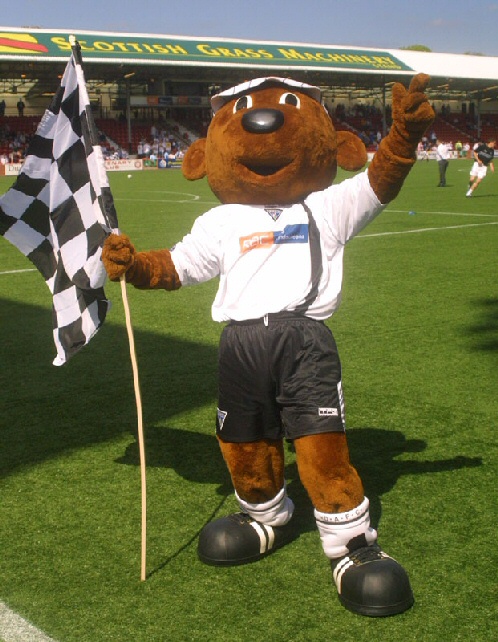 Sammy says thanks very much for visiting our web site where we have lots of news for young Pars fans.