SPL v Rangers
RANGERS 2 DUNFERMLINE 0 Date: 03/02/01
Dunfermline travelled to Ibrox in search of their first league win there for 29 years. Pay per view television was a convenient alternative for their fans who chose not to follow their team west.








The predictable roadworks hold up on the A80 and the slow progress along the M8 through Glasgow are contributing factors to making this fixture ideal for Pay per view. Add to that the dislike of going to Ibrox Stadium that is shared by the travelling support of almost every Scottish club it was surprising that 200 Dunfermline fans actually attended.




The team certainly did make their presence felt, none more so than our African traveller Youssef Rossi. The Moroccan internationalist who failed to return from World Cup duty in time to play Motherwell in midweek played a huge role in marshalling the Dunfermline defence.




With Ian Ferguson not selected, Scott Thomson took over not just the captain `s armband but also his central midfield role. Stewart Petrie was brought in for late call off Chris McGroarty (ill) and Jason Dair made his first start since the day he scored at Celtic Park.




Barry Nicholson should have shot Dunfermline into an early lead when he ran on to a Michel Doesburg lob. The Dutchman`s flighted ball fell perfectly for the ex Ger and as he left the defenders behind him he should have done better than let Klos collect the ball. Barry just let the ball get too far ahead of him and so a dream start was denied.




Kenny Miller had a shot wide of target when the ball broke to him off Dair and in the 8th minute Tony Vidmar received a yellow card for scything down Michel Doesburg. Typical home bias was demonstrated by one fan who suggested that "you should be ashamed of yourself referee!" Fortunately Alan Freeland was not wearing royal blue tinted glasses.




Stewart Petrie made a penetrating run and laced through a fine ball for Bullen but big Lee was offside. Rossi was containing Tore Andre Flo with easy and seemed to be enjoying it. In the 11th minute his rescue tackle on the big Viking was perfect although Flo did get a shot in right after which went wide of the goals.




The Pars were allowed to get their passing game together and there was some fine stuff from Skinner, Nicholson, Bullen and Crawford. A Skinner lob after quarter of an hour sent Scott Thomson through on Klos but he was shut down before a shot could be found.




The Rangers support that surrounded my post in the press box were already getting impatient and their destructive criticism could be easily heard above what had become a relatively silent Rangers "suport".




Dunfermline forced their first corner of the match in the 19th minute but the best chance came two minutes later when Jason Dair fired a good hit that went over the crossbar.




Ricksen had a shot that re-bounded off the crossbar and tough tackling from Rossi earned him a lecture from the referee. A matter of some 90 seconds had passed from Rossi`s offence until the ball went dead and the time probably saved him a yellow card.




Dunfermline had done well but then in the 28th minute disaster. Rossi lost out to Flo and collapsed in a heap 30 yards out on the right hand side of the park. Rangers pushed on Numan crossed from the left, Scott Thomson headed away the danger but only as far as Tugay Kerimoglli who hit a dipping volley beyond Ruitenbeek into the net.




Rangers injury list increased when Tony Vidmar was carried off with a hamstring injury to be replaced by Michel Mols.




With Rangers in the lead the Pars no longer looked so comfortable and they survived any more Rangers goals by two good Marco saves, Tugay at the the woodwork, Scott Thomson off the line from Mols and a Skerla interception on Mols three minutes into added time at the end of the first half.




SECOND HALF




After the interval Stevie Crawford got room on the right to send a dangerous ball into the six yard box but Steve Hampshire who had replaced Petrie at half time could not get a shot in.




Rossi and Skerla resumed their defensive demands and Ruitenbeek made a good diving save from Kenny Miller after Flo had managed a linking pass within the visitors penalty area.




Lee Bullen made a great defence spiltting pass in the 59th minute that Crawford latched on to. Stevie took the ball too far right before crossing towards the awaiting Mason and Hampshire but Reyna cut out the pass.




The referee was not endearing himself to the Rangers faithful despite yellow carding Rossi for a tackle on Mols that Rossi gestured was a dive. Ricksen got a similar card for an offence on sub Marinus Dijkhuizen and there was much disquiet from them when Wilson was penalised instead of some of the Pars challenges.




Dunfermline pressed forward as the Rangers fans grew more and more disenchanted with their team. The Pars passes seem to fail to reach their last man despite there being some nice touches from Crawford and Mason. Rangers players were becoming less mobile and there was a hint filtering on to the park that Dunfermline could possibly get an equaliser.




Gary Mason played the ball out left for Crawford who placed it back in the 21 year-old`s path as he drove in on Klos. No shot was forthcoming as Mason was closed out. "Somebody hit the ball" was the desperate shout from behind me as Rangers played the ball around the Pars 18 yard line but the defence stifled any threat.




Eight minutes from time Mason and Thomson managed to let Rangers in with a three on two situation but no shot materialised from Flo`s cross despite Reyna and Mols being prepared. Andrius Skerla had some footwork tricks to display before Dijkhuizen sent Doesburg up the right to put over another cross. This time Konterman turned the ball behind for a corner.




I do not know what the Dunfermline tactic was from corners at Ibrox but each one caused us more harm than good. The play travelled back towards Ruitenbeek at the Copeland Road end and when Mols managed to shake off Skerla in the 88th minute the Dutch striker placed a good right footed shot low past Ruitenbeek inti the far corner of the net.




Two nil to Rangers it finished but this was a greatly improved Pars performance; lucky on occasions skilful and clever on others. St Johnstone won`t be so confident if they are watching Sportscene tonight (10.40pm)




DUNFERMLINE: 2-4-4: Ruitenbeek: Skerla, Rossi; Doesburg, Skinner (Mason HT), Thomson, Dair; Nicholson; Bullen (Dijkhuizen 65), Crawford, Petrie (Hampshire HT).
Subs: Thomson (GK), Boyle.




Yellow Cards: Thomson (39), Rossi (62)




Strip: Home Black and white with white socks.




RANGERS: Klos; 3-5-2: Wilson, Konterman, Vidmar (Mols 40); Ricksen, Reyna, Tugay, Johnston, Numan; Flo, Miller (Hughes 89)
Subs not used: Christiansen, Malcolm, Carson




Scorers: Tugay (28), Mols (88)




Yellow Cards: Vidmar (8), Ricksen (68)




Strip: Home: Blue and white




Referee: Alan Freeland

Weather: Overcast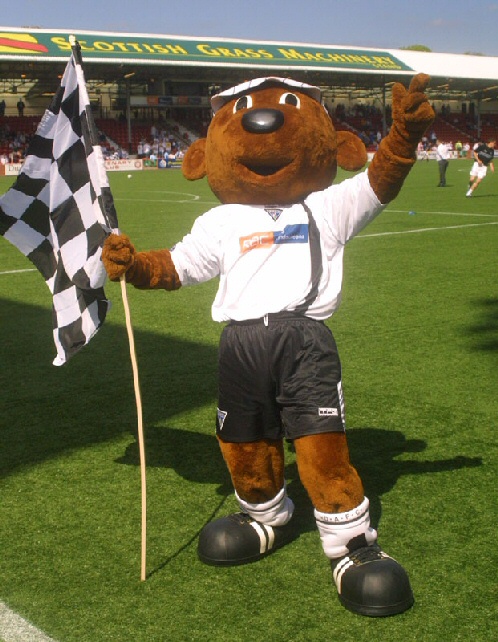 Sammy says thanks very much for visiting our web site where we have lots of news for young Pars fans.