SPL v St Mirren
DUNFERMLINE 2 ST MIRREN 0 Date: 16/12/00
For all ye faithful who came to East End Park it was certainly the season to be jolly. Setting up the festive cheer Dunfermline saw off their old rivals St Mirren by two beautiful goals.








St Mirren have only won one match away from home this season - at Dingwall in the CIS Cup where they needed extra time to see off Ross County. Dunfermline keen to seek revenge for two defeats at Love Street in September and October, certainly gave them no chance to change their away fortunes.





On a cold December Saturday Steve Crawford kicked off for the Pars playing towards the away support in the East Stand. First temperature raising action came when Scott Thomson, playing in midfield because Youssef Rossi returned after suspension, accepted a pass from the Moroccan internationalist and brought the first save of the match out of Saintees, on loan goalkeeper, Ian McCaldon.





Stevie Crawford pounched on a David Moss knock down to to soot wide from 18 yards after six minutes. Next minute a Barry Nicholson tackle turned out to be a perfect pass for Crawford who travelled up the right before pushing the ball forward to Scott Thomson. St Mirren conceded a corner and Moss connected to send a high lob goalwards. McCaldon saved easily on the line.





The visitors were spurred into action with Mikael Renfrum causing all the trouble. First the big Dutchman who came from the Icelandic League, had a shot blocked and a header back to Ruitenbeek almost let Graham Fenton in to score. The following minute Renfrum almost got around Rossi and Nicholson put the ball behind for a corner.





Maybe it was the presence of Rossi at the back but Andrius Skerla found himself forward on several occasions in this match. After 18 minutes one of Skerla`s sorties forward set up Nicholson to cross from the edge of the six yard box but McCaldon was first to the cross. Next minute a free kick for Dunfermline saw Nicholson touch the ball to Thomson who passed it left for Chris McGroarty to have a crack. His left footed drive went wide to the left of the goals.





St Mirren were awarded a free kick when Nicholson`s tackle was a bit desperate but Bowman`s chip did not bother the scoreline. The Paisley men then had two efforts on goal when Renfrum managed to get a shot straight at Marco Ruitenbeek and then Ricky Gillies placed the ball wide for Baltacha and his cross cum shot was fisted clear by Marco.





Dunfermline had four long range shots; two each from Crawford and Thomson. You got the feeling that the match was needing a goal when in 37 minutes a great move from a Justin Skinner free kick broke the deadlock. From just inside the St Mirren half the ball was played low and firmly towards the penalty box, the ball broke to Stevie Crawford who skilfully made the chance for himself. His excellent shot was brilliantly saved by the keeper but only as far as Scott THOMSON. Nipper hit a fierce shot that McCaldon had no hope of stopping.





One minute before the interval, Skerla had a shot at the target from 18 yards out but it slipped just wide to the right.





Those who had overstayed the warmth of the hospitality lounges at half time almost missed the next goal. Keeper McCaldon had to be alert when Crawford headed in a Chris McGroarty cross after only 29 seconds. Hard work by Ian Ferguson won the ball to allow Scott Thomson another crack at goal which yet again McCaldon saved.





Stevie Crawford looked like he had been training with the greyhounds this week. He looked really fast and sharp yet again he carved out another chance for himself when his solo run, twists and turns produced a great 53rd minute shot that flashed across the goal and just wide of the keeper`s left hand post.





This was great stuff from the Pars which continued when Skerla got through from the right and shot at the keeper. The block spun up for Crawford to header. If he had placed it left McCaldon was beat but he chose right and as the fans rose to celebrate the second goal McCaldon raced back to pluck the ball out of the air.





Yardley came on for Baltacha and for a few torrid minutes things got a bit shaky. Yardley and Ruitenbeek went up for a cross from the left; Marco did not hold it and Scott McKenzie`s shot slipped wide left. The Pars were defending too deep and the chaos was exemplified when Moss and Nicholson collided. Wee Barry needed the attentions of Pip Yeates as Hugh Dallas stopped play.





The game however was put beyond St Mirren when a great solo effort from Chris McGROARTY saw him beat several players before an opening materialised on the edge of the box. The 19 year-old smacked in his first ever goal for the Pars.





St Mirren were sunk and Dunfermline managed three more dangerous chances before the end. Lee Bullen had a shot saved in the 82nd minute and an Ian Ferguson blast was tipped over the crossbar. In the 84th minute Scott Thomson hit the post after Lee Bullen had set him up.





Three welcome points then which puts Dunfermline eleven points clear of the Paisley men who are 6 ahead of Dundee United at the foot.





DUNFERMLINE: 3-5-2: Ruitenbeek; Skinner, Skerla, Rossi; Nicholson, Hampshire (Doesburg 73), Ferguson, Thomson McGroarty; Crawford, Moss (Bullen 72).
Subs not used: Thomson (GK), McLeish, Huggon.




Scorers: Thomson (37), McGroarty (73)

Yellow Card: Nicholson (35), Ferguson (44), Nicholson (75).




League Position: 9th





ST MIRREN: 3-4-1-2: McCaldon; McLaughlin, Turner, Walker; Baltacha (Yardley 61), MacKenzie, Bowman, Brown; Gillies; Fenton (Quitongo 76), Renfrum (McGarry 76).
Subs not used: Scrimgeour, Robinson.




Yellow Card: Baltacha (30), Gillies (83)




League Position: 11th




Referee: Hugh Dallas

Attendance: 5061

Weather: Dry, cold.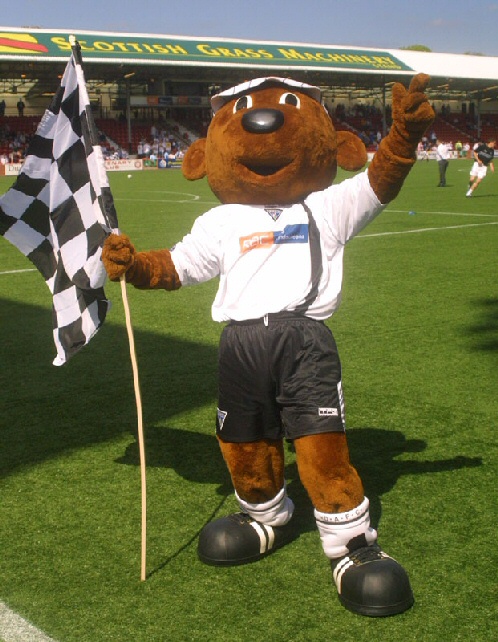 Sammy says thanks very much for visiting our web site where we have lots of news for young Pars fans.